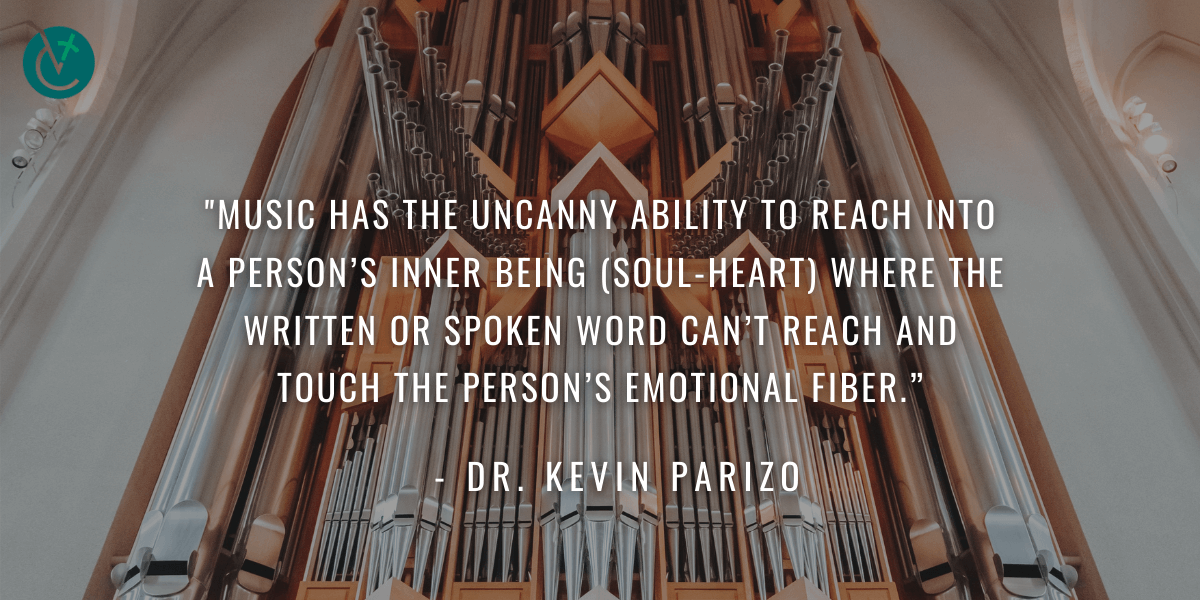 Understanding St. Joseph through song
"A hymn is a sung prayer, and therefore, the more we sing hymns about St. Joseph, the more we bring our parishioners to a closer relationship with and understanding of him," said the organist and music director at Assumption of the Blessed Virgin Mary Church in Middlebury.
Dr. Kevin Parizo lamented as "a rather sad commentary" that in today's life and worship, the hymns that reference St. Joseph are not often heard except primarily around the Christmas season. "We need to remember that St. Joseph is the universal patron of the Roman Catholic Church" and return him to the "exalted position in the Church that he used to have."
And music is a way to do that.
"Music has the uncanny ability to reach into a person's inner being (soul-heart) where the written or spoken word can't reach and touch the person's emotional fiber," Parizo said.
Hymns to St. Joseph include Hail Holy St. Joseph; O Blessed St. Joseph; Joseph Entends l'Eglise; Great St. Joseph, son of David; Aimable Saint; Holy Patron, Thee Saluting; Those Who Love and Those Who Labor; With All the Saints; and The Snow Lay on the Ground.
The latter is a favorite of Donald McMahon, director of music and organist at Sacred Heart St. Francis de Sales Church in Bennington. He sings The Snow Lay on the Ground on the Solemnity of Mary.
It "fondly portrays Joseph as guard and protector of the Holy Mother as well as gentle and loving father tending to his newborn son," he explained. "This is my most favorite portrayal of Joseph in song. With its pleasant, lilting rhythms and words evoking images of the
Holy Family surrounded by angels and oxen, it really is a beautiful tableau!"
Parizo especially likes the 15th-century carol Joseph Dearest, Joseph Mine (Josef Lieber, Josef Mein). "Joseph dearest, Joseph mine, help me cradle the child divine; God reward thee and all that's thine in paradise, so prays the mother Mary," is the first stanza.
"Hymns in general were used to not only praise and give glory and honor but were used to instruct people in aspects of their faith. Throughout history, many people could not read or write so they received instructions regarding their faith from hymns, stained-glass pictorial windows and plays that went from town to town," Parizo said. "Hymns were successful in their education form because people could retain melodies and thus remember the biblical (religious) contexts that they were exposed to."
Among the songs related to St. Joseph he will use during the Year of St. Joseph, McMahon plans to sing Holy Patron, Thee Saluting during Lent and Those Who Love and Those Who Labor during Ordinary Time.
Those Who Love and Those Who Labor references those like St. Joseph who toil: "Where the many work together, they with Christ Himself abide. But the lonely workers also find him ever at their side. Lo, the Prince of common welfare dwells within the market strife."
McMahon noted that St. Paul's writings recall St. Joseph, husband of Mary, fondly referred to as "The Worker," who labored as a carpenter to provide sustenance and support for his wife, the Holy Mother of God, and his son, Jesus. "In Pope Francis' apostolic letter, titled 'Patris Corde' ('With a Father's Heart'), Joseph is referred to as a man unnoticed, 'hidden in the shadows,' not unlike artisans and laborers of his time and throughout the ages, overlooked and forgotten," he continued.
With All the Saints, a "noble creation" by contemporary composer Bob Hurd, is a favored component of liturgy on the Feast of All Saints, McMahon added.
The song begins: "With all the saints, with prophets and martyrs, with Holy Mary and Joseph, with those who came before us and those who will follow, we gather here today, one body in the Lord, a sign and sacrament of Christ."
Parizo said that during the Year of St. Joseph, there may be special liturgies, the emphasis of which would be on the life and works of St. Joseph. Also, he would incorporate a hymn to St. Joseph into a funeral or wedding liturgy for someone with a special devotion to the saint.
But he lamented that there is not a large body of hymns to St. Joseph. For example: Worship IV had two, The Adoremus Hymnal has none, the St. Michael Hymnal has three, the Heritage Missal has three, the St. Gregory Hymnal (1922-24 edition) has four, and the "old" St. Basil's Hymnal (10th edition) has eight. "You can find others online, but in comparison to the number of hymns easily available referencing the Blessed Virgin Mary, there are not plentiful numbers," he said.
Themes of hymns about St. Joseph include fatherhood, courage, obedience to God, humility, selflessness and love of family as well as his role of protector, guide, defender of the helpless, patron of the dying and patron of workers.
Throughout the Year of St. Joseph, if the opportunity presents itself and if the hymns are appropriate to the designated liturgy that is being celebrated, Parizo would incorporate a hymn to St. Joseph. But, "as with all hymns, the sole purpose of the hymn is to highlight the liturgy and bring honor and glory to God."
And isn't that just what St. Joseph would want?
—Originally published in the Spring 2021 issue of Vermont Catholic magazine.