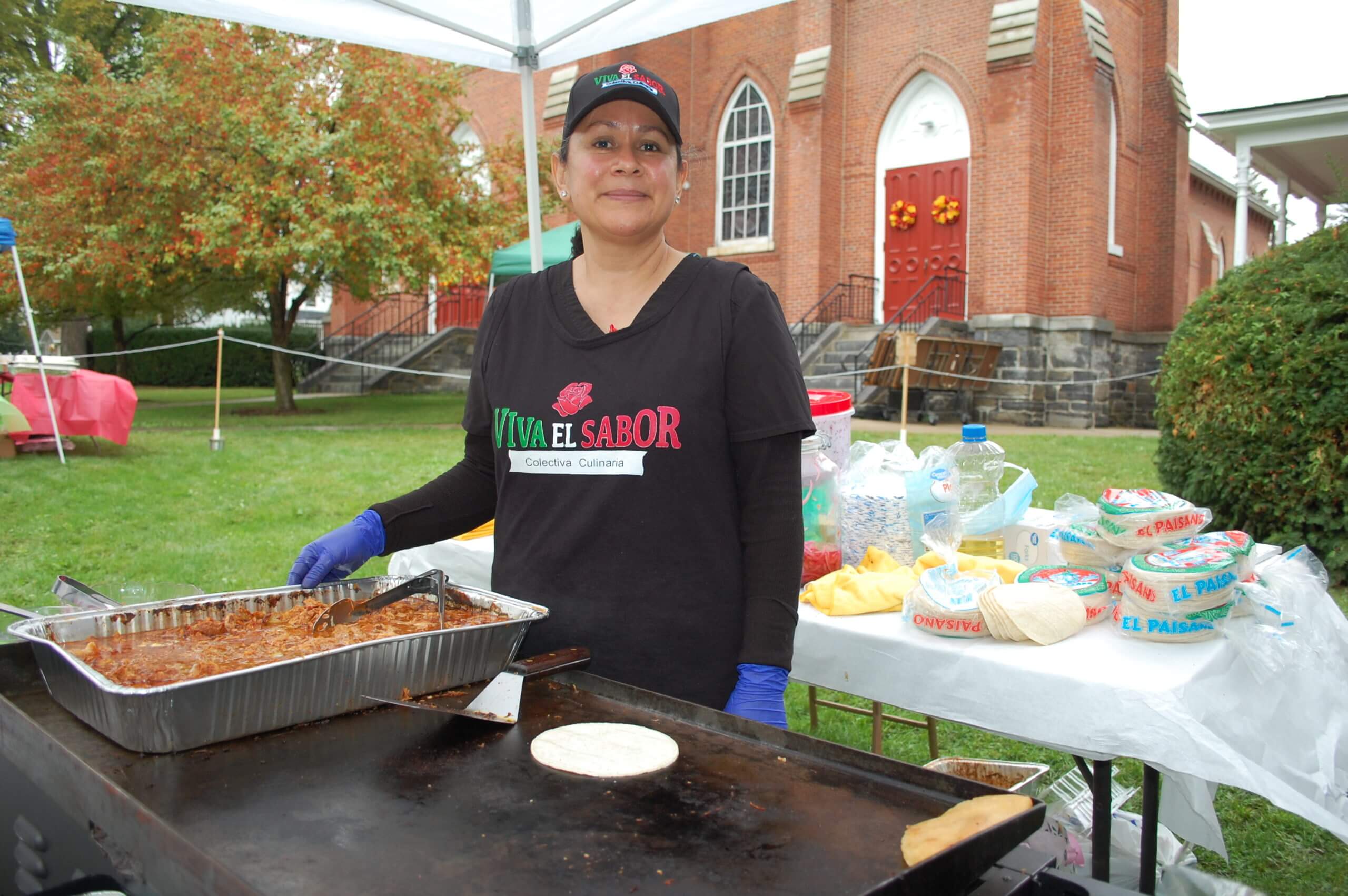 Vergennes Fiesta offers tastes of migrant workers' homelands
Tacos, tamales, empanadas and pasteles were among the items visitors could sample at the Fiesta Oct. 3 on the grounds of St. Peter Church in Vergennes.
The parish sponsored the event as a way of supporting the migrant families who were the vendors; they received all profits.
"This is another way to be supportive of our migrants," said Father Yvon Royer, pastor of St. Peter Church and of St. Ambrose Church in Bristol. "The parishes are very supportive of the migrant community."
The two churches together have an active migrant outreach committee.
According to Patty Lewis, chair of that committee and Fiesta coordinator, the Fiesta was a way to support the migrants and to "break down barriers and give them a sense of belonging."
One of the hundreds of migrant workers in Addison County, Eduardo (who asked that his last name not be used), was helping his fiancé, Sara, sell carne asada (steak) tacos, rice pudding and pie. "It means a lot for the Hispanic community to share their food. This is totally awesome," he said, offering gratitude to the Catholic community. "There aren't many places that give you such a kind greeting and welcome."
Michael Jackman of St. Peter Parish stopped at the Fiesta for food to go. "It's so delicious, and we can't get it around here, not like this," he commented as he waited for cochinita pibil, the Yucatan slow-roasted pork tacos being served by Alicia Rodriguez of Salisbury. "This is the best — authentic!"
Rodriguez, a parishioner of Our Lady of Good Help Church in Brandon, said the Fiesta was a way to bring together the local and migrant communities and "for the  people to recognize our jobs and culture."
Indeed, if it weren't for the migrant workers, "where would we be?" Jackman asked. "Thank God for them."
Lewis concurred: "Without [the migrants] the farms are not able to operate" because the migrants provide the needed workforce.
St. Peter's parishioner Bob Biegen praised Father Royer's leadership in helping the migrant community: The priest has spearheaded the churches' efforts to help the migrant community and even learned to hear confessions in Spanish.
"It's what we are about as a [parish] community and [migrant outreach] committee," the pastor said. "Think about what Jesus did. He reached out to those on the fringes of the community. He wanted to walk with them and let them know of God's love."
Lewis, a member of St. Ambrose Church, said there is a "welcoming attitude" in the two Catholic parishes not only for migrant workers but for all people in need. "Part of our faith is to reach out to people who are on the fringes for whatever reason. These [migrant workers] are hard-working, honest people who just need some support."
The Fiesta included six Mexican food booths, one Guatemalan food booth and children's activities.
By halfway through the afternoon event, about 200 people — some speaking English and some speaking Spanish — had attended, some lingering for conversation at the tables set up under a large tent on the rectory lawn.