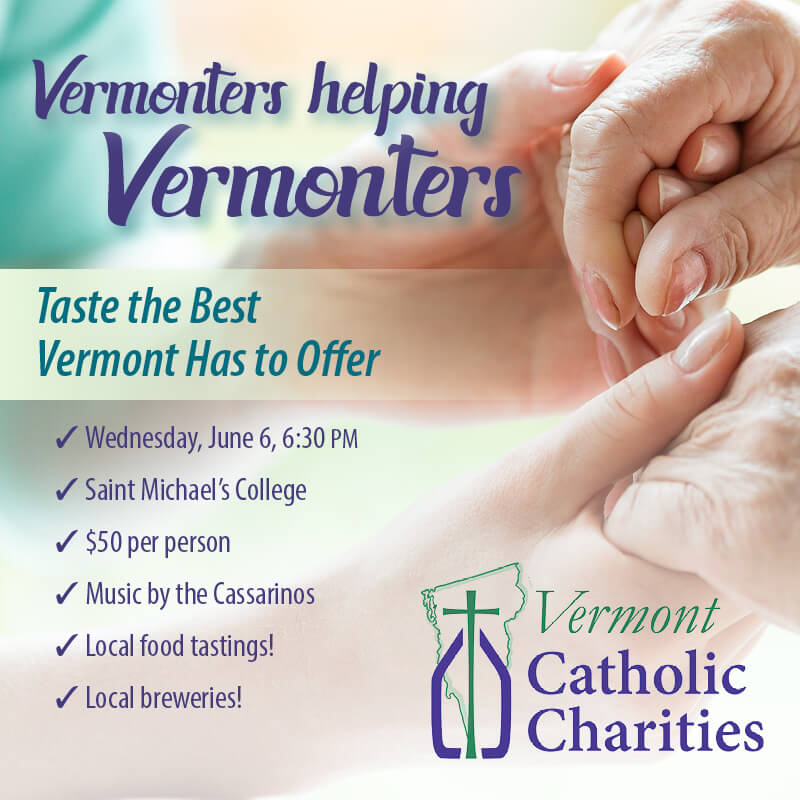 'Vermonters Helping Vermonters'
COLCHESTER— Vermont Catholic Charities Inc. will host its first public awareness/fundraising event, "Vermonters Helping Vermonters," on June 6 beginning at 6:30 p.m. at the Dion Center on the campus of St. Michael's College.
Vermont Catholic Charities has been filling the gaps for the most vulnerable Vermonters of all faiths since 1929 through emergency aid, counseling and assisted living to the highest Medicaid population in the state.
"We help thousands of Vermonters each year who are in financial crisis and need help filling the gaps to pay their rent," said Mary Beth Pinard, executive director of Vermont Catholic Charities. "And we can often say 'yes' when others can't, like purchasing an air conditioner for an elderly woman who couldn't be released from the hospital without one or helping the single mother of three pay the fee to get her driver's license so she could go back to work."
Vermonters Helping Vermonters is a one-of-a kind-event featuring a tasting of local food and beverages donated by philanthropic-minded vendors and brewers (14th Star, Mill River and Dog River Brewers, to name a few) to help more Vermonters in crisis. Live music will be performed by the Cassarinos.
Tickets are $50 per person, and all proceeds will be used for emergency aid for Vermonters in financial crisis.
To register visit: vermontcatholic.org/vermontershelpingvermonters.