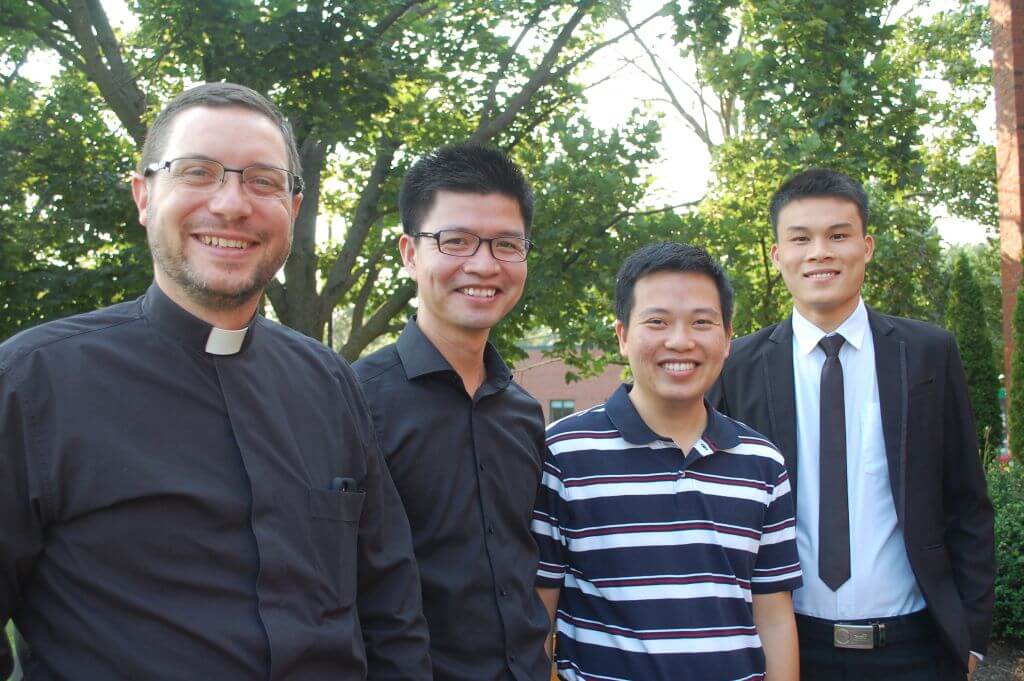 Vietnamese Seminary Candidates
(Vermont Catholic/Cori Fugere Urban)


Father Jon Schnobrich, vocations director for the Diocese of Burlington, poses with three men from Vietnam who are seminary candidates for the Diocese.
Three candidates for the seminary for the Diocese of Burlington from Vietnam arrived in Vermont in May and spent the summer studying English at Boston University –- where they will study for two more semesters -– as they prepare for seminary studies, ordination and service to the Catholic community of Vermont.
Giang Nu, 24, Thang Nguyen, 24, and Luan Tran, 31, answered what they consider to be God's call to become missionary priests in Vermont.
"I was in the seminary in Vietnam and wanted to become a missionary. I prayed very much," Nu said.
The three men made their way to Vermont with the help of a Boston Vietnamese Jesuit priest, Father Bao Nguyen, who works to raise funds for Vietnamese religious sisters, seminarians and priests to be trained in the United States.
Funds for their living expenses and education also come from the Vocations Office of the Diocese of Burlington and endowments.
There is a great need for evangelization, outreach and engagement of the culture to share the joy of the Gospel, said Father Jon Schnobrich, vocations director for the Diocese. "These men bring that witness of faith. They are following God's will for their life."
The presence of the men from Vietnam "helps us realize there is a universal dimension of the Church," he continued. "We have a family of faith in all parts of the world."
Nguyen was in the seminary in Vietnam when he felt a calling from God pushing him to go to the United States "to do His will," he said.
Tran, also a seminarian in Vietnam, said his bishop asked him to consider becoming a missionary priest. "I'm very happy because I decided to come," the former lawyer said. "We will do our best."
The men agree that it was God who brought them here, and all are happy to be here. They stay with host families when not in school and said people have been friendly and welcoming.
Nu, a seminarian in Vietnam, said with a laugh that he wants to see snow in Vermont.
Though they miss family and friends and have found it challenging to learn English, they don't worry. "Here we have help from the bishop [Burlington Bishop Christopher Coyne], Father Jon and many people," Tran said. "And God is helping us."
When Jesus called His disciples, He said, "Come, follow me." To that, Tran added that God called the three men from Vietnam to "follow me to Vermont."
While studying at Boston University, they live at St. John Seminary in Brighton.
Considering his call to be a missionary priest, Tran described it as being born in one place and going to another to tell people about God. "The most important thing is you want to bring happiness to everyone. You want to make others happy. My father told me if you want to bring happiness to others, you have to be happy."
To bring happiness to others, he said, priests celebrate the Mass, pray and listen, and that is what he intends to do.
For Nu, being a missionary priest also includes helping people – especially the poor – and being charitable.
"Being a priest is being a servant," Nguyen said. "God is in the midst of everyone. I will serve God and everyone."
Father Schnobrich said it is anticipated that the three men will enter the seminary in the fall of 2018 and be ordained in 2023 and incardinated for service in the Diocese of Burlington.
They have met members of the Vietnamese community in Vermont, now served by a priest from Montreal.
The addition of these men to the ranks of the diocesan priesthood is especially welcome at a time when the Diocese is facing a shortage of clergy and entering a synod to plan for the future.
Their arrival – with the assistance of Vermont Sen. Patrick Leahy during the immigration process – "is incredibly hopeful for us," Father Schnobrich said. "It's exciting. … We feel incredibly blessed."
He said he is inspired by the men's faith and courage and praised their host families for giving them the sense that this is now their home.
"Sometimes my mother and father call me and are sad" because they miss him, Nu said. "I tell them, 'Don't worry. The Lord wants me to be here.'"
— Originally published in the Fall 2017 issue of Vermont Catholic magazine.