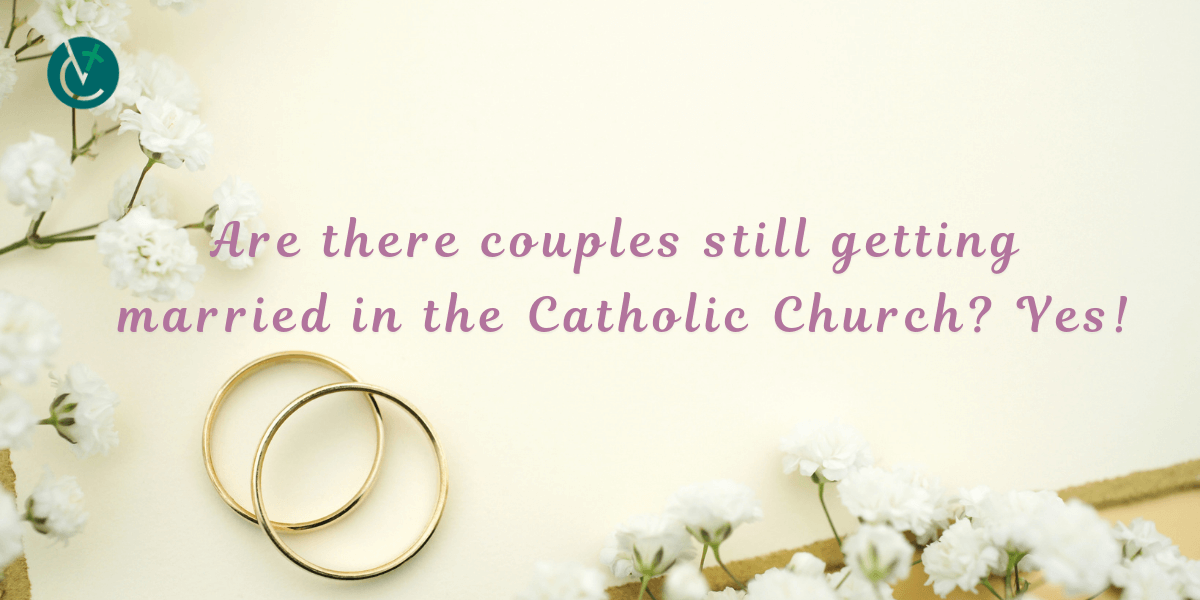 Witness to Love
Are there couples still getting married in the Catholic Church? Yes!
The couples preparing for the Sacrament of Marriage have had some interesting challenges this year in terms of rescheduling dates and the number of attendees, but engaged couples are continuing to be prepared by their pastor. The Diocesan Pre-Cana program has two options for the formation of couples planning to be married in the Catholic Church: an online version (Agape) and a mentor-couple program.
The parish mentor-couple program currently used in our Diocese matches a parish mentor couple with an engaged couple. This model has created strong, trusting relationships between these couples.
However, what if engaged couples were able to choose their own parish mentor? This year several parishes throughout Vermont are piloting a marriage preparation mentor program where the engaged couple chooses their mentor couple from their parish (or a nearby parish), which is coordinated with the priest and trained marriage preparation coordinator from within our Diocese. This pilot marriage preparation ministry is called Witness to Love by Ryan and Mary Rose Verret.
There is a need for engaged couples to build relationship with married couples within the parish, to encourage a lasting friendship built on God's love and His desire for marriage and family. The mentor couple is chosen by the engaged couple, meeting several criteria: married for at least five years, active in a ministry and in full communion with the Church's teachings.  The mentor couple is trained with the engaged couple, by the marriage preparation coordinator and meets to build a relationship through God's desire for marriage. Both couples are enriched through this experience. The mentor couple is a link to the parish community, and the friendship continues after the wedding.
What does this mean for married couples who are asked to be a mentor couple? Engaged couples are looking for married couples who offer stability, joy and authenticity in their marriage. There is an incredible grace given by God in the Sacrament of Marriage and being a mentor couple allows a deeper friendship and discipleship to share that grace with another.
The pilot program is being offered this year by Father Timothy Naples of St. John Vianney Church in South Burlington, Father Dan Jordan of All Saints Church in Richford and St. John Church in Enosburg Falls, Father Curtis Miller of Most Holy Trinity Parish in Barton, Father Henry Furman of St. Luke Church in Fairfax and Ascension Church in Georgia, Father Yvon Royer of St. Peter Church in Vergennes and St. Ambrose Church in Bristol and Msgr. Bernard Bourgeois of the Rutland-Wallingford Catholic Community.
The trained marriage preparation coordinators are Kelly Lagasse of All Saints in Richford and St. John the Baptist in Enosburg Falls, Pam King of the Franklin Deanery and Terri McCormack, Diocese of Burlington marriage and family life coordinator and parishioner of Christ the King Church in Rutland.
The goal of this piloting team is to expand this opportunity to other parishes in our Diocese, sharing this grace across our state.
As a reminder, engaged couples need to allow six to nine months for marriage preparation and should first contact their priest before setting a date.
— Terri McCormack is the Diocese of Burlington's marriage and family life coordinator.
—Originally published in the Spring 2021 issue of Vermont Catholic magazine.