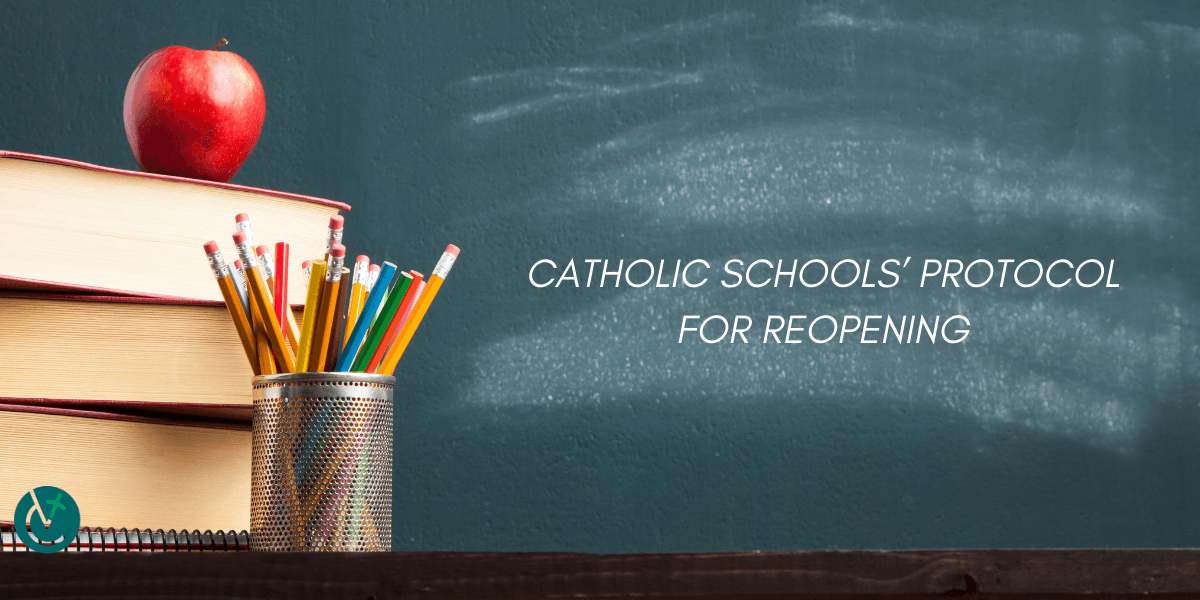 Catholic schools' protocol for reopening
As Catholic schools in the Diocese of Burlington open for the 2020-21 school year, protocols from the 22-page Guidelines for In-Person Instruction During/Following a Public Health Crisis will be implemented.
Crafted by Superintendent of Schools Jeanne Gearon and approved by Burlington Bishop Christopher Coyne, the guidelines cover multiple areas including teaching and learning, supporting students and staff, communication and facilities.
"Each school used these guidelines to establish their school-specific protocols for opening in the midst of this pandemic," Gearon said.
The 10 Catholic schools under the jurisdiction of the Diocese of Burlington along with the two independent Catholic schools in Vermont planned for in-person instruction for the upcoming school year and to re-imagine effectively their communities and academics in order to meet the needs of their students, families, faculties and staffs.
The principals, in collaboration with the Office of Catholic Schools, drafted guidelines for in-person instruction (see vermontcatholic.org/wp-content/uploads/2020/07/United-in-Faith-Returning-with-CARE.pdf).
The purpose of the guidelines is to offer guidance to schools regarding opening for in-person
instruction amidst the public health crisis. "A public health crisis is a serious matter, and it is incumbent on the schools to take all steps possible to implement the guidance from the bishop of Burlington, the superintendent of schools and, as reasonable and feasible, to ensure compliance with guidelines from local, state and/or national public health authorities," Gearon said. "Due to the evolving nature of the current public health crisis of Covid-19, this document is fluid in nature."
It will be updated as new information is learned and/or recommendations from local, state and/or national public health authorities become available.
The development of these guidelines was enlightened by information provided from various recognized public health and/or educational authorities including Centers for Disease Control and Prevention, American Academy of Pediatrics: COVID-19 Planning Considerations and the Vermont Agency of Education and Department of Health.
"We realize that no plan will mitigate every possible exposure to the virus that causes the Covid-19 illness," Gearon said. "We believe, however, that with proper planning and dedicated adherence to that plan, we can provide a spiritually rich, academically sound learning environment that is infused with practical and sustainable health and safety measures. To that end, each school is utilizing the guidelines as a foundational tool for the development of local health and safety measures."
Each school was to establish a public health crisis coordinator to establish, review and implement health and safety protocols. These include hand washing or sanitizing, wearing face masks, health screenings and disinfecting.
The faculty and staff under the guidance/direction of the school's administrator and/or public health crisis coordinator will determine the most appropriate manner in which to group students. While recognizing that physical distancing and reducing close contact between individuals is an effective way to slow the spread of disease, this must be done in an age-appropriate manner that minimizes the impact on meaningful instruction and social development, the guidelines state.
"There is no doubt that the implementation of these protocols will have a significant impact on schools," Gearon acknowledged. "First and foremost, is the educational impact. On the positive side, we know that in-person learning is far more beneficial for most of our students than remote/distance learning. The rapport between teachers and students in a face-to-face learning environment is drastically different than within a virtual climate."
Implementing safety protocols has necessitated many schools shorten class times to allow added time for transitions, disinfecting, etc. "Shortened class times means less time for meaningful interactions between teachers and students," the superintendent said. "This reality will be felt by all parties, however we believe the benefits are most definitely worth the adjustments we will all need to make."
There are also social/emotional impacts that accompany implementation of the protocols. "Students enjoy the time to gather at the lunch table or on the playground to interact with friends. The use of strategies such as social distancing and masks will alter these interactions," Gearon said. "Being together in the same space, however, is still highly valued, and it makes the implementation of these strategies worthwhile as it is what allows us to be together in community."
Budgets will be stretched as schools will need to purchase additional supplies, accommodate additional salary expense for maintenance/facility personnel, etc.  "It is our hope that our schools will benefit equitably from the federal CARES Act funds allocated to elementary and secondary schools, and if this happens, these funds will go a long way in helping our schools overcome these budget concerns," Gearon said.
"We, as Catholic schools believe the benefits (of in-person classes) far outweigh the negatives, and we are looking forward to resuming our ministry of in-person learning," she continued. But the schools are prepared to transition to distance learning should the need arise.
"Caring for our people is where our decision-making has always been rooted, and this will continue to be our guiding principle in the days, weeks, months and years to come," the superintendent said.
For a list of schools and contact information, visit vermontcatholic.org/schools/catholic-schools.
—Originally published in the Fall 2020 issue of Vermont Catholic magazine.