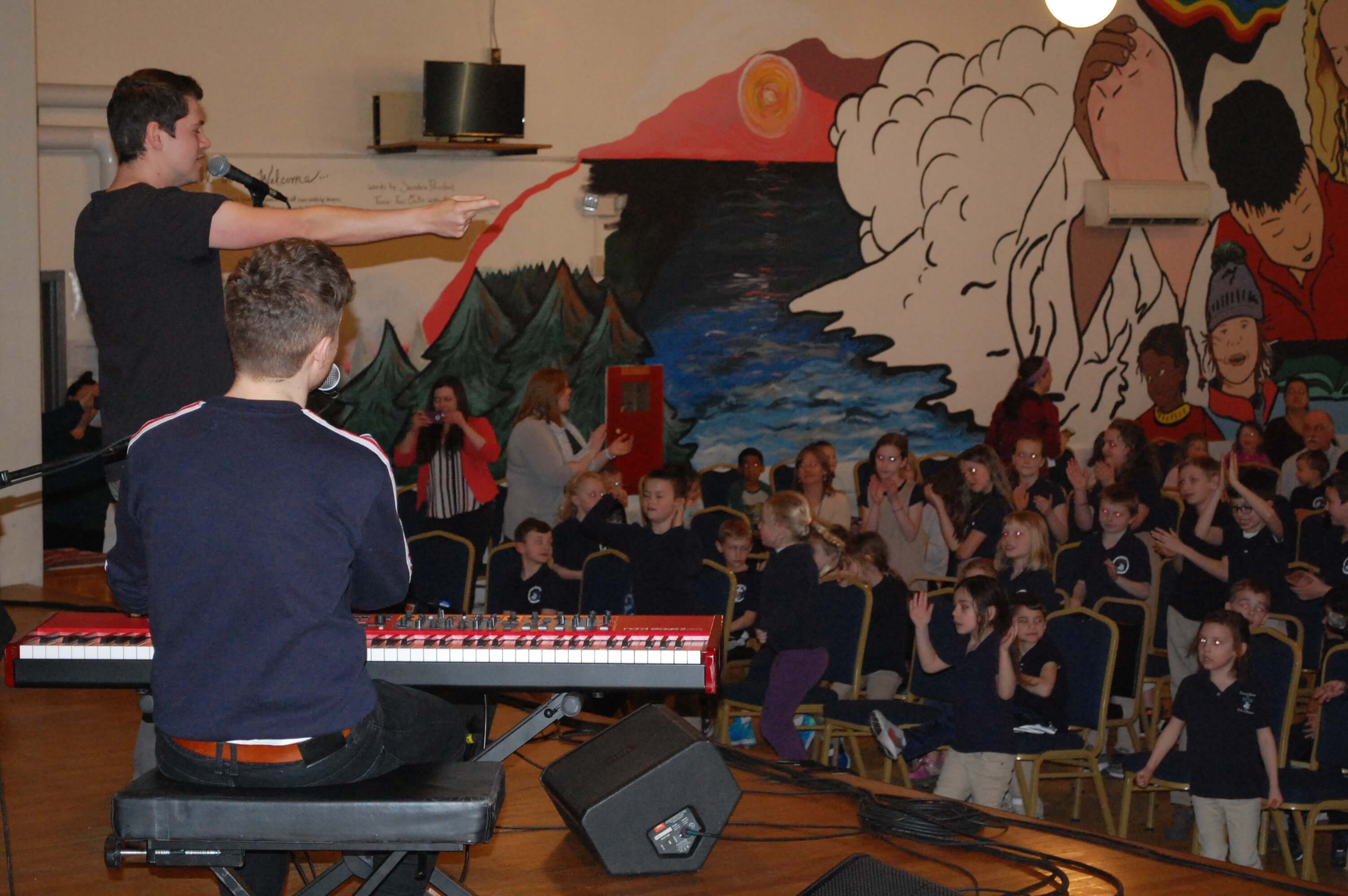 Irish singer, songwriter, actor Damian McGinty brings message of trust in God to St. Monica-St. Michael School
Irish singer, songwriter and actor Damian McGinty had students and faculty members at St. Monica-St. Michael School dancing in the cafeteria as he brought them a message of "trusting in the talent God gave you."
The special, one-hour assembly took place March 25 as McGinty and his band traveled through Vermont on their way to a concert in Montreal.
The well-behaved schoolchildren clearly enjoyed themselves as they danced to the music performed from the stage by McGinty, a keyboardist and a guitarist.
They then had the opportunity to ask him questions — or to tell him things like what instruments they played. When one student asked the 26-year-old former "Glee" cast member why he is "so good at singing in front of a crowd," McGinty replied, "You have to believe in yourself … and trust in the talent God gave you."
McGinty debuted his full-length album, "Young Forever," days before the Barre visit. The Young Forever Tour is his largest to date and began in Philadelphia March 19, featuring vibrant, joyful, pop-infused music.
Born in Derry, Northern Ireland, he attended Catholic school. His career began at the age of 13 when he recorded a charity CD.
Now on hiatus from Celtic Thunder, an Irish singing group and stage show known for its eclectic, theatrical style, McGinty lives in Ireland and Los Angeles.
He said he likes challenges, being creative and working hard.
Rebecca Somaini, school board chair, arranged the assembly, which she said was "a wonderful opportunity for the children of St. Monica-St. Michael school to observe and learn how Damian has used his God-given talents."
"God blesses us all with different talents, and it is beneficial for young children to see a variety of talents and learn how individuals have worked so hard to be the best they can be at their given talent," she said.
It was also an opportunity for the children to learn about another country and culture.
"Damian, spreads joy to people of all ages around the world with his talent, but remains grounded," she said. "He is humble and kind in his down-to-earth nature; for this reason, he is a perfect role model for our young children." Sophia Sevi, a seventh grader at St. Monica-St. Michael School, called his performance there "amazing" and fun.
Isabella Bevins, a seventh grader, said it was "cool and inspiring to see someone so similar and young can make a career our of what they love." She wants to do the same when she grows up.
Music, in general, is essential for growth and development and has many benefits for children of all ages, Somaini said. "Furthermore, music and dancing is enjoyed around the world in all different cultures, and in a sense connects us all. Exposing children to different forms of music will help them understand the different heritages and traditions in another culture."
Brenda Buzzell, school principal, appreciated McGinty's message about trusting God. "I want the children to know God is with them and for them to persevere and do what they love," she said. "It's so important to know God gave you gifts to help others, and he is doing this with his music — bringing joy to his audiences."
For more information about McGinty, visit damianmcginty.com.