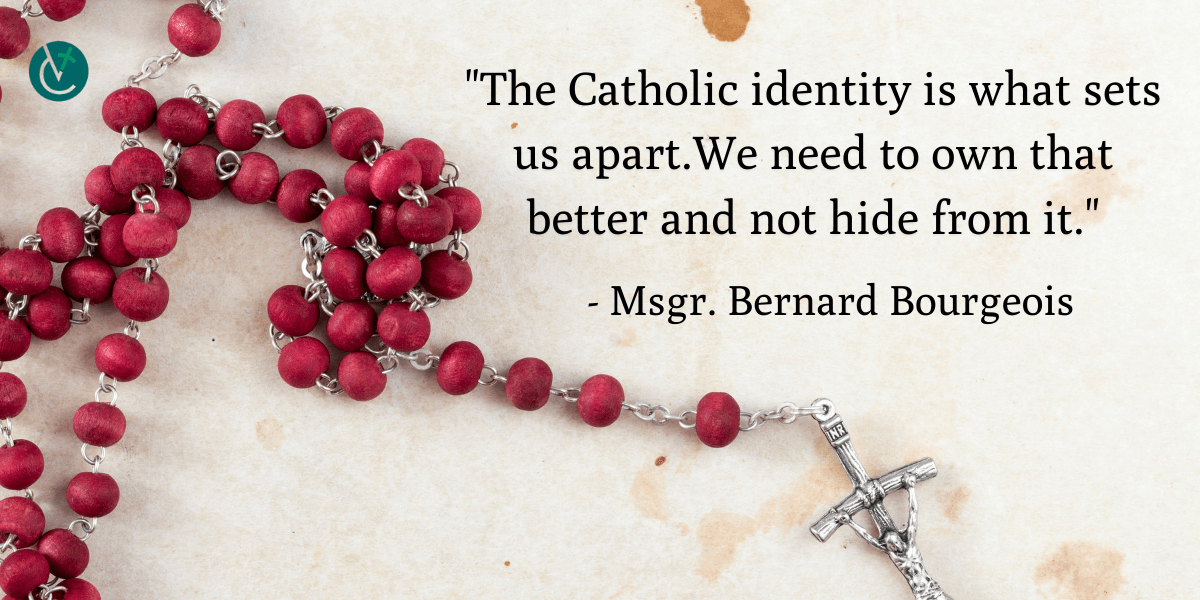 Msgr. Bourgeois: Catholic school experience 'inspires' former students
Msgr. Bernard Bourgeois is now in what he calls "the privileged place" of seeing many former students as adults with careers and families of their own.
The former Catholic high school principal and current pastor of the Rutland-Wallingford Catholic Community sees Catholic schools as providing an environment in which students can experience the best of Catholicism, both in sacrament and in the classroom. "In later years, they can refer back to those moments as they navigate their own lives," he said. "I see former students doing that now. I get calls to celebrate marriages and baptize children. They're reaching back into a time in their lives when they lived the Catholic experience daily. It inspires them today."
He attended Sacred Heart School (now the School of Sacred Heart St. Francis de Sales) in his native Bennington, and benefited from the role models there: the Sisters of St. Joseph and the lay teachers. "They taught me about faith and persevering in their vocations. They were a great group, and Sacred Heart was a marvelous school," he said.
Msgr. Bourgeois taught religion part time from 1998-2006 at Rice Memorial High School in South Burlington then served as principal from 2006-2016. Now he is regularly involved at Christ the King School in Rutland and serves on its board.
"Catholic schools have a tremendous role in today's world," he said. "They offer the students the possibility of studying their faith, praying and incorporating it into their daily lives. At a Catholic school, the faith is embedded in all the school does, from morning prayers, to classes and beyond. Additionally, the student learns the moral teachings of the Church and how they affect the student's current and future choices in the world. Overall, they develop a relationship with God that they will refer back to in the years to come."
One challenge the schools face is enrollment, but to boost it, Msgr. Bourgeois said they must remain Catholic at their core. "Be who they say they are. That's what it's all about," he said. "Obviously a solid academic program is necessary, as well as athletics and the arts. But frankly, those can be found in a good public school. The Catholic identity is what sets us apart. We need to own that better and not hide from it."
Other challenges include fewer young families that are engaged with their parishes. "That trickles down into the school. We need to get more families back to Church, and from there encourage and inspire them to consider Catholic schools," he said.
Cost also is a concern. "Catholic schools have become very expensive. Remember, many young families are paying local taxes, college and home loans. It's a real problem for the schools because schools are trying to pay their teachers a just wage. Most don't. But the cost is still too high and out of reach for many middle-class parishioners," he said, advocating for alternate means of funding, like endowments, high yielding annual funds and other creative ways of funding: "We're not talking more raffles here. We need to ask for more money to help fund our schools, to educate the future of our Church."
Another concern is staff turnover. "We're not keeping many of our young teachers for very long. They leave for higher wages elsewhere. One can't blame them," Msgr. Bourgeois said. "We need to invest in our young teachers, through pay and programs that will inspire them to make Catholic schools a career choice, and thus be the leaders of our schools."
Catholic schools are not just for Catholics but for anyone who can accept the mission, he said. "I say 'accept,' not 'tolerate.' We are Catholic and stand by that. … While we offer competitive programs and athletics, we are first and foremost a Catholic school."
—Originally published in the Fall 2021 issue of Vermont Catholic magazine.