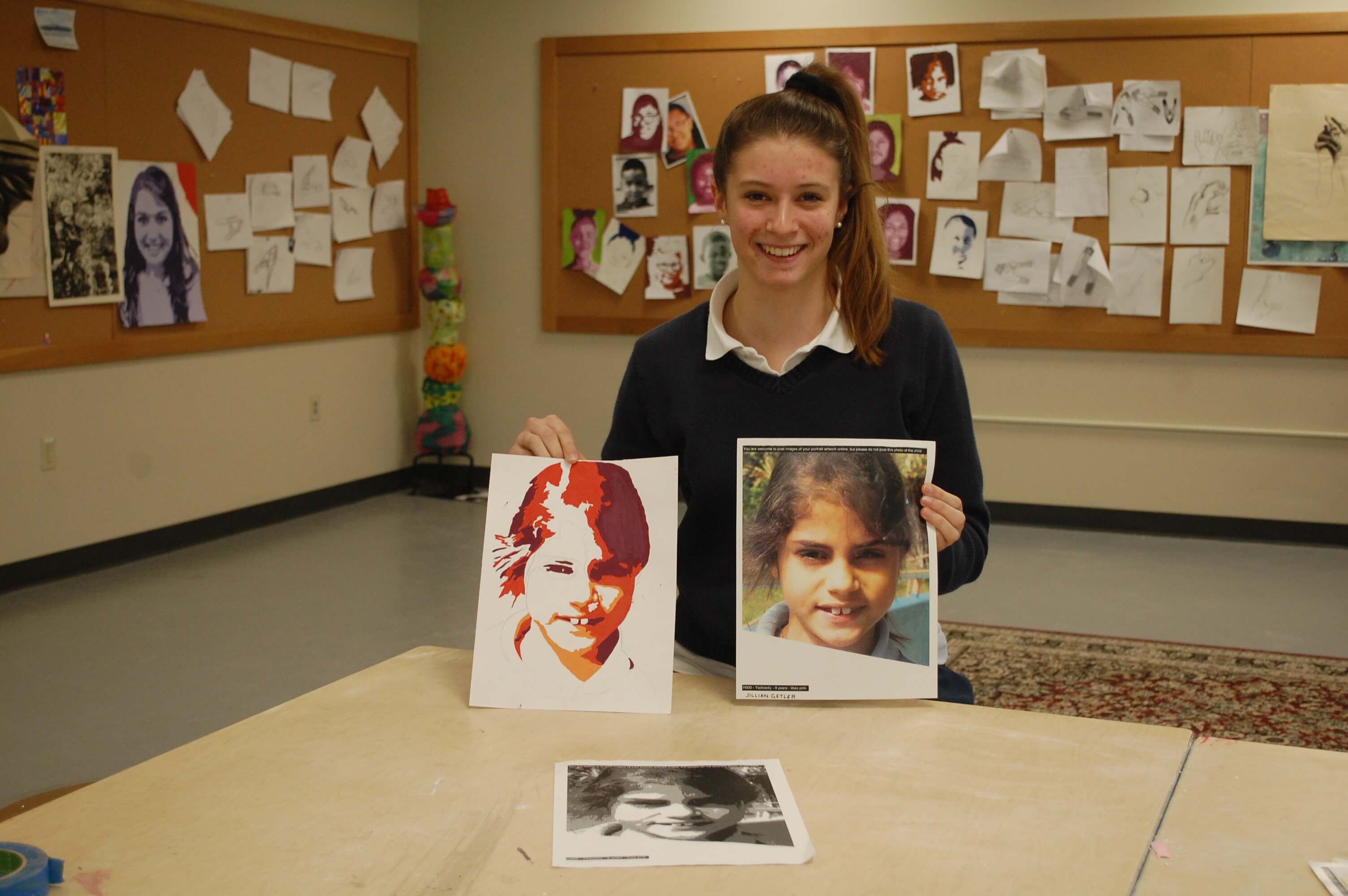 Rice 'Memory Project'
Dawn Schmidt's art students at Rice Memorial High School in South Burlington have been painting portraits, but not the usual portraits done in many art classes.
These portraits are of children in Puerto Rice who may never have seen a photograph of themselves until one was taken for the Memory Project.
Because of poverty or the devastating effects of natural disaster, these children don't have family portraits on their walls or collections of selfies on phones.
But thanks to the students at Rice and at other participating schools, they will soon have their photograph and the portrait painted from it.
Twenty Rice students are using tempera paints for the portraits on 9-inch-by-11-inch sheets of paper for the Memory Project.
Schmidt digitally posterized the submitted photo images, then the students mapped out a sort of "paint-by-number" picture to paint. On the back they will attach a small photo of themselves with some information about themselves translated into Spanish and then put the complete picture in a plastic sleeve to send to the children in Puerto Rico.
Rice senior Lisa McNamara is working on a portrait of a 5-year-old boy everyone agreed looks like a young Barack Obama. She chose to do the portrait in blue hues because that is the boy's favorite color. "He never had a portrait of himself. I might as well make the first in a color he likes," she said.
She tutors refugees on weekends and has a passion for education around the world, believing everyone should have an equal opportunity for success.
She said she cried when she saw a video about the Memory Project that showed the joy the children experienced when they received their portraits. "It makes you even more motivated to do a good job."
The Memory Project is a charitable nonprofit organization that invites art teachers, art students and solo artists to help cultivate global kindness by creating portraits for children throughout the world who have faced substantial challenges, such as violence, war, extreme poverty, neglect and loss of parents. Participants create these portraits to help children feel valued and important, to know that many people care about their well being and to provide a special childhood memory in the future. Since 2004 project participants have created more than 130,000 portraits for children in 47 countries.
This is the second year Rice students are participating in the project.
Sophomore Jillian Getler used warm tones of burgundy, red, orange and yellow for her portrait of an 8-year-old girl. She was influenced in that choice not just by the colors of fall but of the vibrant colors that often define warm climates like Puerto Rico. "People in hot climates like vibrant colors because that's what they live with," Schmidt said.
Jillian is doing her best with the portrait "so when [the girl] sees it, hopefully she will be super excited and keep it for a really long time."
She laughed at the thought of all the selfies she has on her phone and said, "It's sad we are so involved in our culture that we don't step out to see people like this have so little."
Jillian said she has an "awesome life," and the project has put life into perspective for her, making her more tolerant of what she might consider an inconvenience like not being able to use her phone whenever she wants.
Schmidt said the Memory Project has been a lesson in compassion. "I'm very impressed [the students] have the emotional maturity to be able to put themselves in the place of these children," she said. "They are really amazingly compassionate."