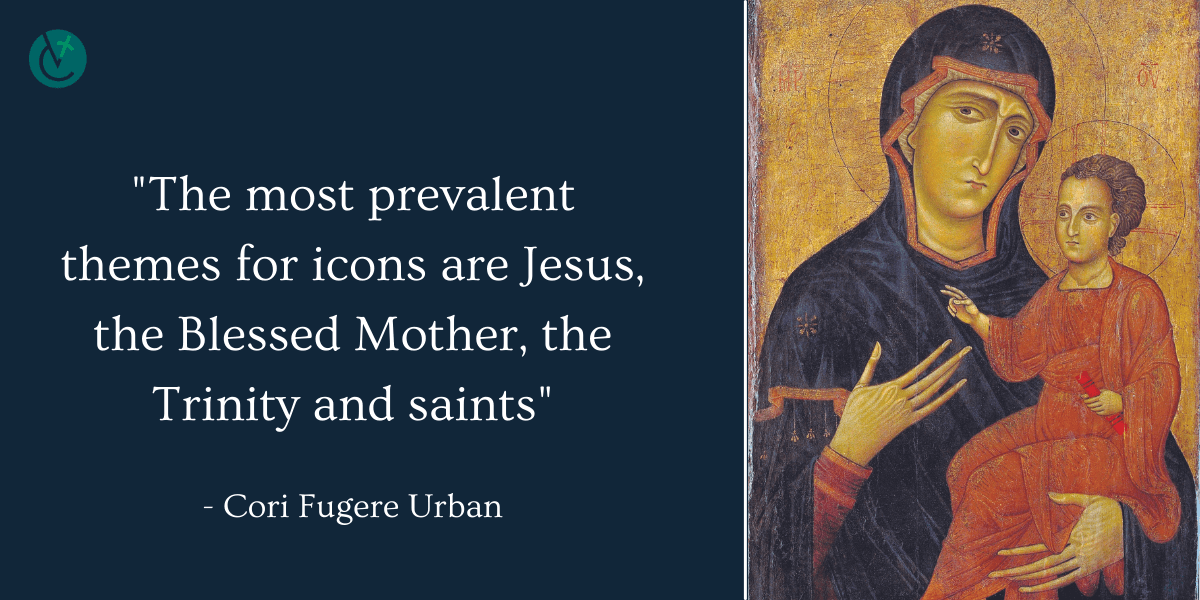 'Windows into heaven'
The icon is a testimony of the "reality of God's life among men and of man's life in God," The Catholic Encyclopedia explains. "The icon does not represent the Divinity; but it indicates, through its symbolic pictorial language, the participation of man in divine life."
Icons — characterized by their frontal, laconic style lacking in shadows — are not merely images painted by artists: They have been called "windows into heaven."
The word "icon" is derived from the Greek "eikon" meaning an image. The word is used as a modern art-historical term, designating a painting of a sacred person on a wood panel intended for veneration.
"They are not meant to be representational, but devotional. The image does not so much attract the eye of the viewer, but draws the viewer into a spiritual relationship with the image presented in the icon," explained Father Thomas Mosher, pastor of Annunciation of the Blessed Virgin Mary Church in Ludlow and Holy Name of Mary Church in Proctorsville.
The sacred art of iconography has a specific vocabulary: One does not paint an icon, one writes it, and one does not look at an icon, one reads it. In fact, the word "iconography" means "to write an icon."
Icons are written following a period of prayer and fasting in which the icon writer enters into a contemplative relationship with his or her subject. They are traditionally written on wood, using egg tempera paints and gold leaf.
Father Mosher noted that they are theology in visible form, representations of Christ, the Mother of God, angels, saints or events of sacred history that reveal God working in the world through Christ.
"Christian iconography expresses in images the same Gospel message that Scripture communicates by words," explains the Catechism of the Catholic Church. "Image and word illuminate each other.
The most prevalent themes for icons are Jesus, the Blessed Mother, the Trinity and saints.
Tradition holds that the first iconographer was St. Luke and that his first icon was of the Blessed Mother holding the Christ-child.
Icons once served to teach a largely illiterate population. "The silent painting speaks on the walls and does much good," explained St. Gregory of Nyssa, a Fourth-Century theologian.
There are four major iconographic representations of the Mother of God: "The Mother of God Enthroned" "The Mother of God Praying," "She Who Shows the Way" and "Our Lady of Tenderness."
Theophanic icons reveal the fullness of God in the Most Holy Trinity: the baptism of Christ, the transfiguration, the resurrection and the descent of the Holy Spirit/Pentecost.
—Originally published in the Spring 2022 issue of Vermont Catholic magazine.