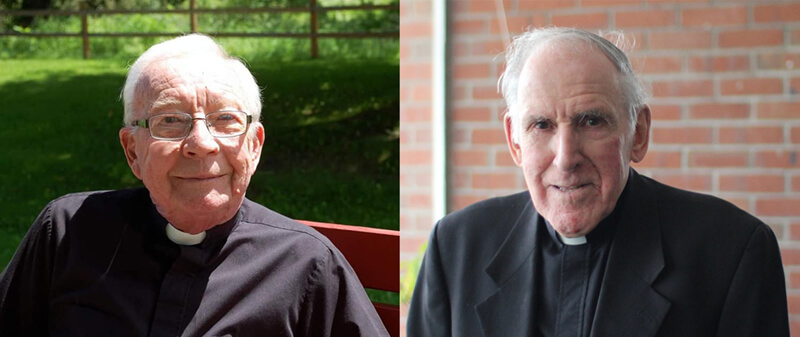 2 Vermont priests celebrate 65 years of priesthood
Two priests of the Diocese of Burlington are celebrating their 65th anniversary of ordination.
Father Charles Davignon of Derby Line and Msgr. Roland Rivard of Winooski were ordained at the Cathedral of the Immaculate Conception on April 7, 1956, by Burlington Bishop Edward Ryan.
"I had no idea I'd be around 65 years later!" Father Davignon said with a laugh during a phone interview April 7.
Four other men were ordained that day; Msgr. Rivard and Father Davignon are the only two priests living.
Father Davignon was born in East Albany and attended St. Thomas Seminary in Bloomfield, Connecticut, and the Seminary of Philosophy and the Grand Seminary in Montreal. He also studied at St. Michael's College in Colchester and The Catholic University of America in Washington, D.C.
He served parishes in Essex Junction, Richford, Sheldon Springs, Montpelier, White River Junction, South Burlington, Newport, Stowe, Middlebury, Woodstock, Killington and Winooski.
He served as a chaplain at the Bishop deGoësbriand Hospital and Mount St. Mary Convent, both in Burlington.
Father Davignon ministered in South America and served with the Maryknoll Fathers as well as on the Justice and Peace Committee in Washington, D.C. He was the director of the Office of Communications for the Diocese of Burlington, dean of the South Burlington Deanery and host of the diocesan television ministry.
He was listed in "American Catholic Who's Who."
Father Davignon said the best part of his priestly ministry is "the mission vision." That is, "the ethical part of my ministry that requires me to share it with the rest of the world."
That mission vision is the "essence" of his priesthood, he added.
Times have changed since he was a missionary in South America; now priests from other continents come to serve the Church in Vermont. "We've become mission territory," Father Davignon said.
He welcomes priests from other parts of the world. "They are a reminder to all of us that we belong to a missionary Church," he said. "They can come to us and we can go to them. The missionary vision is cosmic and international."
Msgr. Rivard is a Newport native. He attended St. Michael's College in Colchester and University Seminary in Ottawa.
He served parishes in Winooski, Brattleboro and Burlington.
He was on the faculty of Mount St. Joseph Academy in Rutland, assistant principal at Holy Angels High School in St. Albans, principal of Marian High School in Barre and a faculty member and principal of Rice Memorial High School in South Burlington.
In addition, he was on the staff of and then director of Vermont Catholic Charities Inc.
In 2008 he was named a monsignor.
Msgr. Rivard was a chaplain to the sisters at Mount St. Joseph in Rutland, chaplain to the St. Albans Knights of Columbus, a member of the Diocesan Personnel Board and dean of the Burlington Deanery.