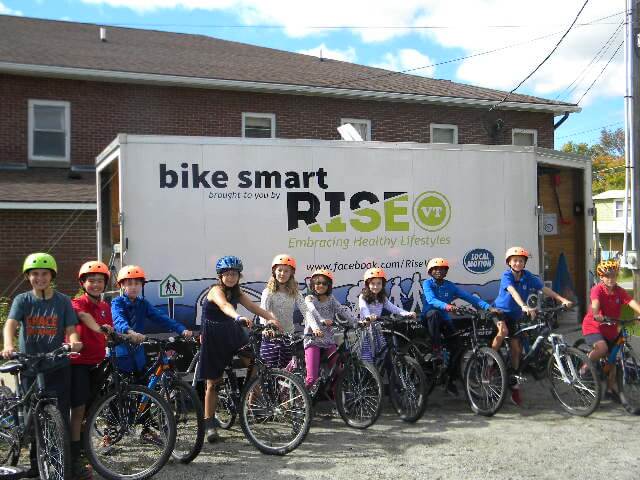 Bike Smart
Students at St. Paul School in Barton have been getting "Bike Smart" thanks to a program that provides students with road safety and bike handling skills and knowledge, in an all-included "kit" that schools can use for one to two weeks in gym classes, after school, at recess and on field trips.
"Bike Smart" began about six years ago with just one trailer, serving 3,216 students, and has grown to its current fleet of four trailers serving more than 12,000 students.
Bike Smart now has served more than 110 schools in 86 towns and all 14 Vermont counties. It receives essential support for the program from RiseVT Franklin and Grand Isle Counties, Kohl's Cares, The Children's Hospital at University of Vermont Medical Center, VTrans and the Governor's Highway Safety Program.
St. Paul's Principal Joanne Beloin requested to have the trailer as a unit in physical education. "It turned out way more than that!" she enthused.
The week prior, the physical education instructor, Ann Howland, invited her husband, Tim, who is an avid biker enthusiast, to go over the essentials of bike mechanics and safety. Students brought their own bikes to school for the two weeks.
Some students tried different bikes, the tandem, the balance bike or even a mountain bike for the first time. "The braver students attempted tricks with ramps," Beloin said. "We enjoyed the beautiful weather and spread out beyond the rodeo bike's course set up in our yard to [nearby] Crystal Lake State Park."
Teachers found bike curriculum beyond safety including word searches, mazes and even math and science problems.
"It was a great way to learn a healthy activity not only in physical education, but for a lifetime," Beloin said.