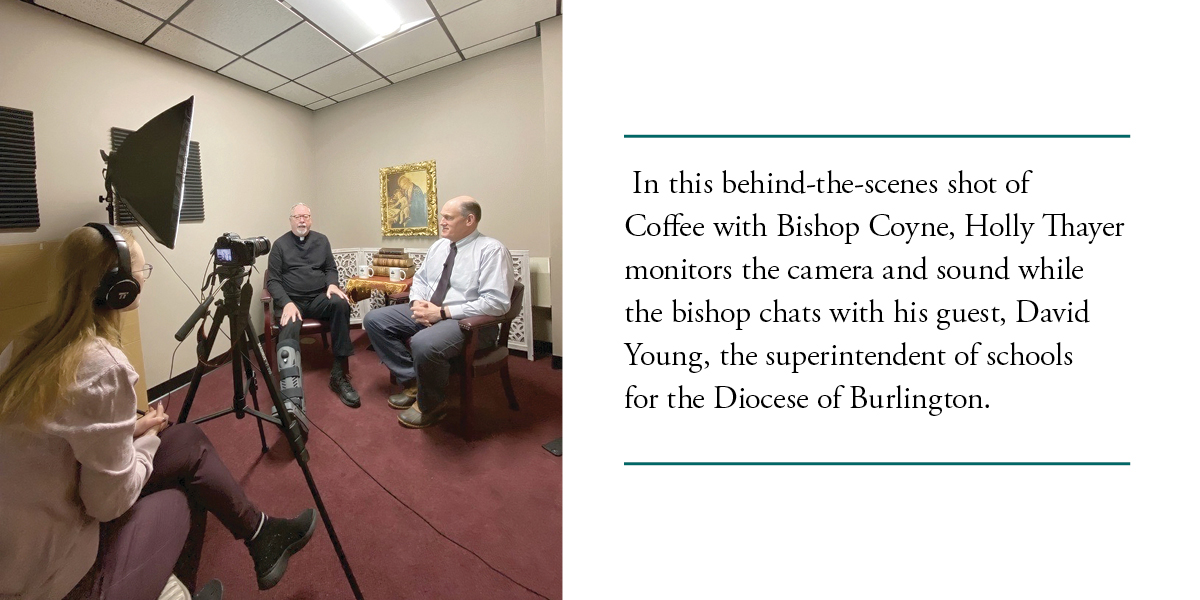 Communications update
There are some exciting new changes that have come to the Communications Department of the Diocese of Burlington during the last couple of months.
Denise Watson, senior accountant for the Diocese, is the new cohost of Coffee with Bishop Coyne. Episodes air every Wednesday at 9 a.m. at vermontcatholic.org/about/office-of-bishop/coffee-with-bishop-coyneand on Bishop Coyne's Facebook page.
Watson took over the cohost position in November. Every week she and Bishop Coyne discuss current events and topics related to the Catholic Church and share stories.
Questions, comments and show suggestions may be emailed to coffeewithbishop@vermontcatholic.org.
In addition, Holly Thayer the new development and communications manager, producing and editing the Coffee with Bishop Coyne series as well as managing the diocesan social media accounts and the weekly publication of The Inland See. She also handles circulation for Vermont Catholic. To contact her, email hthayer@vermontcatholic.org.
Also recently, the Vermont Catholic news site launched a new notifications application that allows you to get the latest news if you click "allow." Once you allow, the latest Vermont Catholic news will pop up in a small box when you open your browser. Just click to read. No personal information will be collected, and news will be delivered to you.
—Originally published in the Spring 2023 issue of Vermont Catholic magazine.