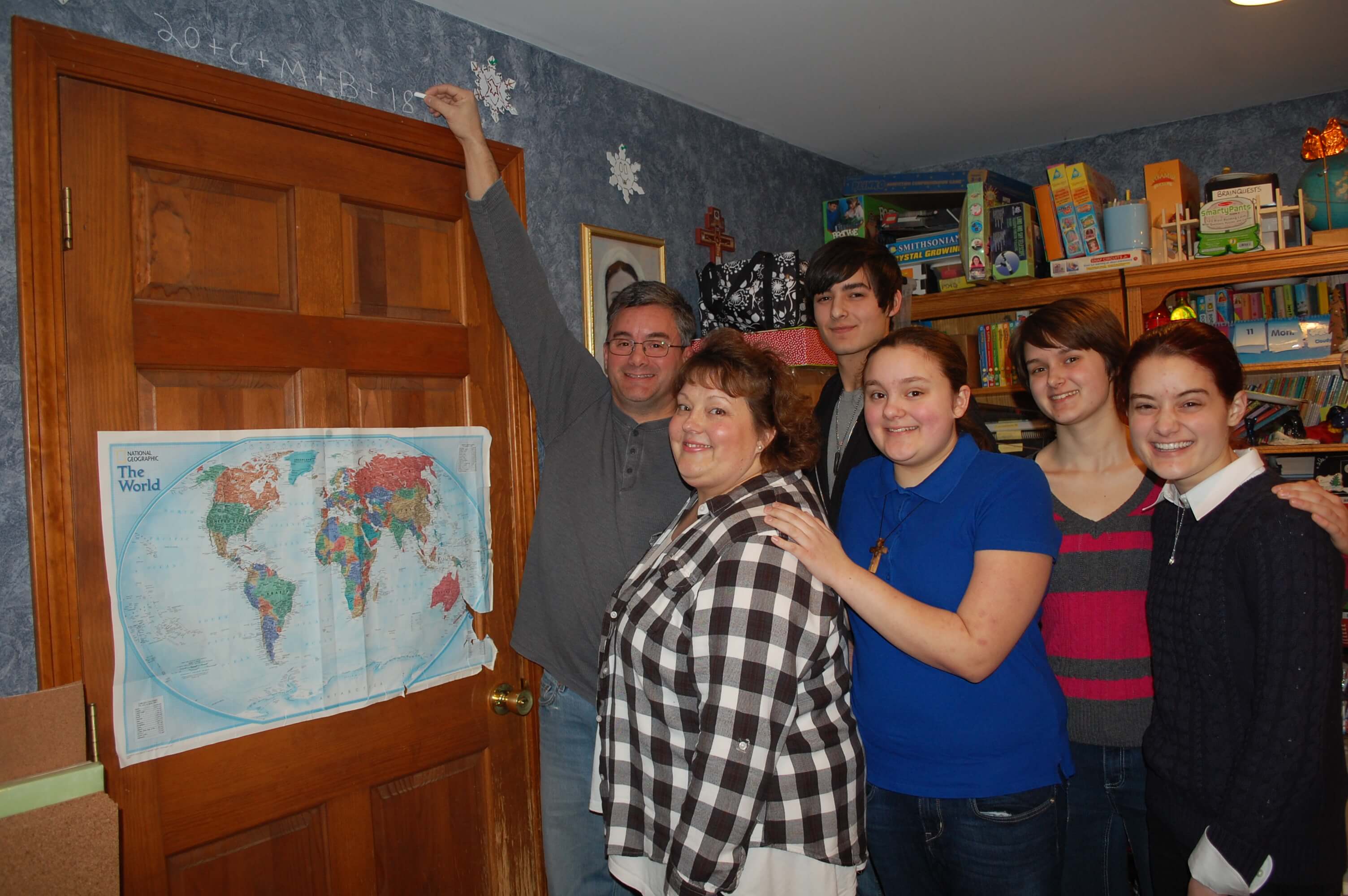 Dwelling with Christ
When Vincent Redding inscribed 20 + C + M + B + 18 in blessed white chalk on the blue wallpaper over the main entrance to his family's Fairfax home, his wife, Mary Beth, and four of their six children looked on quietly.
He lead a prayer that God would bless this home signed with the holy chalk: "Be with us this year to share in our joys and comfort us in our sorrows. Surround us always with your protection. May all who visit here be welcomed as if Christ himself."
He also asked that the family home be a shelter of peace, purity, humility, forgiveness and love.
The blessing, said daughter, Maria, 18, "ties into everything we've been raised to do and is a reminder of what we have been taught."
The Reddings are devoted parishioners of St. Luke Church inn Fairfax and were among scores of people who took home the blessed chalk and tradition home blessing at Epiphany provided by pastor Father Henry Furman.
It's a tradition Mr. Redding grew up with in Pennsylvania when a deacon would come to his family's home to mark the lintels of not only the entry to the house but to the four upstairs bedrooms.
The inscription's numbers and letters refer to the year, 2018, and the letters refer to the Magi who are remembered at Epiphany: Caspar, Melchior and Balthasar. The initials also represent "Christus Mansionem Benedicat," Latin for "Christ, bless this house."
The "+" represents the cross.
Lucas Redding, 20, said it is important for those who inscribe their home to remember it is simply a decoration. They should look at the inscription "and remember God is there and He loves them."
The Reddings marked the door that opens into their home schooling mother: Mrs. Redding is a home schooling mother; her husband is an applications engineer in the semiconductor industry.
"My mindset is that whenever someone enters the house, we want to make them feel respected and blessed," Lucas said. "It's nice to have a physical representation of that to remind us of that every time we look at" the inscription.
Indeed, that is how the family operates anyway — warmly greeting a visitor, shaking hands, making eye contact and offering a warm welcome.
"There are so many people who are not as blessed as we are, and we can make them feel important when they come in, like they are part of this spiritual family," said Sophie, 16.
Maria said that when people ask her about the inscription she would tell them about the blessing. Some of her friends "have trouble with religion and don't have parents that teach them about faith," so she will use their questions about the inscription to "share with them that God loves them and is here."
Mrs. Redding said that as the family members gathers for the inscription, she "felt almost an umbrella of protection."
"God is here," she said, tapping the kitchen table for emphasis. "We have to make our homes mini churches. We need to make our homes filled with Jesus, filled with the Holy Spirit to protect us. The devil is around every corner."
The Reddings have a host of religious traditions in the home including home stations of the cross, family rosary, birthday blessings, family grace and the annual watching of "Jesus of Nazareth" mini series during Holy Week.
Now the Epiphany inscription will be a new way for the family members to share their faith. "When we were doing it (the inscription and saying the prayer), I knew I was experience a new tradition," Maria said, her 14-year-old sister, Ali, nodding in agreement.
— Originally published in the Spring 2018 issue of Vermont Catholic magazine.