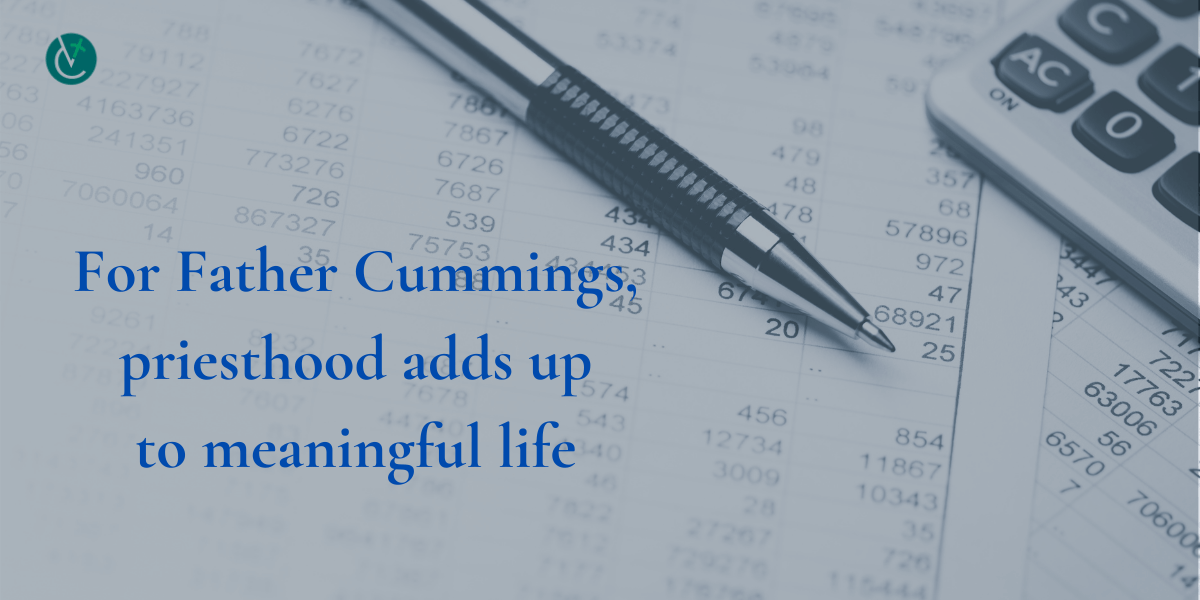 For Father Cummings, priesthood adds up to meaningful life
While Brian Cummings was working for a large international accounting firm after graduating from St. Michael's College in Colchester, his choice of accounting for his life's work just didn't add up to what he felt called to do.
So, he entered the formation program of the Society of St. Edmund, the religious order that founded his alma mater.
Edmundite Bishop Moses Anderson, auxiliary bishop of Detroit, ordained him in 1996.
The seeds of Father Cummings' vocation were planted when he was growing up in Jersey City, New Jersey, the youngest of the five children of a policeman/iron worker in construction and a stay-at-home mother. He attended Catholic elementary and high schools.
Father Timothy Shugrue, a parochial vicar at his parish, suggested the teen think about becoming a priest, something Brian already had been contemplating. Those thoughts were nurtured in the Jesuit high school he attended and then at St. Michael's College, from which he graduated in 1986 with a bachelor's degree in accounting.
The future priest worked in the accounting profession until he entered the Society of St. Edmund formation program in 1990, later earning a master of divinity degree in 1996 from the Weston Jesuit School of Theology.
His priestly work has centered on campus ministry and teaching religious studies and accounting at St. Michael's College and serving as spiritual director of St. Anne's
Shrine in Isle LaMotte, a ministry of the Society of St. Edmund.
Currently the director of Edmundite Campus Ministry at the College, Father Cummings continues his role at the shrine while serving as the chairman of the board of the Selma, Alabama-based Edmundite Southern Missions.
Begun in 1937 by two priests from the Society of St. Edmund who answered Pope Pius XI's call to minister to the African Americans of the deep South, the Edmundite Southern Missions provides a variety of programs to empower the people it serves through health, education, nutrition, clothing, housing, elder care, spiritual outreach and youth-oriented ministries.
The missions are part of the Edmundite heritage and help combat systemic racism, said Father Cummings who served in the missions, living and teaching in New Orleans while in formation with the Society of St. Edmund. "The Edmundite Southern Missions are an important work for us," he said. "We have a lot of history there and the work we are doing there is very important."
In addition to his work for the missions, Father Cummings serves the religious order and the college in numerous ways including as chaplain for the college fire and rescue squad, athletic department and alumni association; member of the college President's Cabinet; first assistant/vice president of the Society of St. Edmund; and house treasurer and first assistant of the college Edmundite community.
A New York Yankees fan, he enjoys vacationing at the Jersey Shore, cooking/grilling, fishing, watching college basketball and running.
What he likes best about being a priest is the diversity of his ministry — campus and sacramental ministry, retreat work, higher education — and living in community.
For this former accountant, it all adds up to a meaningful priesthood.
—Originally published in the Winter 2020 issue of Vermont Catholic magazine.