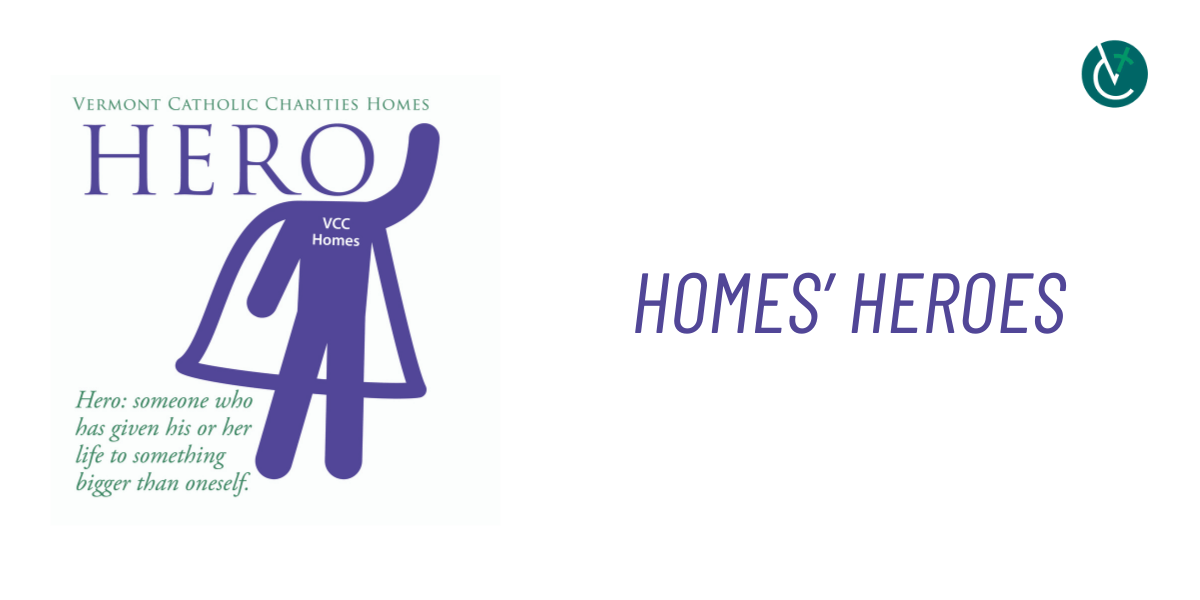 Homes' Heroes
With elders at greater risk of contracting the novel coronavirus that had necessitated the closing of schools and churches, required social distancing and brought about travel restrictions, staff of Vermont Catholic Charities' eldercare homes took "extraordinary steps to avoid any kind of community exposure."
Staff at Michaud Memorial Manor in Derby Line, for example, maintained an "extreme" commitment to keeping residents safe, said Administrator Anne Steinberg. "The personal sacrifices that each of them has made as well as the sacrifices of their families, have been remarkable."
She said staff members work hard to minimize the risk of the virus entering the building. "Those who were able to work through this difficult time have taken extraordinary steps to avoid any kind of community exposure."
In addition to the usual forms of social distancing — like going to a store only for essential items and staying at least six feet from other people — some Michaud staff members temporarily left their own homes in order to avoid contact with family members who might have had community exposure. "Some staff had been staying at Michaud, others temporarily moved into 'safe houses,' as we were calling them, where no one in the house had any community contact," Steinberg said. "Those who did commute from their own homes either lived alone or had family members who had completely quarantined themselves as well."
Michaud Manor is one of four eldercare homes operated by Vermont Catholic Charities. The others are St. Joseph's Home in Burlington, Loretto Home in Rutland and St. Joseph/Kervick Residence in Rutland.
Cindy Gorton, administrator at St. Joseph/Kervick Residence, said staff there changed the way normal workflow is done. This means, for example, meals were delivered to residents' rooms through a team effort with dining and nursing staff members; housekeeping worked overtime to clean surfaces. Staff members were "cheerleaders for residents now more than ever since residents are in their rooms with no community activities," she said.
The homes are now allowing outside visitations per state regulations and will be reopening dining rooms for residents on a rotating basis.  "This has also been a team effort to ensure the safety of staff, residents and families," said Mary Beth Pinard, executive director of Vermont Catholic Charities.
"The staff at St. Joseph/Kervick Residence are ambitious employees who are willing to go the extra mile to meet the needs of the residents," Gorton said. "They are confident in how to perform their duties. They are humble, never bragging about the extras they do for the residents. And they are very passionate in caring for the residents, whether its cleaning their rooms, moving furniture, giving them personal care or even entertaining them with a song. We are one family."
Indeed, "they never neglect any detail of any task given to them whether its housekeeping, maintenance, nursing, dietary, activities or administrative duties," she said. "The staff as a whole work as a team. They believe in teamwork; its everyone's job here. You never hear anyone say, 'It's not my job.'"
"Despite these trying times, the staff at Michaud remain positive and upbeat and continue to provide top-notch, quality, loving care to our residents," Steinberg said.
—Originally published in the Fall 2020 issue of Vermont Catholic magazine.