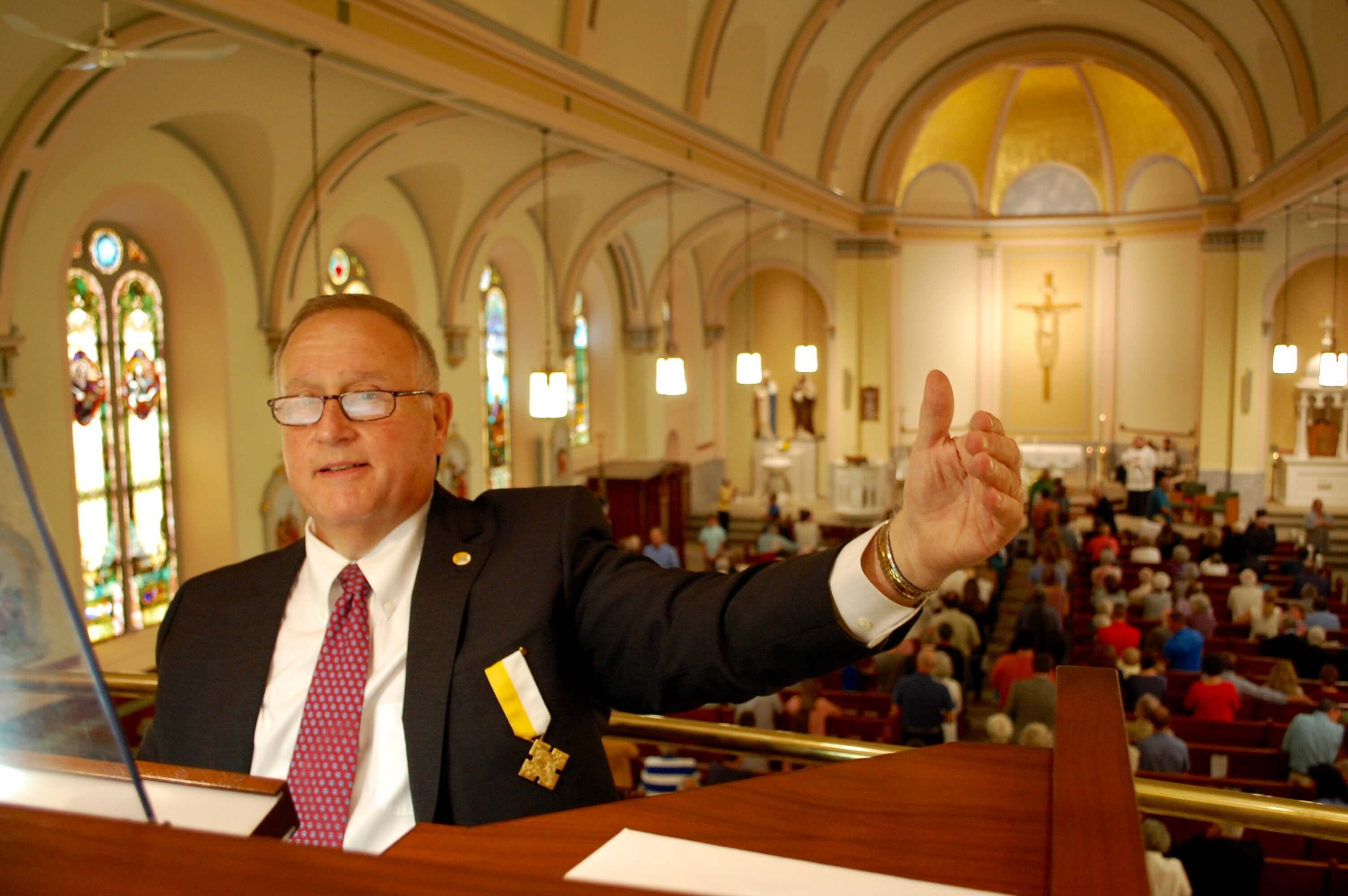 Middlebury organist receives Benemerenti Medal for service to God and Church
The longtime successful music program at Assumption of the Blessed Virgin Mary Church in Middlebury hit a high note Sept. 22 as Dr. Kevin Parizo, organist and director of music, received the Benemerenti Medal for his service to God and the Church, and the parish pulled out all the stops to commemorate the honor.
At the 10 a.m. Mass, Burlington Bishop Christopher Coyne presented him with the medal, an honor created by Pope Gregory XVI that began as an award for soldiers in the papal army in the 18th century and now awarded by the pope as a way to honor clergy and laity.
"I was extremely shocked, humbled, elated and most of all very, very appreciative to all who had anything to do with this," Parizo said. "I am so very grateful to so many but wish to single out just a few that made this wonderful honor happen:  Bishop Coyne, Msgr. John McDermott, Father Luke Austin, Lorraine and Buck Rogers and the Vocation Committee of St. Mary's and most especially my family for the love, support and encouragement that they have freely given to me over many, many years."
During his homily at the Mass, Bishop Coyne emphasized the importance of using the gifts that God gives to build up others and to build up the Kingdom of God, and that, he said, is exactly what Parizo does with his musical talent.
Parizo's first organ and piano instructor and his predecessor at St. Mary's, Irene Burns, was a recipient of the Benemerenti Medal in the early 1970's.  Together she and he have served the parish for more than 100 years — she for about 60 years and he for more than 50.
"The honor for our parish is that it shows how music has been a vital part of the liturgical heritage for decades and how the parishioners both past and present have supported a vital music program," Parizo said.
As a church musician, his focus is service. "As a Roman Catholic Church musician, you serve the musical needs of a congregation while always remembering that your job is to bring people to a closer relationship to Almighty God, Jesus Christ and our Blessed Mother through the vehicle of liturgical music," he said.
Long a champion for church musicians, he laments that they, especially organists, are diminishing in number. "It is not unusual for churches of all denominations to not have an organist and therefore, are forced to rely on other instruments, vocalists and — in many cases, pre-recorded (canned) music," he said, noting that the Northeast is especially hard hit, and the lack of church musicians is paralleled with the decline in church attendance.
"Almost all of the major music conservatories in North America are seeing an immense decline in organ students. Therefore, this translates to fewer church organists and musicians," said Parizo who has been the organist and director of music for the Middlebury United Methodist Church for the past 20 years and is the organist and pianist for Middlebury College Language Schools.
"If music is the 'handmaiden of liturgy,' the Church must do everything it can to foster, educate and promote students to study liturgical music — organ, piano, guitar, voice etc. Otherwise, the end result will be churches not having any musician and thus losing a musical, cultural and religious heritage that has been an integral part of liturgical worship for centuries," he said, adding that it is the responsibility of Dioceses, parishes, pastors, congregations, parents and communities to encourage people to be trained and serve their churches as a liturgical musician.
"There is so much about music that is important to the liturgy," Bishop Coyne said; it brings an element of beauty, it enhances ritual and it physically immerses people in prayer.
After conferring the award in the sanctuary, the bishop blessed Parizo and good-naturedly told him to "get back to work." Without missing a beat, the award recipient replied, "Yes sir," and the congregation applauded.
Josh Perry, director of worship, for the Diocese of Burlington, was asked after the Mass to describe the quality of music at St. Mary's. He replied with one word: superb.
"When liturgy is done well in all its components (like music, ritual and ministries), it evangelizes," he said.
Phyllis Mercier of St. Mark Church in Burlington, attended the Mass with family members. At nearly 90 years old, she is the last remaining aunt Parizo has on his mother's side. "I have prayed to God to let me live to be here today to honor my nephew. He is such a special person to me and my family," she commented.
Keith Ellery and his wife, Melissa, are among the two dozen members of the choir; they joined less than a year ago because as new members of the community, they wanted to be part of parish life. "Kevin has been extremely welcoming to us," he said while attending a reception after the Mass. "He's always positive."
Ellery described the music program as "outstanding" and said Parizo gets "so into" playing the organ "you can actually feel the vibrations in the floor."
Indeed, Parizo is apparently immersed in the music and he moves his feet about the pedals of the organ and his hands over the keys, punctuating the movement with rapid adjustments of the stops and sweeping gestures to guide the choir members.
According to Father Luke Austin, pastor, a parishioner inspired by Parizo's award has raised the idea of beginning a sacred music scholarship. "We will explore this idea further, because the calling to music in the Church needs to be nurtured," he said.
A native of Middlebury, Parizo is married and he and his wife, Garreth, have two adult children and three granddaughters.
He earned a bachelor's in sacred music and organ performance from the Montreal Conservatory of Music and a bachelor's in music education from Johnson College. He received a master's in liturgical music and organ from the University of Massachusetts and his doctorate in sacred music and organ performance from Concordia University.
After he received his master's degree, he was awarded the understudy organ position at St. Patrick's Cathedral in New York City where he studied with the late John Grady, director of music. Part of his duties while there included substituting as organist at West Point.
His goal is that the music he plays at the organ or the choral repertoire that his choir sings brings people to a closer relationship to God. He prays that his music always enhances the solemnity of the Eucharist and that for some people the music uplifts, for some it produces a time of reflection and meditation, for some a time of joy and peace and for others a time when they can put the day-to-day troubles aside and let the music speak to their inner being and heart. "We, as church musicians, must always remember that a concert musician's goal is to educate and entertain while the church musician is there to serve," he said. "I hope that my music causes people to pray through the vehicle of a language that speaks where words can't always reach."
Father Austin said that parishioners have noted how the overall liturgy supports their spiritual growth: "The music program, under Dr. Parizo's direction, is an important component of that satisfaction."
Now a recipient of a papal honor, Parizo will continue in the same way that he has for all of his career: "I will serve my God, the Diocese, my parish and God's people by being a liturgical musician while trying, to the best of my ability, to lead God's people to a closer relationship with the Almighty through a language that is universal — music."
Middlebury organist receives Benemerenti Medal for service to God and Church from Diocese of Burlington on Vimeo.
This slideshow requires JavaScript.