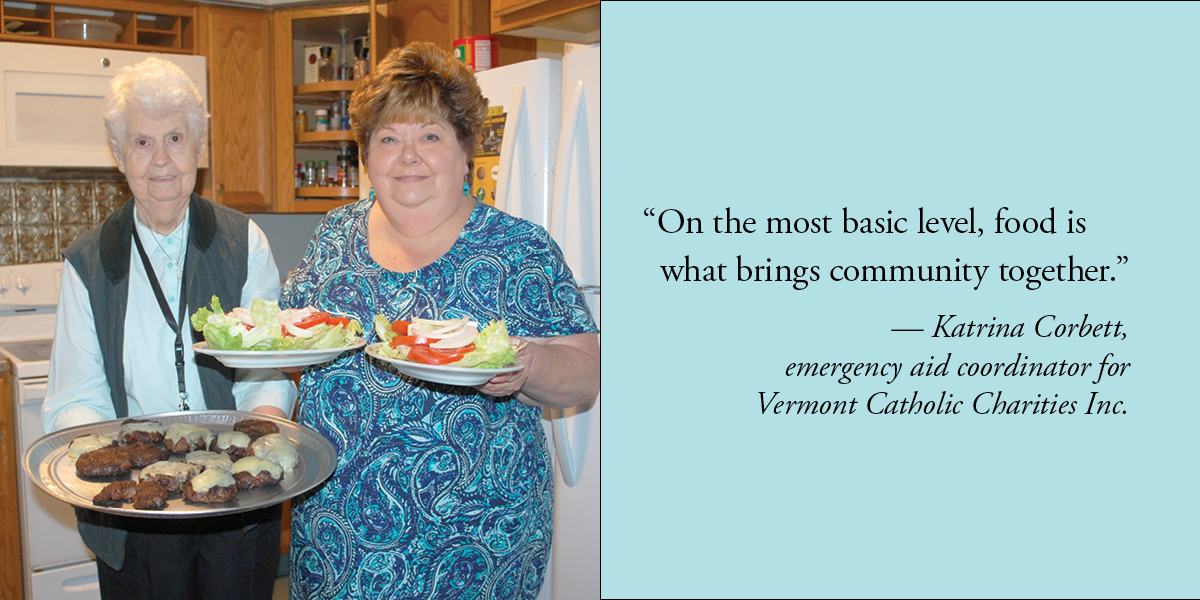 Serving dinner with a side of respect, camaraderie
Mike St. Pierre sat down at the large dining room table covered in a green tablecloth set for a dozen, adding food to his plate as it was passed. "The (dinner) plates are too small," he said with a laugh.
That's because he really liked the meal — hamburgers and hot dogs cooked on the grill and served with homemade beans, potato salad, fruit salad and all the fixings.
It was a Tuesday dinner at the men's Dismas House in Rutland, a supportive community for former prisoners transitioning from incarceration. Its mission is to reconcile former prisoners with society and society with former prisoners.
Volunteers make and serve dinners there Monday through Friday, and on this night the meal was provided by Katrina and Larry Corbett, parishioners of Christ the King Church in Rutland, and prepared and served by the couple and Sister of St. Joseph Shirley Davis of Rutland, a former teacher, principal and assistant Catholic school superintendent.
Before the blessing of the meal, those at the table — including residents, a staff member, the volunteers and a guest — took turns offering gratitude for such things as Dismas House, the meal, family and second chances.
"For people who might not have had the same life experiences or opportunities as we have, this (meal) demonstrates what a family eating at a table is," Katrina Corbett said. "It's a simple way people connect and communicate and show appreciation."
Resident Tim Blanchard said the volunteer cooks are "good for our morale," and the social interaction with them at the table makes the transitional living situation "feel like home." He likes the fellowship, meeting new people and the variety of healthy meals provided.
John Vincenzi, another resident, looks forward to the meals and getting to know people from all walks of life when they come to provide them. "It's humbling to have people come and talk and give us nourishment" both for body and mind, he said as he and other residents cleaned up after the dinner.
There are now seven residents at the men's Dismas House in Rutland.
Geraldine Burke, an assistant director of Rutland Dismas, said the volunteers that provide the meals and eat with residents "are the secret sauce to Dismas" because they provide a connection to the community.
There's camaraderie among the volunteers and the residents. When Katrina Corbett learned that Blanchard had just turned 40, she drew a laugh from the others at the table when she exclaimed, "I have pocketbooks older than you!"
Sister Davis grew up in a farm family of 10 children; she knows what it's like to have a family meal, and she knows it's important for the residents to experience that. Though some may be more reserved than others, the residents know they can sit at the table and be shown respect and have an enjoyable time.
Many residents have never sat at a family dinner table, Burke said. But "once they see it in action," they feel more comfortable, Sister Davis added.
She and Corbett are in charge of the dinner at Dismas [either the men's or the women's house in Rutland] every month or two as needed.
"It's an opportunity for them to feel uplifted and valued," Corbett said.
She enjoys cooking, and family and friends enjoy the delicious meals she makes. "On the most basic level, food is what brings community together," said the emergency aid coordinator for Vermont Catholic Charities Inc. in southern Vermont. "This [Dismas dinner] is a good example of fellowship with food. … Food takes the edge off everything. Sharing a meal is very nurturing. … It's an opportunity for [everyone at the table] to feel uplifted and valued."
—Originally published in the Summer 2023 issue of Vermont Catholic magazine.