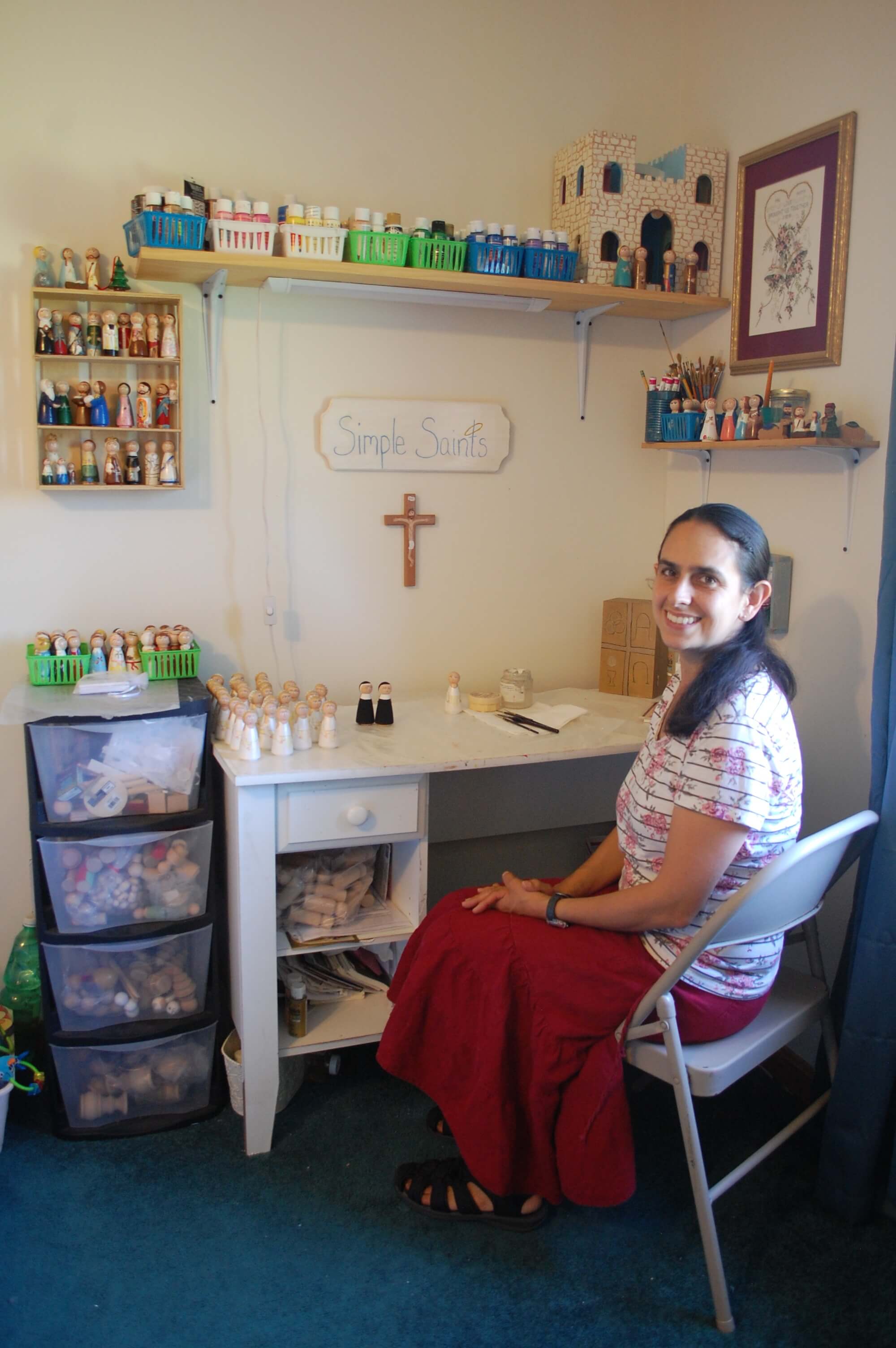 Simple Saints
Patty Lawson paints a plethora of peg people. And they are pretty prodigious; some even pious.
Lawson, wife of Deacon Phil Lawson of St. Luke Church in Fairfax, purchases the 3-1/2-inch tall pine "people" (which look more like wooden bowling pins before she paints them) from a craft supply company in Maine. When she is finished adding acrylic paint, sealer and sometimes personalization, the peg people take on the persona of saints, family members and people she knows.
Her inspiration came from a Catholic swap group she found on Facebook while living in Wisconsin about four years ago. She agreed to make 35 St. Luke peg people; in return she received 34 other peg dolls, beginning a collection that has grown to about 60.
She chose to paint an image of St. Luke on the peg dolls in honor of her son, Luke.
Her second swap of peg dolls centered on Holy Week characters; she made about 30 St. Thomas the Apostle peg dolls, a nod to her son, Thomas.
Lawson, a California native, now can create a peg doll in about an hour; more time is required if she is painting an image for the first time.
She ventured into the world of small business when she began producing peg dolls of Our Lady of Good Help to be sold in the gift shop at the National Shrine of Our Lady of Good Help in Champion, Wisconsin. She also has sold a few different saint peg dolls at the gift shop at St. Francis Xavier Cathedral in Green Bay.
When the Lawson family moved to Vermont in 2015, she continued supplying mostly Marian peg dolls to the shrine.
She has made more than 300 peg dolls, and each time she paints a new one, she makes one for her own collection.
Working in a corner of her bedroom in her Fairfax home, Lawson creates her "Simple Saints" that include the apostles, St. John Paul II, St. Faustina, St. Maximillian Kolbe and St. Andre Bessette. She uses pictures as her guide and tries to find some detail that makes each saint recognizable like the flame on the head of St. Jude, the sari of St. Teresa of Calcutta an the fish associated with St. Peter the fisherman.
"It's fun to make the saints come alive," Lawson said.
And some people use the peg dolls as teaching tools. "It's a tangible, hands-on way to see the saints," she added.
A former kindergarten teacher who has enjoyed crafts since childhood, Lawson, enjoys decorating cakes and making piñatas for her children.
A busy homeschooling mother of six children aged nearly a year to 12, she works on the peg dolls in her spare time or what she calls "stolen moments" when she can relax and pray for the future owner of the peg doll while painting.
She takes orders for special occasions like baptisms and First Communions and will even create a peg doll family from a family photograph.
The peg dolls cost $12.95 each, which includes shipping.
For more information, go to simplesaints.wordpress.com.
—Originally published in the Fall 2018 issue of Vermont Catholic magazine.