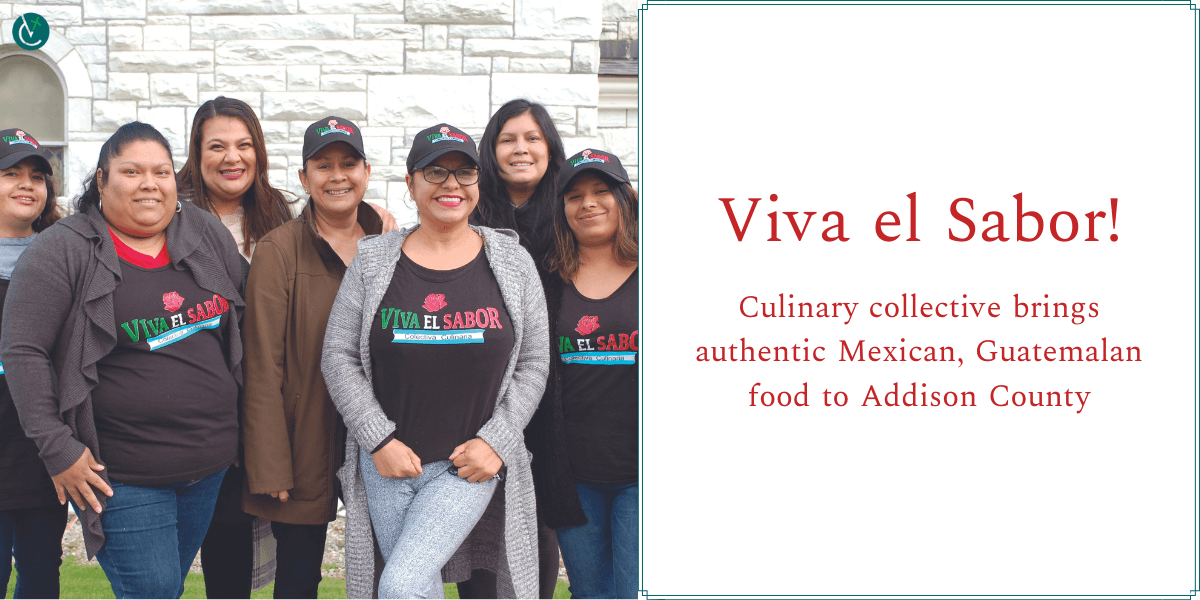 Viva el Sabor! Culinary collective brings authentic Mexican, Guatemalan food to Addison County
If you've got a taste for authentic Mexican or Guatemalan food, the members of the Addison County culinary collective Viva el Sabor ("Long Live Flavor") have something to satisfy your taste buds.
Gorditas, tacos, tamales, quesadillas, flautas, tres leches cake and so much more can be on your menu.
Viva el Sabor was formed with the support of the Addison Allies Network, a volunteer organization that provides services to migrant farmworkers, and Little Village Enterprises which addresses economic inequities.
There are a dozen members of the women-lead Addison County culinary collective that launched in June with a popular pop-up dinner on the Marble Works green in Middlebury.
During the fall, some of the members catered a Middlebury College event at Assumption of the Blessed Virgin Mary Church in Middlebury. Father Luke Austin, pastor, attended and said he enjoyed the authentic food.
Several of the members of Viva el Sabor belong to area Catholic churches, so bringing their recipes from their homes in Mexico and Guatemala reminds the priest "that we are part of a universal Church."
Alicia Rodriguez, a parishioner of Our Lady of Good Help Church in Brandon who is from Mexico, is one of the members of the collective. "Most of us have known each other for a long time," she said, because they are united through family members who work on area farms. But through the collective, they have deepened friendships and created their own community of migrant worker families.
Wendy Giron of St. Ambrose Church in Bristol is another member of the collective. A native of Guatemala, she said she has been able to make more money by cooking in the collective. "I'm happy to be making more money than before," she said through an interpreter.
Magnolia Gonzalez has used money earned from her cooking to help her family both in Vermont and in Mexico; the family of Alejandra Perez — who is from Mexico — has "more resources to sustain and support" themselves thanks to her cooking.
Maria Martinez, also from Mexico, has a 21-year-old daughter who needed insurance to drive the family car; cooking for the collective helped her help her daughter come up with the needed funds.
"The collective has opened a lot of doors for me to sell my food," said Mexico native Magdalena Deloya, who catered the event at the Middlebury Catholic church. "It's been just great. We all know how to cook. We love cooking. Cooking is our way to show love to others."
Many of the women learned to cook thanks to their grandmothers. "When I was young, I hated cooking, but my grandmother came from a line of Caribbean cooks, and her teaching finally affected me," Giron said with a smile. "When I'm cooking, I can touch people's hearts and their stomachs."
Gonzalez said through an interpreter that she began cooking when she was seven in Mexico, and she enjoys sharing her food and culture with others.
One member of the collective died recently, and her death deeply touched her friends, including Deloya, who strives to make available healthy alternatives to standard favorites for her clients. "Even though we like to eat delicious, we also want to focus on eating healthy."
The culinary collective has found support among the Catholic community in Addison County. During the fall, Viva el Sabor presented a taste of its foods at a fiesta at St. Peter Church in Vergennes.
According to the Viva el Sabor Facebook page, to get information on having an event catered, email vivaelsabor2021@gmail.com and describe your event: date, number of guests, type of event, etc. to be matched with the cook/s.
—Originally published in the Winter 2021 issue of Vermont Catholic magazine.