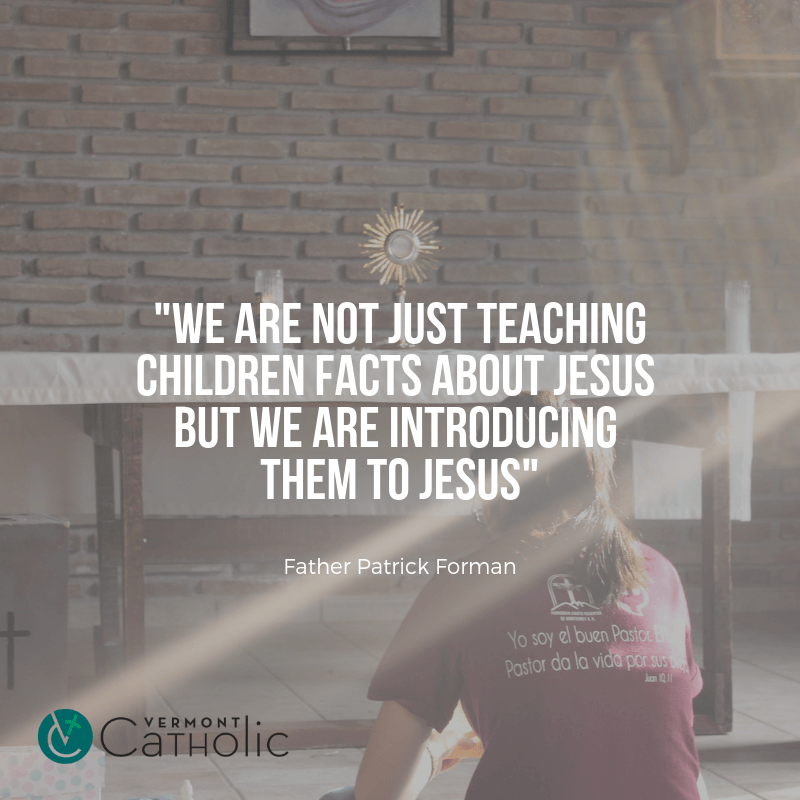 Youth ministry fostered priestly vocation for Father Forman
The summer before Patrick Forman entered his freshman year at Rice Memorial High School in South Burlington, his pastor at Christ the King Church in Burlington asked him to represent the parish on a diocesan Catholic Youth Organization retreat. It was the teen's introduction to diocesan youth ministry, and at a small group Mass there he fell in love with Jesus Christ and the liturgy.
That Mass — at the former diocesan Camp Holy Cross in Colchester — was a moment of grace for the young man: "The Holy Spirit touched my heart, and I fell in love with youth ministry."
He got involved with various youth retreats — Teen Encounter, Search, Leadership School — and wanted other young people to have the opportunity to encounter Jesus in a meaningful and profound way.
Patrick might have been considering a vocation to the priesthood, but he wasn't talking about it. One day during his sophomore year at Rice, his English teacher, Sister of Mercy Margaret Mary Lyons, told him he would someday be a priest. He reacted somewhat indifferently, but her words stuck with him.
It wasn't until his sophomore year at St. Michael's College in Colchester that he was ready to pursue the idea of becoming a priest.
He and a few of his classmates met with then-diocesan vocations director Father Richard Lavalley (now Monsignor Lavalley, pastor of St. Francis Xavier Church in Winooski) who helped them discern their vocation and even select courses that would be most beneficial to them.
After discerning a vocation to a religious order — the Society of St. Edmund, founders of St. Michael's College — the young man opted for the Diocese of Burlington.
With a bachelor's degree in religious studies from St. Michael's and a master of divinity in scriptural theology from Mount St. Mary Seminary in Emmitsburg, Maryland, Patrick Forman was ordained to the priesthood in 1989 by seventh bishop of Burlington John Marshall.
And throughout his priesthood, Father Forman has been a proponent of vibrant youth ministry programs that give participants the opportunity to connect with Jesus and their peers.
Youth ministry, he said, should help young people deepen their personal relationship with Jesus and discern their vocation, reinforce their goodness and give them a sense of church community that they will want for the rest of their lives.
Before his current assignment as pastor of St. Monica Church in Barre (where he previously served his second priestly assignment as parochial vicar) Father Forman, 56, served at churches in Burlington, Brattleboro, Barton, Irasburg, Orleans, St. Johnsbury and South Burlington.
During his first assignment — as one of two parochial vicars at St. Joseph Parish in Burlington — Father Forman was responsible for youth ministry, religious education, the confirmation program, visiting St. Joseph School and parish CYO basketball. "It was really good to use my experience" with youth ministry, he said, adding that he also celebrated Mass daily, visited the sick and was involved with diocesan youth ministry and Vermont Catholic Singles retreats. "I wasn't pigeon holed into youth ministry," he said.
His pastor at the time, Father Bernard Messier, mentored him and showed him "how to be a good parish priest." His second pastor, Father Norm Nadeau — then pastor of St. Michael Parish in Brattleboro — helped him expand his leadership skills and build confidence, something Father Forman has tried to do with the parochial vicars that have served under his pastorate.
Father Forman serves as state chaplain of the Catholic Daughters of the Americas and is a member of the Board of Trustees at St. Michael's College, the diocesan Building Commission and the Presbyteral Council. He is a past member of the Rice Memorial High School Board.
He always has tried to make sure the parishes he served had religious education/youth ministry/confirmation programs with personal, prayerful components "so we are not just teaching children facts about Jesus but we are introducing them to Jesus," he said. "We're learning to meet Jesus and experience the sacraments as encounters with Jesus."
But he doesn't just seek to provide youth with a personal encounter with Jesus; that's something he wants for all of his parishioners. "I want people to feel their soul was touched by God."
No one ministry of a parish should be its heart because the heart of the parish is Christ — who is the center of everything, Father Forman said. But youth ministry does have a special place in his heart.
—Originally published in the Fall 2019 issue of Vermont Catholic magazine.