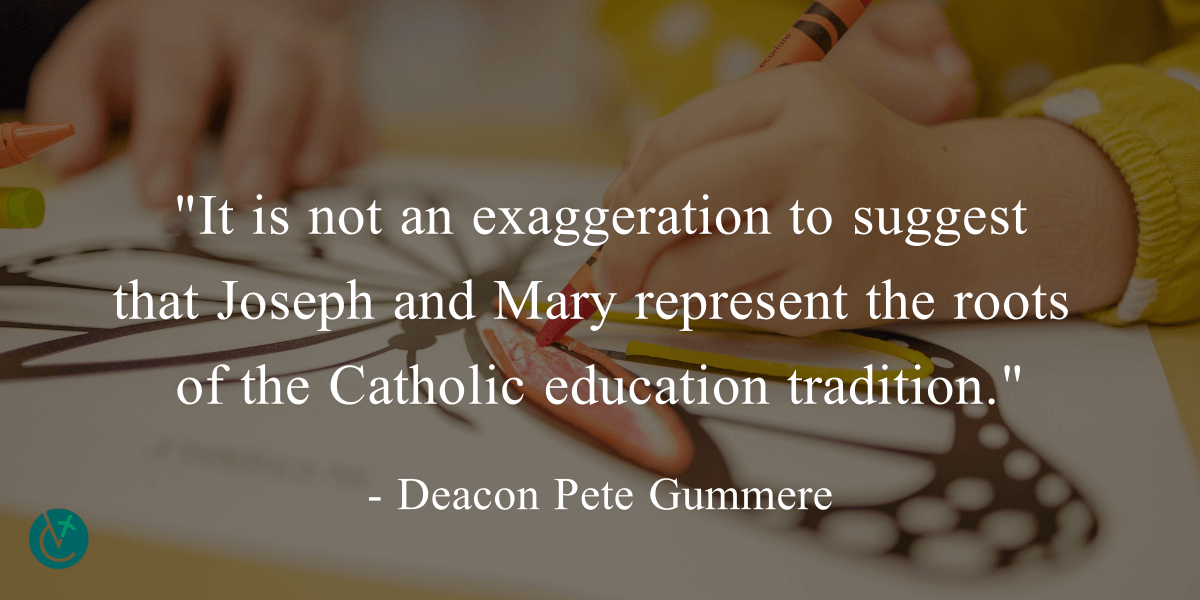 St. Joseph, educator of Jesus
I recently had the privilege of visiting and speaking with several principals from our Catholic schools in Vermont.  They were true inspirations — exhibiting a depth of faith, a commitment to sound Catholic teaching and dedication to the well-being and the education of the children in their care.
While driving home, I reflected on my own positive experience with Catholic education.  I had the blessing of a superb Catholic education — kindergarten through college and graduate studies in theology at St. Michael's College in Colchester.  My wife, Mary Anne, is also a graduate of Catholic elementary school, high school and college.  We both have taught in Catholic schools, and Mary Anne served as a Catholic school principal.
Both of our children graduated from a Catholic elementary school.  Our on-going commitment to Catholic education includes both financial support and direct involvement in Catholic schools.
I pondered the Franciscan Sisters who taught me in elementary school and the Jesuits in high school and college, and of course the Edmundite priests at St. Michael's.  Along the way, I also took courses from members of other orders and lay persons who taught at those institutions.  The long traditions of those orders included a genuine commitment to Catholic education that was shared by the lay faculty members.
The current era in Catholic education stands in stark contrast the historical precedent.  The faculty at Catholic schools is now composed primarily of lay people, women and men who bring a deep commitment to the faith into their daily lives and especially into their professional lives as teachers.
Of course, the tradition of Catholic education goes back far before St. Ignatius organized a band of men into the Society of Jesus, and before the Order of Friars Minor were organized by St. Francis.  From the earliest days of the Church, parents were teaching the faith to their children, just as they taught them the skills and knowledge needed to survive in the world in which they lived.
Such was the case even for Jesus. Mary and Joseph, together, taught Jesus life skills and an understanding of his Jewish faith and tradition. Joseph, a carpenter, also taught Jesus his carpentry trade.  Beyond question, they also modeled attitudes and behaviors that were devout, pious and charitable.  Coming out of that setting at age 12, Jesus had a knowledge that impressed the teachers at the temple in Jerusalem. Certainly, a large portion of that knowledge had come from Joseph and Mary.
This is not to minimize the role of the divinity of Jesus in the development of His knowledge. Yet, it was in that family setting that Jesus "… advanced in wisdom and age and favor before God and man" (Lk 2: 52).
It is not an exaggeration to suggest that Joseph and Mary represent the roots of the Catholic education tradition. Catholic schools provide both a sound foundation in the faith and academic formation, along with the skills to be successful in contemporary life. Hence, it is no small wonder that St. Joseph and the Blessed Mother are the patrons of so many Catholic schools, colleges and universities.
St. Joseph was the patron of the high school I attended, and my college was under the patronage of the Holy Family.
In this year of St. Joseph, let us all celebrate the Catholic schools of the Diocese of Burlington.  They are a true gift, deserving our continued and enthusiastic support.
—Deacon Pete Gummere is a bioethicist and serves at Corpus Christi Parish in St. Johnsbury.
—Originally published in the Fall 2021 issue of Vermont Catholic magazine.