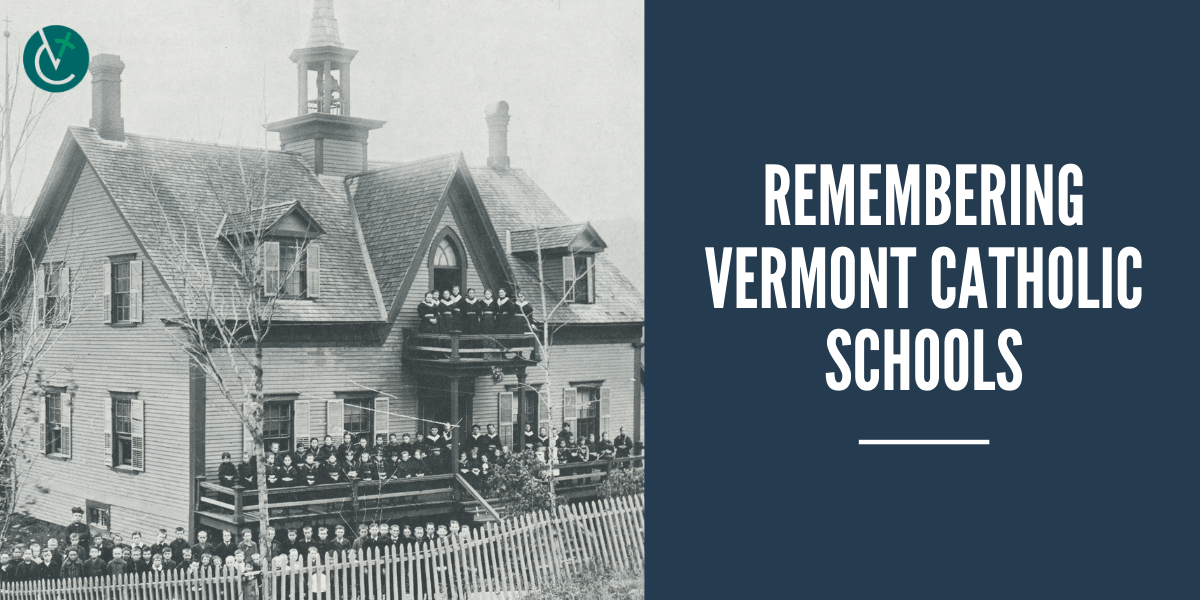 Former Catholic schools in the Diocese of Burlington
Today there are 14 Catholic schools in the Diocese of Burlington, but the stories of former schools live on in diocesan history.
Here is a look at a few:
St. Mary Academy, 1886-1969
Island Pond
Two years into Father Cleophas Trottier's pastorate at St. James the Greater Church, five religious sisters arrived from St. Hyacinthe, Québec. The Sisters of the Presentation of Mary, a religious order of women founded in France, established their first permanent mission in the United States – St. Mary Convent and School — in Island Pond. The academy opened in 1886 with more than 130 Irish and French-Canadian students.
St. Mary's educational mission was designed to help students adapt to the real world by incorporating habits in industry, fair play, cooperation and sociability into the curriculum.
In 1944 St. Mary's received accreditation from the State of Vermont Board of Education and was ranked among other schools throughout Vermont for the exceptional work accomplished by the teachers and students.
Due to declining enrollment, the high school portion of St. Mary's closed in 1955. The sisters remained at St. Mary's until the last eighth-grade class graduated in 1969.
St. Peter's Convent-School, 1886-1907
Vergennes
Within his first year as pastor, Father Pierre Campeau increased the size of the parish so he decided open a school. In 1886 four sisters of the Holy Cross arrived in Vergennes from St. Laurent, Québec. On the first day of school, 224 students were enrolled.
Music was an important part of the school's curriculum, attracting visits from several priests of the Diocese of Burlington as well as local teachers. Most classes were taught in French. Students had oral examinations in December and May each year. That first year, these examinations were administered by Father Campeau, Burlington Bishop Louis de Goësbriand and the local superintendent of schools.
The Sisters of the Holy Cross taught catechism on Sunday afternoons to those Catholic children attending public school.
There were so few students enrolled in St. Peter's in the fall of 1906 that Father Campeau wrote, "When I leave Vergennes the Sisters will soon leave after me, if my successor has less zeal, for he will close the school rather than pay the Sisters' salaries from his own pocket."
Father Campeau left St. Peter's on Christmas Day 1906 and the school closed the next March.
St. Edmund's Juniorate, 1898-1950
Swanton
From 1898 to 1950, the Society of St. Edmund founded and maintained a juniorate in Swanton. As a high school, it was founded and designed to run as a junior seminary where boys were sent with the hope that they would discover and begin discerning a vocation. St. Edmund's Juniorate was an important educational apostolate; it was there that several Edmundites first encountered the society. It built upon the success of the educational works the society had begun in France.
When it closed in 1950, students transferred to St. Anne's Academy in Swanton, which was operated by the Daughters of the Holy Spirit.
Holy Ghost Convent and School, 1903-1967
Graniteville
St. Sylvester Church in Graniteville was home to Italian, French-Canadian, German, Polish, Spanish, Irish and Scottish immigrants who worked in 80 quarries. Father Damase Daignault invited the Daughters of the Holy Ghost to operate a new grammar school. They wanted to establish themselves in America because they were being persecuted and exiled from their native France.
The Holy Ghost Convent and School formally opened in 1903 with 163 students. The French- speaking sisters — with the help of Father Daignault, his assistant priests and other English-speaking parishioners — proved themselves increasingly proficient in the English language. By 1912, enrollment grew to 247 children.
St. Stanislaus Kostka School, 1907-1979
West Rutland
The Polish community in West Rutland grew from 12 quarrymen in 1890 to about 400 people by 1902. Father Valentine Michulka, a Polish-speaking priest, was assigned to West Rutland in 1904 to serve this community. He immediately began raising funds and material donations build a church.
By the end of 1906, St. Stanislaus Kostka Church was completed and in 1907, St. Stanislaus Kostka School began operating in the church basement.
The first class included 30 students taught in Polish by a seminarian, Maximilian Gannas, who arrived in West Rutland in 1905 and offered his services to Father Michulka. Classes were taught exclusively in Polish by lay teachers in the church basement for 18 years. The Felician Sisters of St. Francis, a religious order of women originating in Poland, joined the lay teachers on the school's faculty. By 1922, the basement of St. Stanislaus was overcrowded with students, and the new St. Stanislaus Kostka School opened in 1925.
Evidently, providing a Catholic education to Vermont's children was a priority since the early days of the creation of this Diocese. Opening several schools was likely a financially daunting task because doing so required enormous sacrifices from the parishioners and the religious sisters recruited to operate the schools.
Parish priests were not rich in worldly goods but were equipped with the strength of their faith, dedication to their vocation and the Catholic faithful in Vermont. Religious sisters who were invited to take part in establishing and operating these schools were not only dedicated educators but were also credited with fostering many vocations to the priesthood and religious life – a visible sign of God's blessing on parishes.
Many of these schools closed long ago, but the most important lesson – to know, love and serve God – has not been forgotten and holds true in our schools to this day.
— Kathleen Messier is the assistant archivist for the Diocese of Burlington. For more information, email archives@vermontcatholic.org.
—Originally published in the Fall 2020 issue of Vermont Catholic magazine.