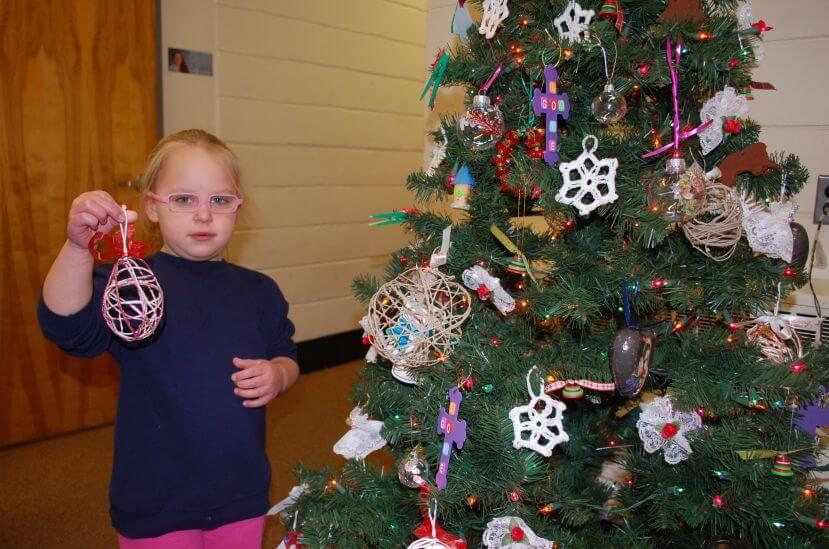 St. Monica-St. Michael School Christmas Craft Fair
The giving for this Christmas project began with people who like to make gifts, and it will continue into the new year helping people in need.
Teachers and parents from St. Monica-St. Michael School and parishioners of St. Monica Church in Barre contributed box loads of homemade items for the school's annual Christmas Craft Fair Dec. 18 and 19.
This was a fair for the schoolchildren, a place they could buy gifts for family members without family members knowing.
All gifts were $1, and children could bring in $5 to buy five gifts, though children from larger families could purchase enough gifts, and any child whose family could not afford $5 could still shop like everyone else.
A Christmas tree was decorated with ornaments for sale, and other gifts were displayed on tables throughout the conference room. There were barrettes and bookmarks, hats, mittens, scarves, spices, tea, homemade soap, candies, plastic spoon lily votive lights, magnets and key chains among the choices for everyone on the children's list from siblings to grandparents.
And once the children had selected their items, parent volunteers wrapped the gifts to ensure they would be a surprise.
"The children love this because they like to be able to shop without us with them," said Melissa Cadorette, a parent volunteer.
"They're really proud they're getting these gifts and so happy," added another parent volunteer, Krissy Lyon.
Ziva Covey, 6, a first grader, was buying for her brother, father, two grandmothers and grandfather, her shopping list tucked under her arm. She got a gift elsewhere for her mother. "I like shopping here," Ziva said. "There's so much awesome things."
And while they are having fun shopping, the children are learning the importance of giving to others, said parent volunteer Shauna Wolf.
The gifts they give really are gifts that keep giving: Proceeds from the Christmas Craft Fair are donated to the St. Monica Food Pantry and the St. Augustine Soup Kitchen in nearby Montpelier.
"This is a wonderful opportunity for the children to learn to think of others as well and for the volunteers and crafters to be able to give of their talents and skills," said Principal Brenda Buzzell. "Then the churches will benefit from the donations to help people in need."