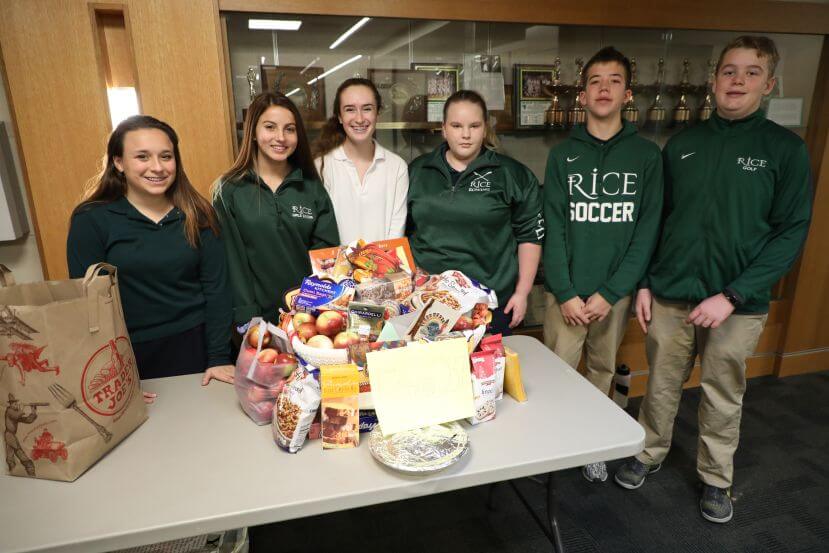 Thanksgiving baskets
The annual Thanksgiving basket partnership between Rice Memorial High School in South Burlington and Vermont Catholic Charities Inc. took place Nov. 16.
The students, teachers, staff and Rice community put together baskets of food and decorations for a full Thanksgiving feast for needy families from the Chittenden County area.  From turkeys and stuffing to pies and candles, goodies were placed with care in baskets and boxes.
Twenty-one families (46 adults and 59 children) will enjoy a full Thanksgiving dinner thanks to this project.
"Thank you so much for the Thanksgiving basket. Without your generosity, we would not have a Thanksgiving this year. We all appreciate it more than you know," said one recipient.
"Thank you so much for your help this year in helping my children have a great Thanksgiving. It is people like you that help us all grow.  Thank you!" said another.
Members of the Vermont Catholic Charities and Diocese of Burlington staff judged the baskets. The judges were inspired and impressed with the creative and overflowing baskets.
The students who worked on the winning basket earned a dress-down day. There was a tie this year so the dress down day was awarded to the students from Gretchen Fricke-Langan's and Sarah Smith Conroy's classes.
"As emergency aid coordinator at Vermont Catholic Charities, I feel blessed and thankful this Thanksgiving for the support of our extended community at VCC and Rice," said Irene Manion, emergency aid coordinator at Vermont Catholic Charities. "It is so gratifying to see the generosity and spirit of the entire Rice community come together from the students, staff, parents — the abundant food donations, the beautifully decorated baskets and the spirit of sharing and helping our neighbors in need. The families we assisted could not have been more excited and appreciative, some were overwhelmed with the generosity, some almost tearful for the kindness. It truly makes me thankful to see how VCC and Rice working together can bring holiday joy to our friends and neighbors."