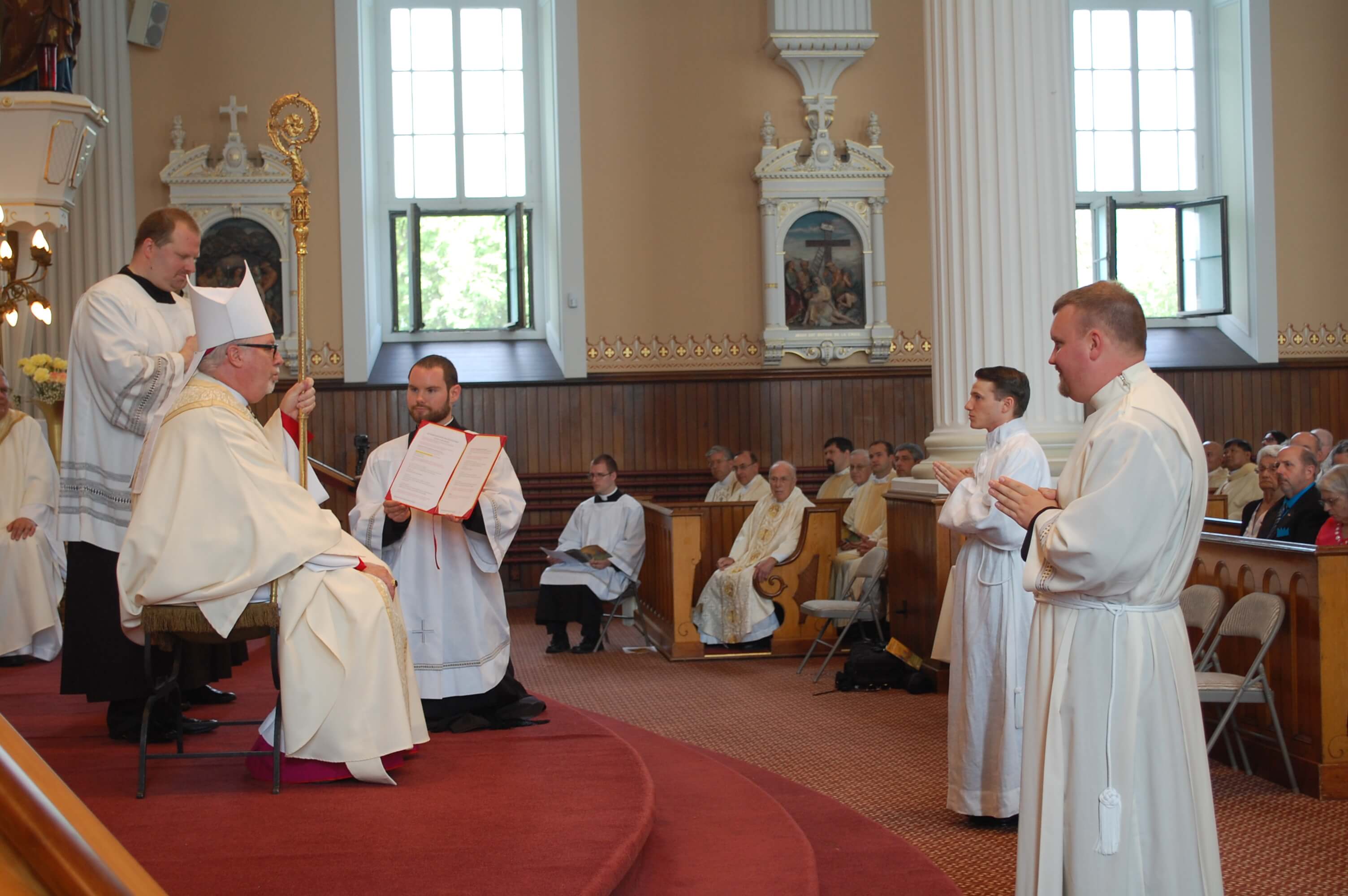 Love for God and neighbor
When a man enters seminary training to become a priest, he learns about scripture, sacraments and service.
The latter, service, relates not only to serving a parish through administering the sacraments and administration but also to serving the poor.
"Care of the poor and vulnerable is an essential part of the formation to the priesthood because, as Jesus said in Matthew 25:40, 'Amen, I say to you, whatever you did for one of these least brothers of mine, you did for me,'" said seminarian Robert Murphy who is studying at Mount St. Mary's Seminary in Emmitsburg, Maryland, and anticipates priestly ordination in 2021. "Jesus showed a special love of the poor and vulnerable in His ministry and told His disciples to love Him by loving [their] neighbor, so a priest must learn to do same out of love of God and neighbor."
Murphy was one of several seminarians for the Diocese of Burlington who offered thoughts on priestly formation in the area of service to the poor and vulnerable.
The poor aren't just those who lack financial resources; they may be those who are poor in health, those who have little or no faith or or those who have no family, friends or meaningful relationships.
Deacon Kevin Chalifoux is studying at The Pontifical North American College/The Pontifical University of St. Thomas in Rome and preparing for ordination next year. There is often little that he can do for the poor people he meets on the streets of Rome, "but that hardly means that treating them with sincerity, kindness and respect is unimportant," he said. "My interactions with the poor and vulnerable of Rome helps to purify my own self-centeredness as well as my tendency to view life more according to this world than to Heaven. When there is so little I can do for them on a natural level, I am forced to confront the fact that it is spiritual destitution that is far more devastating to the human heart than is economic poverty."
Seminarians are encouraged to take every opportunity possible to serve the poor in their various pastoral assignments, "knowing that Jesus told us to serve the poor," said Deacon Robert Little who is studying at St. John's Seminary in Boston and is to be ordained to the priesthood next year. "If the priest is to be like Christ at the altar, he should be like Christ in every other moment of his life."
Seminarian Matthew Traceski who is studying at Mount St. Mary Seminary and is scheduled to be ordained in 2021, said caring for the poor is "both a lynchpin in understanding the unity of the Mystical Body and the gateway to an intimacy with the poor Christ. … It is impossible to be configured to Christ unless you first become poor like Him."
Seminary is a time of intellectual formation, and time is spent learning and studying. This includes the social teaching of the Church, notes seminarian Greg Caldwell who is studying at Mount St. Mary's Seminary and anticipates ordination to the priesthood in 2022. Why do we do what we do? Why is there a preferential option for the poor? "However, only thinking and not doing leads to priests who preach and not do," he said.
Seminarians have various ministry assignments including teaching and serving the poor, homeless and elderly.
Before Murphy entered the seminary he volunteered at a food bank and helped distribute food to those in need. "My service prior to seminary helped me to realize how service can help one to focus less on oneself and more on serving God through service of neighbor," he said. "As God helped form me in this way, I became more open to the life of the priest, which is a life of service for the glory of God."
—Originally published in the Winter 2018 issue of Vermont Catholic magazine.