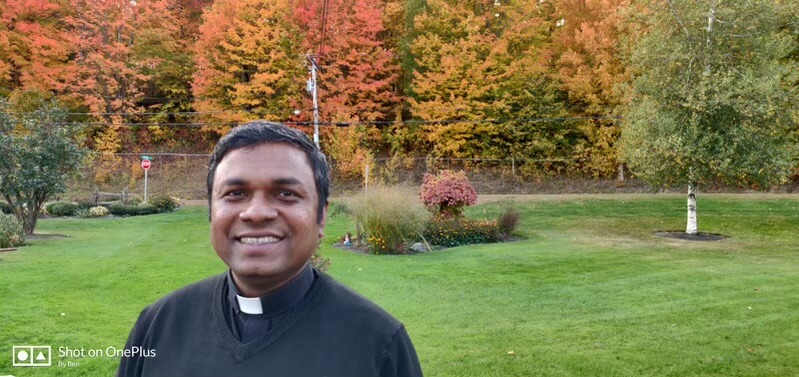 Newport pastor expresses 'super joy' founder of order to be canonized
Blessed Justin Maria Russolillo, an Italian priest who founded the Society of Divine Vocations for men and the Vocationist Sisters, will be named a saint, and a member of the men's  congregation in Vermont is expressing "super joy."
Father Rijo Johnson, pastor of Mater Dei Parish, said he and other members of the Society of Divine Vocations have been waiting a long time for the congregation's founder to be canonized, "but we knew he's a saint."
Pope Francis approved the canonization in May but said the date for the ceremony would be determined later because of the ongoing Covid-19 pandemic.
Vocationist priests serve at Mater Dei Parish in Newport, Derby Line, Island Pond and West Charleston and at Our Lady of Seven Dolors Church in Fair Haven, St. John the Baptist Church in Castleton, St. Paul Church in Orwell, St. Frances Cabrini Church in West Pawlet and St. Matthew of Avalon Chapel in West Castleton.
Blessed Justin was born in Italy in 1891 and ordained a priest in 1913. That year, he founded the first community of the Society of Divine Vocations, which became known as the "Vocationist Fathers," to foster and promote vocations to the priesthood, religious life and holiness among all God's people.
The Vocationists' spirituality stems from Blessed Justin's conviction that all people are called to holiness and that their ultimate goal is to achieve divine union. "To preach holiness, you need to be holy first," Father Johnson said, adding that people tend toward greater holiness when they see the example of others.
When Vocationists greet one another, they say, "Jesus, Mary and Joseph," invoking the Holy Family. They part with the words, "Be holy" rather than good-bye "to help people connect to heaven," said the priest who knew the New Jersey woman whose miraculous cure was credited to Blessed Justin.
Father Louis Caputo, of New Jersey, is a former superior general of the Vocationist order, and he knew Blessed Justin.
When he entered the order at the age of 12, he lived in the same house as the future saint and attended Masses he celebrated, listened to him preach and shared group discussion and recreation with him.
Father Caputo attended Blessed Justin's beatification in Italy and has published and/or translated some of his books.
"He was a very humble man. Meek. A smiling person," Father Caputo said. "He inspired confidence in us," recalling that Father Justin used to entertain the students with stories of the lives of saints.
Blessed Justin died in 1955 at the Vocationist Fathers Motherhouse in Italy.
In 1997 he was proclaimed venerable; he was beatified in 2011.
"I've been praying and waiting for this" news that Blessed Justin will be canonized, Father Caputo said. "I consider it a special privilege and grace to have known him."
Today there are hundreds of priests, brothers, sisters, novices and religious serving in the spirit of Blessed Justin who devoted his life to fulfilling the need of religious vocations in the world.
Members of the congregation promote vocations with the goal of bringing all members and, through them the whole world, to perfect divine union with the Father, the Son and the Holy Spirit.
The Vocationist Fathers first arrived in the United States in 1962. In 2017, a Quasi Province was established; it serves a dozen parishes in Vermont, New York, New Jersey, Massachusetts and Florida.