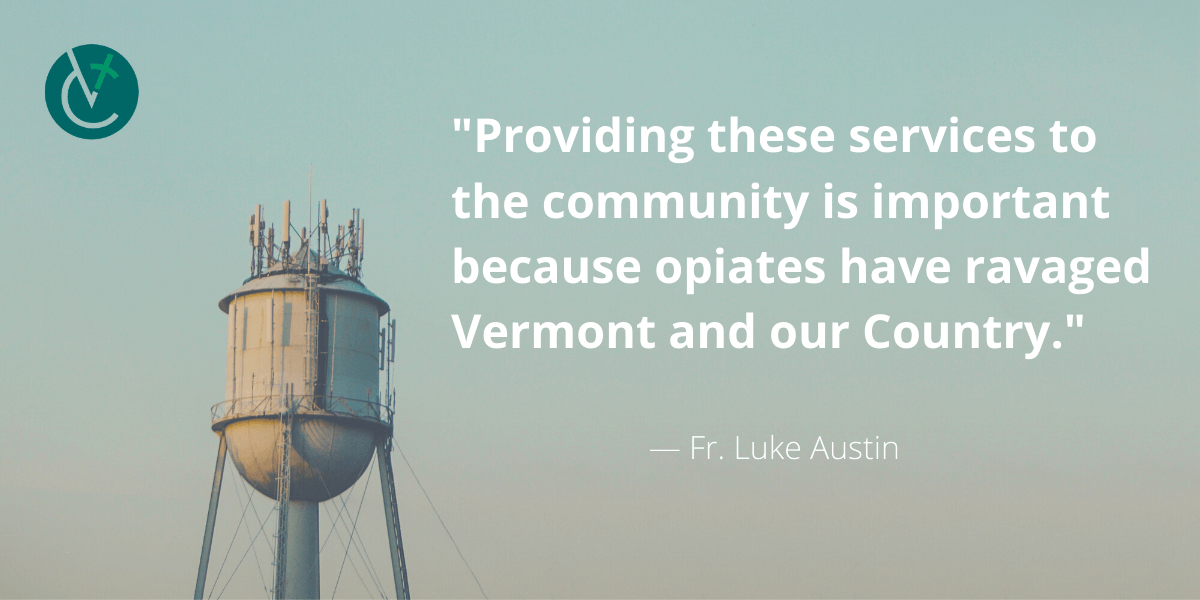 Parish helps remove barriers to medical service
Pope Francis has often said that Christians need to meet people where they are and show mercy to those in need.
The parish community of Assumption of the Blessed Virgin Mary in Middlebury has found a unique way to answer that call through a Mobile Medical Van, provided and staffed by Mountain Health Center in Bristol. This federally qualified health center has a mission to serve the underserved.
It was a drive through the parish neighborhood by Dr. Will Porter, a physician on staff in Mountain Health Center, that brought him and Father Luke Austin, pastor, together.
With Middlebury being the geographic center of the county, there is a need to "remove barriers to receiving care for those in need," said Porter, whose calling is substance use treatment and who had an eye open for space for a free-standing clinic. Porter shared his ideas with Father Austin and was encouraged to discover that the priest and the parish council had similar thoughts.
"As a pastor, I was open to ways in which the parish could somehow be of service in helping those with opiate issues," Father Austin said. "Providing these services to the community is important because opiates have ravaged Vermont and our country. When the number of overdose deaths surpassed the number of U.S. servicemen killed in the Vietnam War, it hit me that this was incredibly important."
The van, which is parked in the parish parking lot two days a week, was secured as part of a grant opportunity for a federally qualified health center. The mobile unit provides access to services that patients may not otherwise receive, including the Medication Assisted Treatment Program for opioid and alcohol dependence, help for substance use disorders, counseling and recovery coaching.
Martha Halnon, chief executive officer of Mountain Health Center, noted that van staff includes Porter; a licensed alcohol drug counselor/licensed mental health counselor; a registered nurse case manager; and a medical assistant/recovery coach.
Porter recalled that, before the van was hosted by the parish, Father Austin proposed a walk around the neighborhood to talk with residents about the project.  "They were cordial and encouraging," said Porter, noting especially one neighbor who invited them in and then asked, "What can I do to help?"
Since arriving at the parish in August, some 90 people in the community had received services (by mid-November) on Porter's panel, which would also include one day of seeing patients in the Mountain Health office.  On average, eight to 14 patients a day are seen in the mobile unit, depending on the reason for their visit, Halnon explained.
Reflecting on the unique community outreach, Porter said, "If all of us aren't thriving, all of us are suffering."
Emphasizing that link, Father Austin said, "As the Body of Christ in the greater Middlebury area, we are linked to our brothers and sisters in recovery, because all of us as frail humans have our own 'addictions', and but for the grace of God, could be prone to even more consequential ones."
—Originally published in the Winter 2019 issue of Vermont Catholic magazine.