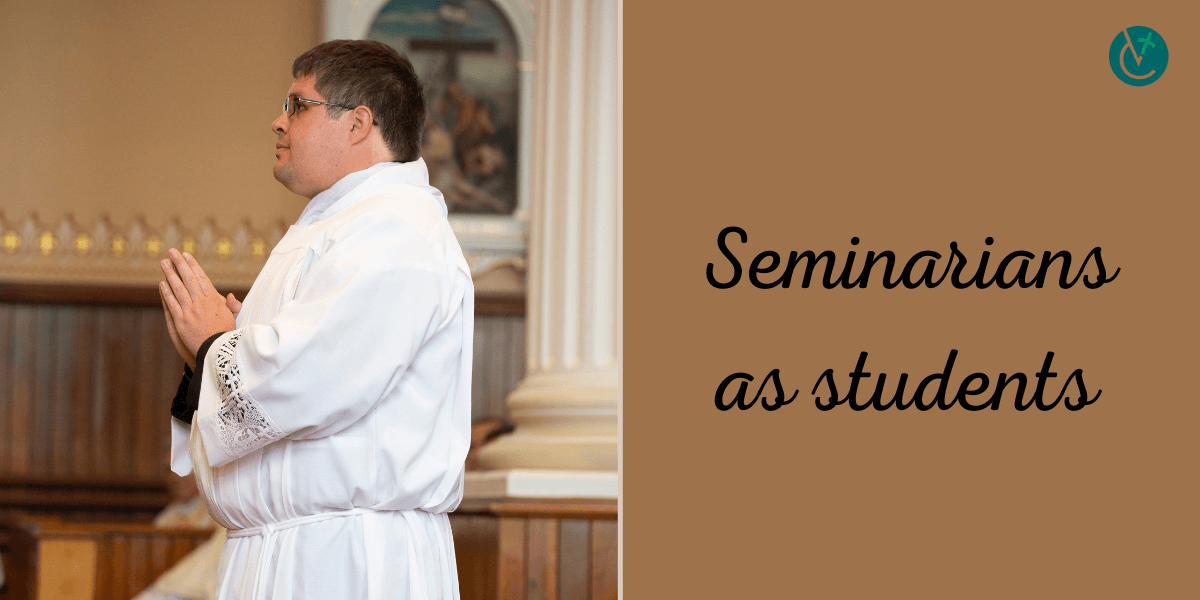 Seminarians as students
Deacon Gregory Caldwell explained the difference between college and seminary studies succinctly: "It is not just academics; it is not really about the grade. The goal is to form priests, not merely theologians."
For him and the other seminarians of the Diocese of Burlington, their studies are not about an avocation, but about their vocation — to become priests.
"One way this is seen is that in seminary formation looks at using the four dimensions of formation: human, spiritual, intellectual and pastoral," he said. "Many educational experiences are focused almost exclusively on intellectual formation, but in seminary that can't be the case; these other dimensions are at least as important."
He pointed out that St. John Paul II called human formation the fundamental dimension of formation that the others build upon.
Deacon Caldwell, 31, a transitional deacon in his fourth theology year at St. Meinrad Seminary and School of Theology in St. Meinrad, Indiana, and three other seminarians — all with different backgrounds — fielded questions about being seminarians — about being students. The other three are Brandon Schneider, 42, who completed seminary training at the Dominican House of Studies in Washington, D.C., and will spend the current school year in pastoral ministry in the Diocese of Burlington; Cale Bombardier, 21, a senior at Our Lady of Providence Seminary; and Giang Dinh Vu, 27, a first-year theology student at St. Meinrad Seminary's.
"Seminary formation is built upon four pillars: human, intellectual, spiritual, and pastoral," Schneider also emphasized. "Theology can be studied on its own, but in seminary, it is also closely related to your prayer life and your ministry assignments. Each pillar builds upon and reinforces what you are learning in the others. You can really start to see and articulate how God is actively working in your own life and in the lives of others."
A 1996 graduate of U32 Middle and High School in Montplier whose home parish is St. Augustine's there, he received a bachelor's degree from Youngstown State University in history and Russian in 2000 and a master's from Georgetown University in Russian History in 2002.  He worked in the Admissions Office at Georgetown University School of Medicine where he was assistant dean for admissions for almost five years before entering the Order of Preachers (Dominicans). After leaving the Dominicans, he worked at Northwestern University before entering formation for the Diocese of Burlington in 2020.
Deacon Caldwell, was born near Endicott, New York, and moved to Vermont when he was five. He graduated from Essex Highschool 2008 and used to attend Essex Alliance Church. He graduated from the University of Michigan in 2011 with a degree in computer science and worked as a Software Engineer in Ann Arbor from 2012-2016. He was received into the Church at St. Thomas the Apostle Parish in Ann Arbor in 2013.
Though he enjoys studying and learning, Deacon Caldwell said the biggest challenges he faces as a student and a seminarian are "due dates, due dates, due dates."
He continued, "There are lots of things that need to get done, and they all have deadlines: homilies, evaluations, formation workshops, formation meetings, liturgy assignments, ministry assignments — all in addition to normal school work."
He recognizes that there comes a point when a task just needs to be done. "To quote a former spiritual director at St. Meinrad: 'There is one thing better than a perfect paper — a done paper!'"
Vu, a native of Vietnam, graduated in 2016 from Electric Power University in Hanoi with a degree in information technology. He came to the United States in 2017 and became a seminarian for the Diocese of Burlington.
He likes being a student because he can acquire more knowledge and make more friends, but because English is his second language, it is especially challenging for him to learn philosophy in English. "I do not hesitate to ask the teacher to clarify for me. In addition, I ask my classmates for help. Furthermore, I have learned more vocabulary every day. This can help me to improve my reading and writing skills," he said.
He misses his family in Vietnam, but he calls them every weekend to talk.
Bombardier, of Williston, graduated from Champlain Valley Union High School in Hinesburg in 2018 then spent a year at Norwich University as a cadet before he felt God calling him to the priesthood. "While the idea of being in school for eight years after high school can be a bit daunting, in my experience it is very necessary," said the parishioner of Christ the King /St. Anthony Parish in Burlington. "Being a student means that this is the time that I can dedicate fully to Christ, and preparing myself to be the best that I can be to serve Holy Church. While it has its ups and downs, I do enjoy being a student, I have the phenomenal opportunity to study, and the Lord will use that knowledge to bring people to Himself through me."
He addresses the challenges of burnout by turning to prayer. "I pray for the peace of Christ to come upon me as well as the opportunity to know Him more in my mind and love Him more with my heart," he said. "When I pray this prayer, I receive the graces necessary to go on and look not at the schoolwork but rather the end goal, which is serving Christ in His holy priesthood."
Asked how Vermont Catholics can support seminarians as they study for the priesthood, the seminarians asked for prayers. Deacon Caldwell also asked parishioners to help build vibrant parishes. "In the summers we are often assigned to parishes. What type of parish life do you want seminarians to experience?" he said. "It is also the life in the parish that led most of us to come to seminary. When we visit parishes, we see why we went to seminary. And seeing vibrant parishes is encouraging to us."
—Originally published in the Fall 2020 issue of Vermont Catholic magazine.