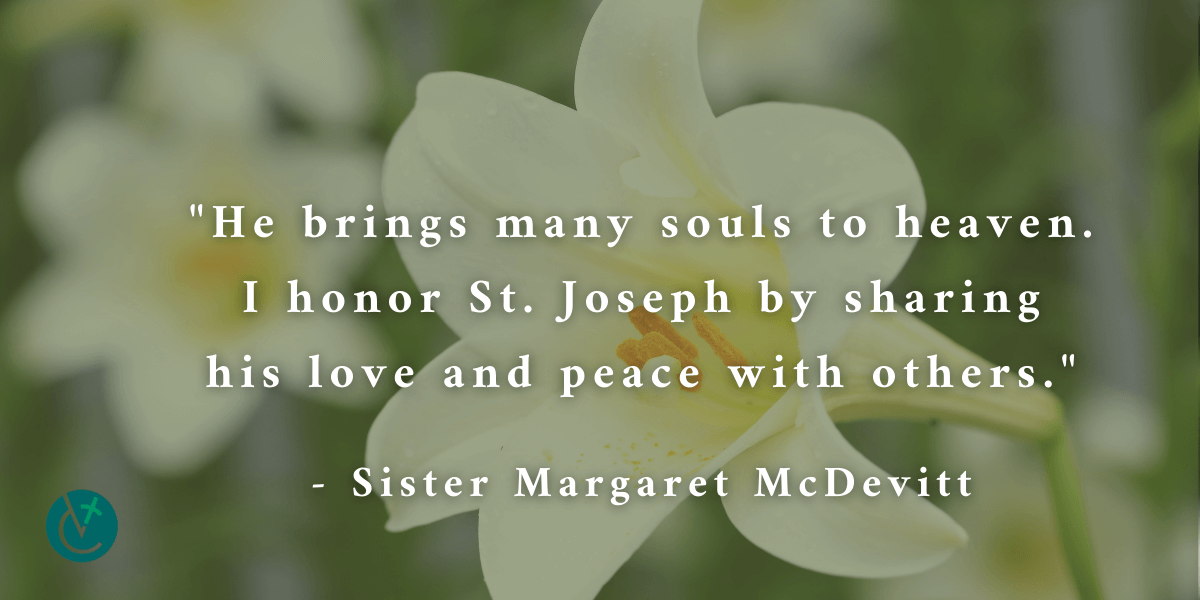 Sisters of St. Joseph have strong devotion to their patron saint
Some things have changed for the Sisters of St. Joseph in Rutland: What was once their motherhouse on Convent Avenue is now an eldercare home operated by Vermont Catholic Charities Inc., and some of the schools they once staffed have closed. Their "home base" is now in Springfield, Massachusetts, after the two branches of the order merged due to dwindling numbers in 2001. The College of St. Joseph in Rutland, an institution of higher education they founded, has closed.
But all this is not to say the spirit of the Sisters of St. Joseph and their devotion to their patron saint has diminished.
On the contrary.
Four Sisters of St. Joseph who were part of the Rutland-based congregation remain in Rutland, living vows of poverty, chastity and obedience, striving to unite neighbor with neighbor and neighbor with God, living simply and acting for justice.
They are Sisters Shirley Davis, a former principal of Mount St. Joseph Academy in Rutland; Sister Mary Harvey, a former teacher and journalist; Sister Margaret McDevitt, a former hospital chaplain; and Sister Miriam Francis Predom, a former president of the Sisters of St. Joseph of Rutland. All have been professed for more than 60 years and served in a variety of capacities. All have been active in the Rutland community; Sister Davis continues to serve as a Green Mountain Foster Grandparent Program tutor at Mount St. Joseph Academy.
"It was joyful news" to learn Pope Francis has declared this the Year of St. Joseph in honor of the 150th anniversary of the saint being named patron of the universal Church, Sister Predom, a Ludlow native, said. "It brings recognition to a great saint who had a very special mission to protect and provide for God's only son."
She said the Sisters of St. Joseph legacy is held within the lives of those they touched through their primary ministry of education throughout Vermont since their arrival in Vermont in 1873 at the request of Father Charles Boyland, pastor of St. Peter Church in Rutland, to teach in the parish school.
At one time the Vermont Sisters of St. Joseph had 165 members.
Sister Davis met the Sisters of St. Joseph when a student at St. Michael School in Brattleboro. "I became increasingly aware of St. Joseph, his loving care of Mary, his wife; and his foster-son, Jesus.  Joseph became a regular companion through my school years, and he remains that today," she said. "I chose the Sisters of St. Joseph of Rutland because I knew them and because I had an intense desire to learn more about our loving God and a desire to follow in the footsteps of Jesus, Mary and Joseph." And she wanted to help others to learn more about them.
"Joseph was an ordinary man who became rather extraordinary as he walked his way through life. His career in carpentry was one in which he could serve others in an unassuming way. He never needed to be a leader but became one in his home and in his town," Sister Davis said.
"The faith and trust that he exhibited in God was really outstanding. His work, that of a humble carpenter, enabled him to work in silence and in meditation."
The Sisters of St. Joseph were founded in 1650 in France by Jesuit Father Jean Pierre Medaille.
"To me to be a Sister of St. Joseph means gratitude and grace," Sister Harvey said. "He and his profound virtues" have been part of her life since her childhood in Duxbury, and the Sisters of St. Joseph have exemplified for her "kindness and wisdom … [and] the graces and gifts of St. Joseph."
Sister McDevitt, a Rutland native, honors St. Joseph by spending time with him in prayer and reflection and sharing him with others. "I love to reflect on his faith and trust in God," she said. "I have prayed with many on their death beds at the hospital, and St. Joseph was there too. He brings many souls to heaven. I honor St. Joseph by sharing his love and peace with others.
Sister Davis said that in today's loud, busy world, more people like St. Joseph are needed who can cultivate a quiet presence: "We need more people who can wait on the Lord in quiet so as to learn what God is trying to teach us."
Sister McDevitt calls St. Joseph a faithful friend. "Just saying his name brings joy to my heart," she said. "The Sisters of St. Joseph who taught me in school told me when life got difficult to go to St. Joseph and he will bring you to Jesus. St. Joseph has been my guide for many years."
Sister Predom advises: "Ite ad Joseph (Go to Joseph). He is a listener, he holds dear to his heart the mission and ministry of Jesus who came that we may be one with Him."
—Originally published in the Spring 2021 issue of Vermont Catholic magazine.