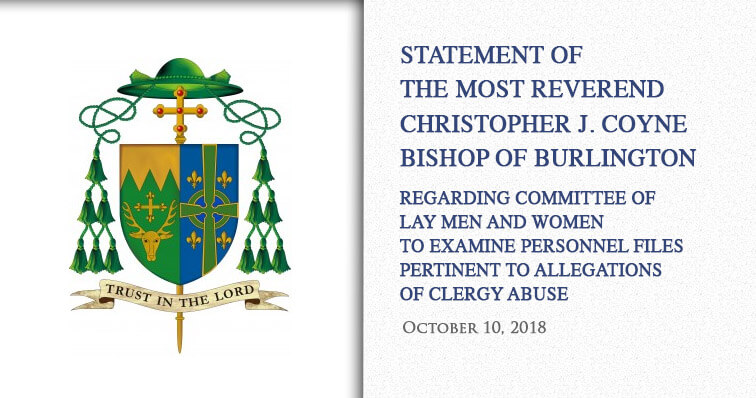 Statement from Bishop Christopher Coyne Regarding Committee Of Lay Men And Women To Examine Personnel Files Pertinent To Allegations Of Clergy Abuse
My friends, I speak to you as the Catholic bishop of the Diocese of Burlington concerning the recent disclosures of the sexual abuse of children by clergy and the mishandling of the claims of abuse by bishops in America. The crimes of the past were horrific and the damage to the victims and their loved ones horrendous. We will never be able to apologize adequately but will continue to try and hopefully have some positive impact in their lives going forward. Those efforts include acknowledging their stories and committing and assuring to them and the entire community that these crimes will never occur again – that we are worthy of the trust we seek that we will keep children and vulnerable adults safe.
A major part of restoring that trust in the Church is transparency – the disclosure of when and where the abuse occurred and who were the abusers. Once again, I wish to affirm my commitment to being open and transparent in these matters in our diocese. In keeping with this, I have decided to form an independent committee of lay men and women to examine clergy personnel files pertinent to any allegation of abuse of minors and to create a list of priests who have been accused of sexually abusing a minor. I will then make this list public. As to the details included with the list, they will be determined in consultation with the committee. I hope to reach out to potential members of this committee as soon as possible so that they may begin this necessary work.
Once the committee has created a list for publication, we will reach out to any survivors we can to let them know that the list will soon be published and that it will include the name of their abuser. We will also try and reach out to the family members of any deceased clergy whose name will be on the list. As far as a timeline for release of the list, I hope to convey to the committee a sense of urgency to complete their task but will allow them the necessary time to do so.
It is important to note that the files that will be examined were thoroughly reviewed back in 2002-2003, and all files containing a credible allegation between 1950 and 2000 were turned over to the state attorney general. The allegations of sexual abuse by diocesan priests in them do not involve claims about current misconduct, but rather involve abuse occurring decades ago and before the Church adopted its current protection policies in 2003.
As you know, the legal claims associated with these crimes have also been settled.  I do not say this in any way to minimize the abuse of minors by clergy. This was heinous and sinful. But I want to assure everyone that the present policies are working to protect children. Any allegation of sexual abuse of a minor is immediately turned over to public authorities for their investigation, not ours. Since 2002, there has been only one credible and substantiated allegation against a priest, involving an "at risk" adult. There are no priests in ministry who have had a credible and substantiated allegation made against them.
Every announcement and discussion of clergy abuse, I am sure, is quite  painful and potentially re-traumatizing for survivors and their families. In this instance, disclosure of clergy names will also be painful for the families. Of these clergy, my hope is that this disclosure commitment will contribute to publicly revealing the truth necessary for fulfilling our promise of transparency and respect for the abused.  Please know that I will continue to do all that I can to promote the necessary healing for all impacted by the scandal of abuse.
Press availability with Bishop Coyne today, October 10, 2018, at 1:00pm at The Brady Center of the Diocese of Burlington, 55 Joy Drive, S. Burlington.