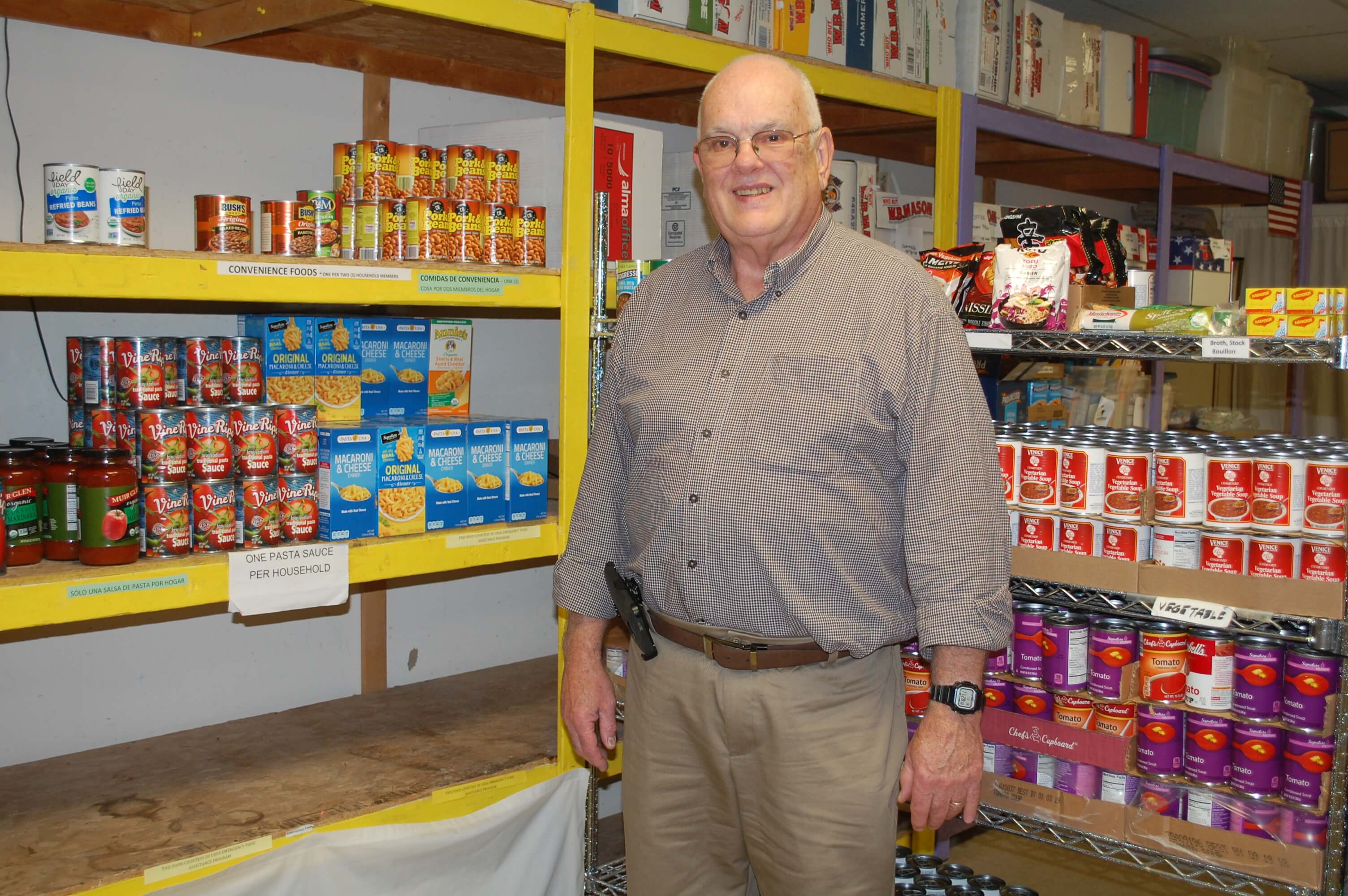 Stocking up HOPE
John Fallon spent his professional career in grocery stores, and now, in retirement, he's still placing food orders, doing inventory control and stocking shelves.
"I like woodworking, but I knew my woodworking was not going to keep me happy. I had to get out and meet people," said the retired grocery store manager.
He's the food shelf coordinator for Hope (Helping Overcome Poverty's Effects) in Middlebury, and he gives many hours each week to help people overcome food insecurity.
HOPE's mission is to improve the lives of low-income people in Addison County by working with individuals to identify and secure the resources needed to meet their basic needs.
Since 1965, HOPE — originally formed as the Addison County Community Action Group — has been providing a variety of programs to low-income people including providing food through the food shelf, offering financial assistance with housing and utilities, providing budget counseling for people who want to better manage their limited incomes and helping people get or keep paid employment.
Fallon enjoys helping people at the HOPE food shelf. "It feels good to know you've helped someone who is food insecure for whatever reason — job loss, a new family, elderly on a limited budget," he said, adding that his Catholic faith helps him to be non-judgmental in his work.
A parishioner of Assumption of the Blessed Virgin Mary Church in Middlebury, Fallon is a member of the worship committee and the Christian service committee; he is an extraordinary minister of Holy Communion; and he coordinates the monthly "Food Shelf Weekend" collection.
The parish is instrumental in supporting the food shelf, not only with monthly collections but also with special holiday collections to ensure families in need have the provisions for a Thanksgiving meal, for example.
"It's got to be tough on somebody not to be sure what their next meal is going to be or how they are going to get the next meal for their family," said Fallon, father of three and grandfather of six. "We do whatever we can to help them."
The food shelf operates out of a service area that is about 40-feet-by-22-feet with an additional storage area with a walk-in refrigerator and a walk-in freezer. Though the shelves of nutritious foods looked fairly well stocked, Fallon said the need is great, especially for canned fruits and vegetables, baking supplies and juice. "We have very little back stock," he said, suggesting that with a strong economy, some people might not be thinking that others are still in need and therefore not donating.
The food pantry — the largest in Addison County — is supported by donations, grants (including from the Diocese of Burlington's Bishop deGoesbriand Appeal for Human Advancement) and some profits from HOPE's resale store. Some food comes from the Vermont Foodbank.
Jeanne Montross, executive director of HOPE, said the pantry offers a variety of healthy foods — including produce from local farms — to help clients eat nutritious meals; some cooking instruction is also available.
"When people's health is better, they have more energy for parenting and work, and when children are healthier, they miss less school," she said.
"John really grounds the food shelf," she said. "With his experience as a grocery store manager, he's really good at inventory control."
Fallon said it's a good feeling to provide people with food for a few days, noting that many make choices to best stretch the food they receive. "But overall, I have a feeling of sadness that somebody is food insecure here."
To donate to HOPE, send checks to 282 Boardman St., Middlebury, VT 05753.
—Originally published in the Winter 2018 issue of Vermont Catholic magazine.