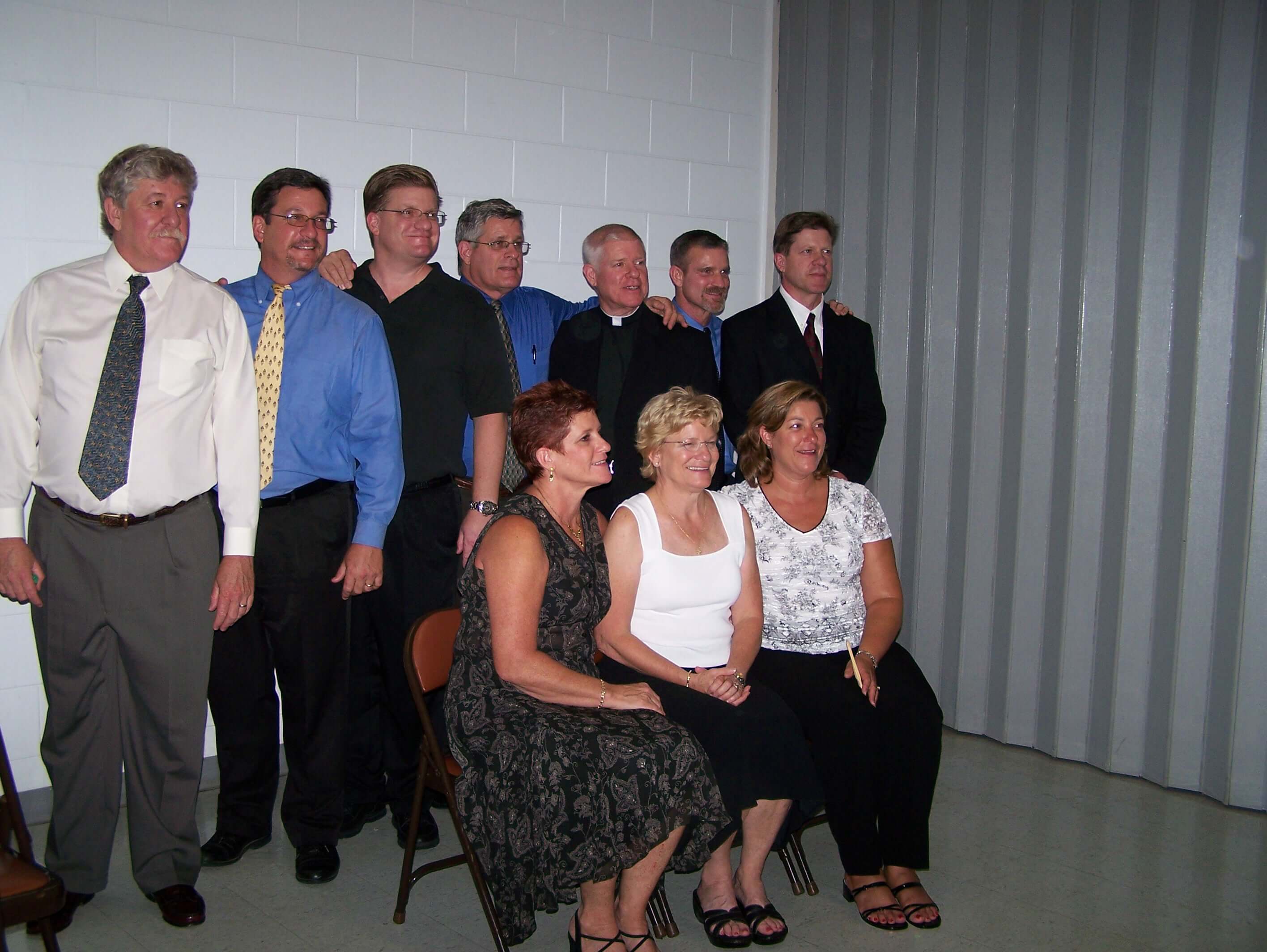 Highlight: The Giroux Family
Growing up in Burlington with nine brothers and sisters, Father William Giroux learned do his best in all things, never to doubt himself and not to be afraid to pursue success.
The son of the late Robert Victor and Anna Elaine (Copas) Giroux, he and his siblings helped around the house, had childhood jobs like delivering newspapers and babysitting and learned the value of saving and of education.
They also learned the value of faith.
Parishioners of Cathedral of the Immaculate Conception Parish (now Immaculate Conception Parish), they were a close family that went to Mass every Sunday; the children attended Catholic schools. "My mother was a convert but she and my father instilled in us the importance of our faith and the church in our lives," said Father Giroux, pastor of St. Patrick Parish in Fairfield and St. Anthony-St. George Parish in East Fairfield. "My father especially had a great respect for priests, and I served Mass from an early age and had the opportunity to see a number of priests and to have their influence in my eventual decision to choose the priesthood."
Mr. and Mrs. Giroux considered the priesthood a noble and worthwhile choice, and their son was ordained at the Cathedral of the Immaculate Conception by Burlington Bishop John Marshall in 1980, the same year the new priest's parents moved to Florida.
In this Year of the Family, Father Giroux and two of his siblings, Stephen L. Giroux of St. Francis of Assisi Parish in Windsor and Elizabeth Giroux Philbrick of St. Lawrence Parish in Fairhope, Alabama, reflected on their experience growing up in a large family.
Mrs. Giroux was, like many women in the 1950's and 1960's, a housewife. "She was a proud woman and was very proud of her children and the way she kept her home. My father was a small business owner and active in several civic organizations," Philbrick said.
But it was her mother that "kept the ship afloat." She was not one to hand out advice, but she taught by example. "This is what I learned from her: You can take pride in the simplest of work if well done," Philbrick said.
Family values were well defined and reinforced at home, and they became a part of who the Giroux children were and how they were expected to act outside the home. "I think that my parents always believed that these values, when intentionally taught and followed, could help our family work together toward common goals — and to keep us out of trouble," Stephen Giroux said. "Socially, it was expected to show kindness, to be patient and to show respect and compassion for others, especially for those who were less fortunate than we were."
Mr. Giroux, a businessman and entrepreneur, frequently brought food or clothing to families who were in need. Creativity and expression were encouraged; education was important. The Giroux children were expected to put half of everything they earned in the bank toward a college education.
Reverence for God and attendance at Mass was mandatory, and proper attire was important. "There was no fooling around in church. If we acted up, my mother would reach over and gently pinch us to remind us where we were," Stephen Giroux said. "My father, especially, was a big proponent of the priesthood, and he loved the vocation."
Prayer was always important in the family. They prayed before meals, sometimes after meals and before bed; they prayed the rosary in the evening in the living room. "Five decades were prayed and we all took turns leading the rosary. One decade was always prayed for vocations," Philbrick said.
Through their parents' actions the Giroux children learned of sacrifice, respect and courtesy, especially toward their elders.
For Father Giroux, growing up in a large family was fun at times and frustrating at other times. "We never really had a lot but we never lacked for anything," he said.
When the family went for a Sunday ride in the station wagon "it was an experience cramming us all in," he continued. "No seat belts in those days. Never remember going on a family vacation, but we did fun things at home. Camping out in our back yard, walking to the YMCA to go swimming or to North Beach."
Social media, phone calls and occasional visits keep the Giroux siblings connected now, and they are planning a Vermont family reunion this summer. Two of them live in California, one in Michigan, two in Florida, one in Colorado, one in Alabama and three in Vermont.
But wherever they have branched out, the Giroux siblings always share their Vermont roots.
Their parents were hard working, honest, good, loving people. "And we all are too," Philbrick said.
"My father always told me to be proud of who I was, never to disgrace our family name and to be persistent in my endeavors," Stephen Giroux said. "He instilled in me that with practice and a dream, I could accomplish most anything I put my mind to. His motto was 'Do it now.'"
And the cycle continues as he tells his 9-year-old grandson to "be proud of who he is and to celebrate his unique talents."
For more family highlights during the Year of Creation, check out the "Called to Holiness" video series on the Marriage and Family page.