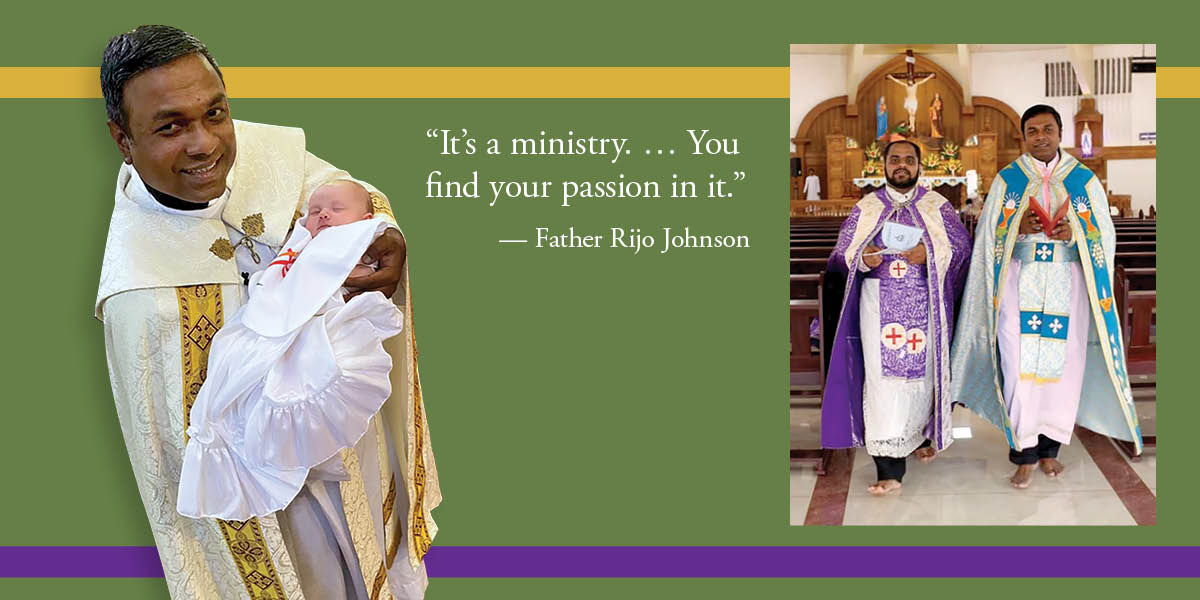 Vocationist pastor enjoys multi-faceted ministry in Northeast Kingdom
The Carmelite nuns taught Father Rijo Johnson when he was a boy in India, often having him and other students read aloud from the bible. One day a priest came in and heard him reading a passage and said, "You're reading from the Holy Bible. Do you want to read the Gospel?"
It is the priest who reads from the Gospel at Mass, and that was his way of asking the boy if he wanted to be a priest. "I said yes!" enthused Father Johnson, now a Vocationist priest serving as pastor of Mater Dei Parish based in Newport.
It's the first time he recalls thinking about becoming a priest, but not the first time he recognized the importance of what a priest does.
His mother was Catholic, his father was not. So it was his mother who brought him and his twin brother to Mass each week. The three of them were sitting at the back of the church when the priest was consecrating the Eucharist. "I really wanted to see the Eucharist, so she lifted me up," Father Johnson recalled is boyhood self saying. "I always wanted to see Jesus in the Holy Eucharist."
He remembers as a young teen the feeling that the Eucharist "was like a magnet" pulling him toward it during the consecration.
Born in 1981 in Kerala, India, Father Johnson applied to the seminary after the 10th grade, hoping to be a diocesan priest there. But of the 250 boys at a vocation camp he attended, only 25 could be chosen to pursue the diocesan priesthood; the next 25 were deemed to have a vocation but referred to religious orders because of capacity constraints.
He was in the second group and directed toward the Society of Divine Vocations and came to the United States as a seminarian in 2001. He was ordained for the priesthood in the religious order in 2008 in Newark, New Jersey.
Father Johnson served as a parish priest in Newark and in Patterson, New Jersey, before his religious superior offered him a choice of an assignment in Florida or in Vermont. He leaned toward the warmer climate he preferred in Florida but asked the superior to choose for him, and he was assigned to Vermont. "Whatever the superior or the bishop gives is the best choice," he said with a smile, adding that he had wanted to "totally surrender" to God's will in the matter.
A bi-ritual priest of the Roman Catholic and Syro-Malabar rites, Father Johnson became pastor of Mater Dei in 2017.
There he has a multi-faceted ministry, serving churches in Newport, Derby Line and Island Pond with two other Vocationist priests. He happily shows a mug listing the seven Corporal Works of Mercy, noting that Mater Dei Parish is somehow engaged in each.
For example, he visits prisoners at Northwest State Correctional Facility. "I used to be scared" to go into the prison, Father Johnson said, but he has seen that "everyone has good" in them.
Before the pandemic, the parish had a 5-person team of clergy and laity that took turns visiting the prison, no one ever alone. With a 2-hour-a-week commitment, their visit included Mass, bible study, singing, confession, sacramental preparation and visiting.
Though the offering remains the same post-Covid, the number of volunteers has decreased, and Father Johnson is hoping to increase the team's number from its current one priest and one layman who visit weekly.
Father Johnson is excited about his ministry that also includes sacramental work, visits to the sick and serving as dean. "You're not doing it for humans," he said. "You're doing it for God."
His cousin, Father Ninto Kannampuzha, a Vocationist priest in India, was inspired by Father Johnson to become a priest, though Father Johnson never knew it until his cousin's ordination when the bishop mentioned it. "I was shocked. I never thought I'd be such an influence," Father Johnson said. There is also a seminarian in India who has credited him with influencing his priestly vocation.
Because it can be difficult for Americans who are not familiar with the accents of an Indian priest, Father Johnson has begun to trade parishes for a weekend with other priests of the Diocese of Burlington so that other parishes become familiar with international priests. So far he has switched Masses with Father Scott Gratton and Father Dwight Baker, native sons of Mater Dei Parish.
An additional benefit, he said, is that their Mater Dei parish family members have had the opportunity to attend a Mass celebrated by one of their own. "That promotes vocations," said Father Johnson who believes "God brings people to church, I just open the door."
Among his hobbies, Father Johnson enjoys photography, working on the parish website, bible study, blogging about the bible, dining out and boating.
"You can do your job or you can love your job," he said, making it clear he loves what he does, but it is not simply a job. "It's a ministry. … You find your passion in it."
—Originally published in the Winter 2022 issue of Vermont Catholic magazine.