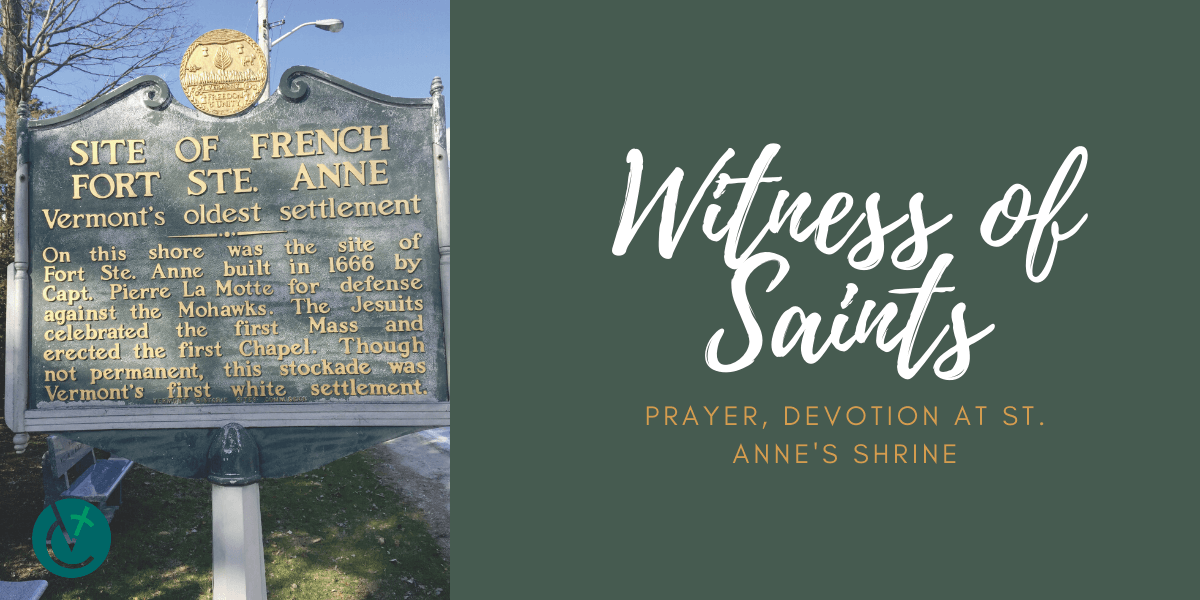 Witness of saints: Prayer, devotion at St. Anne's Shrine
St. Anne's Shrine, situated on Isle LaMotte along the shore of Lake Champlain, is a place of welcome, peace and hope, ministering to God's people through prayer, devotion and spiritual renewal.
The shrine, which has been under the direction of the Society of St. Edmund since 1904, provides opportunities for pilgrims, retreatants and guests to experience the presence of God through the sacraments, outdoor Stations of the Cross and devotional moments, many of which are centered on the saints.
Rustic grottos, each dedicated to a different saint, enable visitors to reflect on the lives and character of those saints as models of faith and intercessors with God.
The history of this devotion begins with the history of the area which has long been under the protection of St. Anne, mother of the Blessed Virgin Mary.
A plaque on the grounds explains, "On this shore was the site of Fort Ste. Anne, built in 1666 by Capt. Pierre LaMotte for defense against the Mohawks. The Jesuits celebrated the first Mass and erected the first Chapel."
It is also believed that French-born Jesuit missionary St. Isaac Jogues visited the area in the 1600s and was tortured there before he was martyred.
The shrine's spiritual director, Edmundite Father Brian Cummings, noted that an outdoor statue of St. Ignatius of Loyola, founder of the Society of Jesus and patron of retreats, "helps to keep the Jesuit presence alive here in some form."
Among the other statues that grace the grounds are St. Anne with her child, Mary of Nazareth; Carmelite nun St. Thérèse of Lisieux; Our Lady of Lourdes; St. Anthony of Padua and St. Jude.
The shrine would welcome the acquisition of additional saint statues which hold special significance, including St. Isaac Jogues and St. François Laval, the first bishop of Quebec, who visited in 1668 to celebrate the sacraments.
In a recent Easter message, Father Cummings said, "The Easter mysteries are about life – our life in Christ given to us in baptism and eternal life when we complete our pilgrimage journey here on earth. St. Anne's Shrine is a place where these Easter mysteries are celebrated with joy. Pilgrims make their way to the shrine to experience the tranquility of our grounds and to be reconciled with God through the sacraments."
For many, the saints are their companions on the journey.
To read more about the history and ministry of St. Anne Shrine, visit saintannesshrine.org.
The shrine is located at 92 St. Anne's Road, Isle LaMotte.
—Originally published in the Summer 2020 issue of Vermont Catholic magazine.