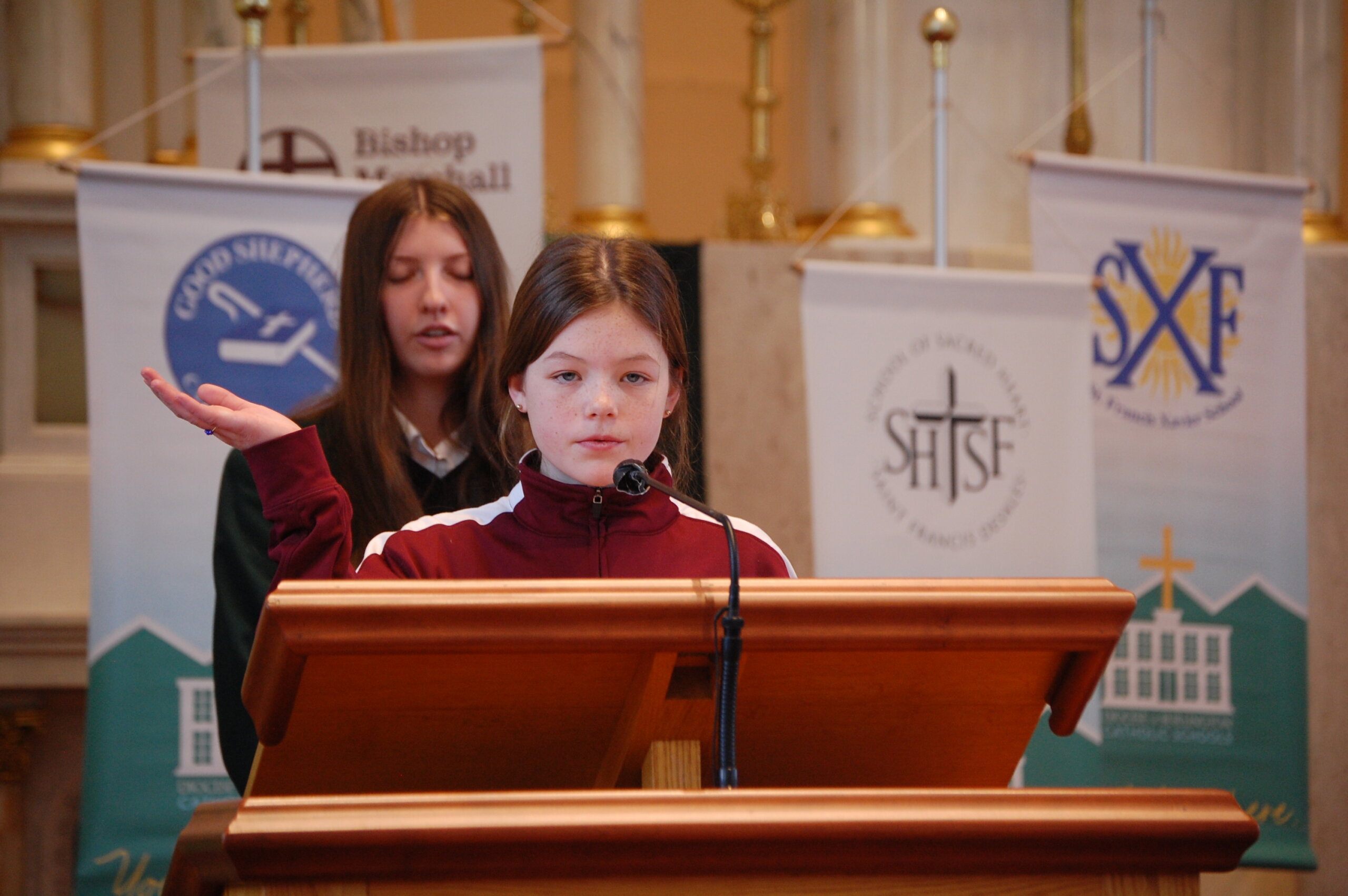 Catholic Schools Week Mass draws hundreds of students to cathedral
They came from all 12 brick-and-mortar Catholic Schools in Vermont, from Barton to Brattleboro and Burlington to Bennington.
About 460 students, teachers, staff and administrators represented their schools at the Catholic Schools Week Diocesan Mass Feb. 1 at The Cathedral of St. Joseph in Burlington.
Some came by bus, others by private vehicle. Those from Mater Christ School in Burlington walked.
And students from St. Paul School in Barton spent the night before at St. Francis Xavier School in Winooski.
They came in their school uniforms and with their school banners. They prayed. They sang.
"It's wonderful to be able to come together as a community and celebrate Catholic Schools Week," said David Young, superintendent of Catholic schools for the Diocese of Burlington. "It's wonderful to celebrate Mass with the bishop, priests and students."
A half dozen priests concelebrated Mass with Burlington Bishop Christopher Coyne, who in his homily called on the students to be ambassadors of their schools and of the Church, sharing their values in word and deed. "What we're all about in our Catholic schools is to learn to be ambassadors for Christ" and to bring the values of the Catholic Church to other places, he said.
Echoing the words of St. Paul, he called on them to bring whatever is good, true, pure and worthy out into the world.
"Catholic schools are not just about education, they're about formation" to be good citizens and to be good followers of God and ambassadors of Christ "in all we do," he said.
And attending Mass, listening to the readings and receiving the Eucharist are ways to be nourished, he added.
Joanne Beloin, principal of St. Paul School in Barton, stayed overnight in the library at St. Francis Xavier School in Winooski with six students and another chaperone. It was an opportunity for the students to see another school and to experience activities in the Burlington area like a school basketball game, visit to St. Michael's College in Colchester and talk by Father Yvon Royer, pastor of St. Francis Xavier Parish.
The overnight went so well, Beloin said plans are being made to repeat it next year for Catholic Schools Week.
St. Paul seventh graders Alden Ives, 12, Noah Lafont, 12, and Zander Chapdelaine, 12, used words like, fun, cool and amazing to describe the overnight that included an Italian dinner, open gym, shadowing St. Francis students during class and a visit with Msgr. Richard Lavalley, pastor emeritus of St. Francis Xavier Parish.
"I liked seeing another Catholic school. It was interesting, definitely," Alden said. "I hope we do it next year."
Zander did say he awoke in the night and realized he was in a library. "I never thought of sleeping in a library," he said.
An eighth grader from Good Shepherd Catholic School in St. Johnsbury, Griffin Knisley, 13, said before the Mass celebrated by the bishop at the cathedral that he was looking forward to it because he thought it would be "cool."
"We [Good Shepherd students] go to Mass every Tuesday, but it will be interesting to see all the other schools at this Mass," he said. "It's a much bigger community here" and a broader experience of Catholic schools.
Students from various schools served as altar servers, readers, gift bearers and choir members.