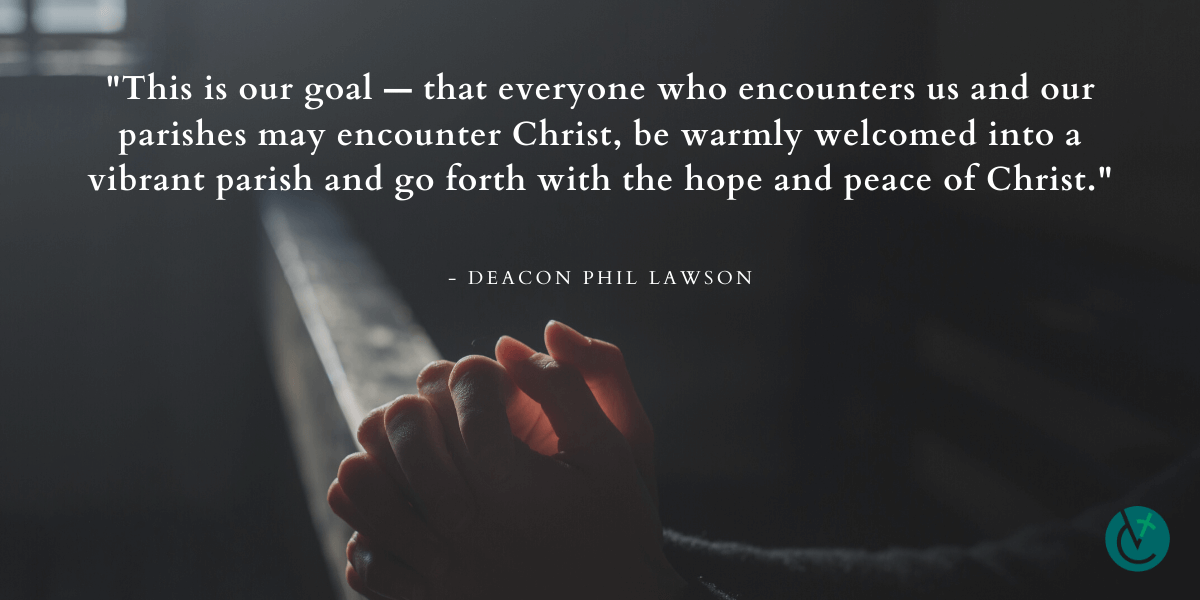 Finding hope and peace in Christ
This is an exciting time for our Church and for our Diocese as we concretely look to evangelize our communities, build vibrant parishes and better communicate the Good News of Jesus Christ as called for by the Diocesan Synod.
Recently, I received this brief note from a young woman who had met with me during the summer.  She was not Catholic but had questions about faith and about God.
This past Thursday, I had my first RCIA [Rite of Christian Initiation of Adults] class and again, the Lord confirmed to me that I am headed on the right path.
I want to thank you again, earnestly, for your words and prayers when we met back in July. That experience encouraged me to continue to pursue the process of conversion and begin reaching out to Father … and the Deacons in my parish. I have already met such incredible, intelligent, and supportive people in the parish who have made me feel so welcomed and at home. I am enjoying RCIA and I look forward to the Easter Vigil with hope and peace, the likes of which I haven't felt in years.
It was a gift to read this beautiful note first thing on a Monday morning!  I am grateful to this parish for so warmly receiving this young woman and shepherding her as she responds to the Lord's invitation to faith.  I pray that this warm welcome may be found in each of our parishes so that such an email and experience would be normative for any parish visitor.  This is our goal — that everyone who encounters us and our parishes may encounter Christ, be warmly welcomed into a vibrant parish and go forth with the hope and peace of Christ, as this woman experienced.
This is the same hope and peace we celebrate as we approach Christmas.  May we reflect on this reality as we prepare to hear the words of the angels: "Glory to God in the highest and on earth peace… " (Lk 2:14).   This is the peace and hope our Lord sought to bring, the birth of the Savior made peace between God and humanity as the chasm caused by sin was bridged by Jesus' life, death and resurrection.  This hope is still the desire of every human heart. (cf. Catechism of the Catholic Church 1818).  It is a hope that only Christ can bring.  It is a hope that should be visible and experienced in the life of every Christian.
This hope is also a reminder of why we do what we do.  The Lord commanded us to "go and make disciples" (Mt 28:19).  A vibrant parish is able to give witness to the love of Christ and the truths of faith, warmly receiving those whom the Lord is calling.  Furthermore, a parish should be willing to walk with those individuals, forming them in the life of discipleship.
What a blessing it us to have experienced this hope and peace and what a privilege to invite others to that same gift that comes from life in Christ.
Pray for all those who are currently in the RCIA as they learn to walk as disciples of Jesus Christ in our churches, eagerly looking forward to the Easter Vigil, filled with hope and peace.  And pray for all our parishes and people that we may all be more animated by the fire of the Spirit to share the Good Newsof Jesus Christ and His Church.
—Deacon Phil Lawson is the executive director of evangelization, catechesis, divine worship, marriage and family and respect life for the Diocese of Burlington.  He can be reached at plawson@vermontcatholic.org.
—Originally published in the Winter 2019 issue of Vermont Catholic magazine.