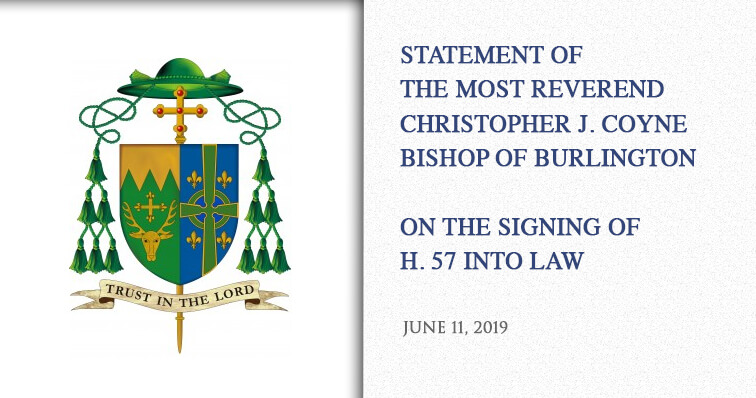 Bishop Coyne's statement regarding the signing of H.57 into law
Today, Vermont Gov. Phil Scott signed H.57. It is now part of the Code of Law of our state, a code that now enshrines the right to kill a child in the womb up to the moment of natural birth. In a rush to protect "reproductive choice," any measure of balance that even begins to consider the life of the child as part of the discussion has been aborted.
I pray that this new "right" may never be exercised.
Many Catholics and people of good will tirelessly advocate for the protection of the lives of the unborn here in Vermont. These efforts have been especially significant during the latest legislative session, during which there were several active pieces of legislation relating to the protection of the lives of unborn children. Thank you to everyone who has and continues to advocate for life in the Green Mountain State and to those who support and accompany women, children and families, especially during difficult times and through difficult decisions. Your work is important and necessary. You show the loving face of God to those who need comfort and strength. Thank you.
As I said earlier this year in another statement and call to action regarding H.57, the Catholic Church stands for the protection of all life from the moment of conception until natural death. Our faith teaches that all human life is sacred. However, opposition to H.57 is not just a matter of faith. It is an issue of human rights. Regardless of what the law allows, I hope that women will feel safe and supported in their pregnancies and motherhood and choose life for their children no matter the circumstances.
Mary, Mother of the Church, pray for us.