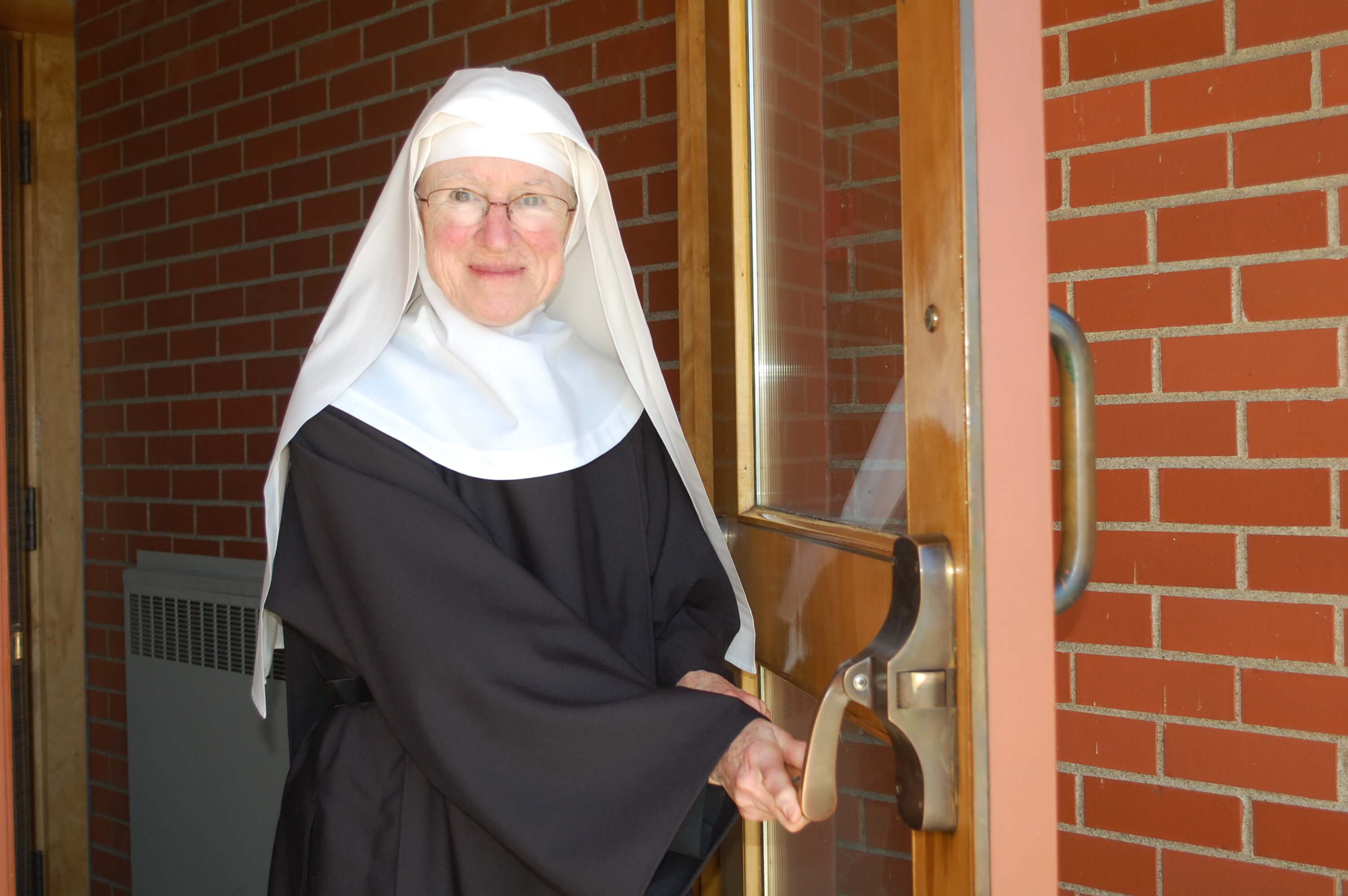 In God's time
She was raised Catholic and attended Catholic schools.
But during college and the changes in culture and in the Church in the 1960's, she turned away from her Catholic faith.
She attended Quaker meetings.
She was a peace activist and a waitress and was married by a justice of the peace.
She was divorced. She worked as a teacher and as a school administrator. She retired.
She is a mother and grandmother.
And now she is a temporary professed extern sister of the Benedictine Order at the Monastery of the Immaculate Heart of Mary in Westfield.
"I am absolutely convinced of the love of the Lord beyond any measure I can even gauge," said Sister Myriam Alexander. "He has loved me through this process. I am now a spouse of Christ and love Him beyond measure."
From Yonkers, New York, where she was born, to college study in France, to New York city where she worked as an adjuster for the Social Security Administration, to teaching French in Burlington schools to worshipping at St. Ambrose Church in Bristol, Sister Myriam (whose birth name is Elizabeth) has realized that even though during college she told the Lord she no longer believed in Him, she has never been far from Him.
As she looks back, Sister Myriam, 70, sees that different events were pivotal in her journey to the monastery: Her former husband told her, "Jesus Christ is my Lord and Savior;" talks with a friend about Jesus made her want to continue the conversations and learn more; her first visit to the monastery gave her the feeling that going there was meant to be. She attended a retreat that emphasized the importance of the Eucharist, and she made her first confession in years.
In 2002 she first visited the monastery as a Quaker on retreat, and the following year she returned to the Catholic Church. Though she was accepted as a postulant to live in the monastery's enclosure, she returned home in 2005 but continued to go on retreats at the monastery and help in the guesthouse. In 2007 she became a secular oblate of the Benedictines; in 2010 she was invited to live at the monastery as a resident oblate in the guesthouse and sold her Burlington home.
In 2014 she was accepted as a postulant extern sister (to live outside the enclosure of the monastery), and on June 9 she took her first temporary vows for three years.
Now serving as a driver, shopper and guesthouse coordinator, she hopes to make perpetual vows in three years.
"The pivotal part is the love. He loves us so much he gave His life for us," she said, adding that even a story like hers ends on cloud nine.
Sister Myriam would like everyone to know God and His love. "If he can do this for me through such a convoluted way, it can happen to anybody and everybody."
—Originally published in the Fall 2018 issue of Vermont Catholic magazine.