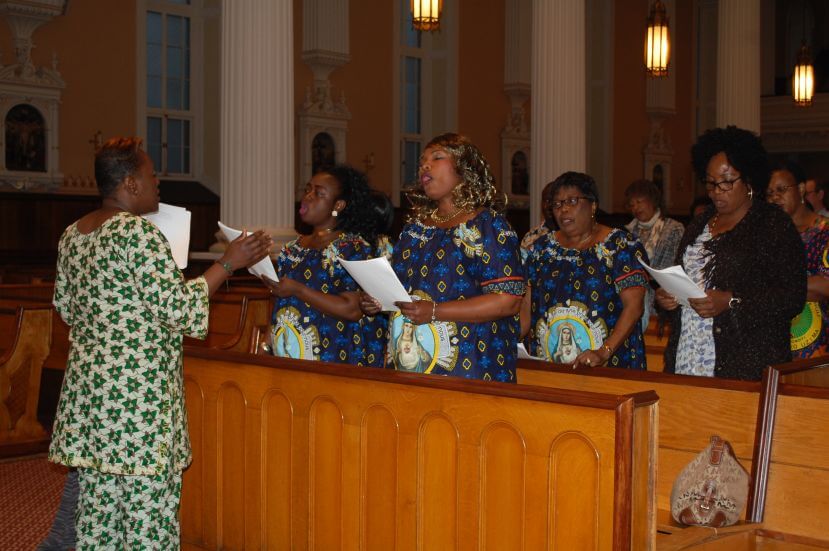 Mass for African immigrants
As New Americans continue to resettle in Vermont, members of the Catholic community embrace them and help them to make the Green Mountain State their home.
This, they do in myriad ways including helping the immigrants find and set up homes, access social services and jobs, maintain their culture and practice their faith in meaningful ways.
For example, in Burlington, St. Joseph Co-Cathedral hosts Mass in French for members of the Francophile African community.
Father Lance Harlow, rector, celebrates the special Sunday evening Mass about once a month to help the participants preserve their Catholic faith and their culture. "They have a purity of Catholic faith through their culture but not affected by the Puritanism that affects most of Northeast America," he said.
At a recent Mass, about 50 people — children, teens, working adults and the elderly — gathered in the front left section of the co-cathedral, many wearing clothing made of traditional African cloth and featuring designs of the Blessed Mother. They sang and clapped; some played instruments like drums and shakers, others made a "sound of joy" like a trill they called "bikelekele" or waved a scarf.
"It's great. You get to get back to the same experience as back home. It kind of recreates that," said Rachel Miyalu who left the Democratic Republic of Congo and came to the United States seven years ago, three years ago to Vermont.
"I like Mass in French," said Gertrude Maboueta who came to Vermont six years ago from the Congolese capital of Brazzaville. "Father Lance teaches us in French because the French is our language."
Father Harlow took French classes in high school and college and continues to take private lessons through the Alliance Francais.
He celebrates Mass in French and preaches in French, to the delight of the congregation.
"I am very, very happy," said Claudine Nzanzu who came to Vermont five years ago from Democratic Republic of Congo. "This is a lovely Father, a good Father, who celebrates the Mass for us in French. He's an angel to us."
Most of the members of this congregation are from Democratic Republic of Congo, and their English proficiency varies, but they all appreciate Mass in French and its liveliness. "English Mass is not active. We don't dance," said Nzanzu who shook the rattle-like instrument and waved her arms in joy and praise during the Mass.
Ophthalmologist Jules Wetchi, 39, left Democratic Republic of Congo and came to Burlington in 2013; he works as a medical technician and is studying for a master's degree in public health from the University of Vermont. He was active in his church in the Archdiocese of Kinshasa and formed the French-speaking Catholic community in Burlington.
A language barrier is often the first challenge New Americans face when they come to Vermont, he said, and that is especially difficult at Mass. So his goal was to create a community to help people maintain their Catholic faith and to be engaged in the Mass; the French Mass began in 2016.
The co-cathedral was the perfect place for the community to form, not just because Father Harlow speaks French — and can hear their confessions in their native language — but also because of its central location for Mass and other religious gatherings like the recitation of the rosary and Gospel study and social gatherings like post-Mass potluck dinners.
Wetchi, an extraordinary minister of holy Communion who speaks four languages, said finding a home in an historically French national parish, is especially meaningful for the French-speaking African community there which now numbers nearly 50.
"When you come for God, you need to be happy because God loves us and nobody loves us like God," Nzanzo said. "This Mass is a blessing."
— Originally published in the Winter 2017 issue of Vermont Catholic magazine.